Art Of The Day Weekly
#518 - from 7 June 2018 to 13 June 2018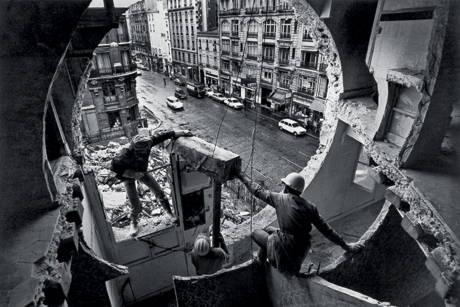 Harry Gruyaert,
Gordon Matta-Clark and Gerry Hovagimyan working at
Conical Intersect
, Rue Beaubourg, 1975
© Harry Gruyaert / Magnum Photos
BOOKS
Fromanger, a taste for revolt
Where has the Revolution gone? Fromanger, born in 1939, was one of the main characters in May 68, at the popular workshop of the school of fine arts ("Beaux-Arts"), where the well-known posters were churned out. When the police squads (the infamous CRS) put an end to this little closet republic, it was again Fromanger who rolled out the celebrated "La police s'affiche aux Beaux-Arts, les Beaux-Arts affichent dans la rue" (The police make fools of themselves at Beaux-Arts, Beaux-Arts shows off in the street). This anecdote among many others holds a major place in the souvenirs the artist narrated during a friendly chat with journalist Laurent Greilsamer, known among other successes for a biography of Nicolas de Staël. We discover a man in revolt since his youth, who as a teenager had already tried to set his very strict high school on fire, and whose most recent criticisms are aimed directly at the public procurement system, in particular at the time of Jack Lang. His numerous friendships allowed him to rub elbows with such remarkable artists as Giacometti, Prévert, Foucault, Guattari or even Castel, the king of famous left-bank nights, under certain circumstances that at times seem worthy of a novel. One such story is the one of Giacometti, charmed by his nude at the Salon de Mai in 1964. But the organizers had tried to hide it, and he discovered it in the restrooms! Fromanger seems to have found a new type of serenity: he has been living for the last thirty years in the Tuscan countryside, near Sienna, where he meditates on the landscapes by the Lorenzetti brothers.
• Fromanger, de toutes les couleurs, by Laurent Greilsamer, Gallimard, 2018, 240 p., €25.
Buy that book from Amazon