Art Of The Day Weekly
#528 - from 4 October 2018 to 10 October 2018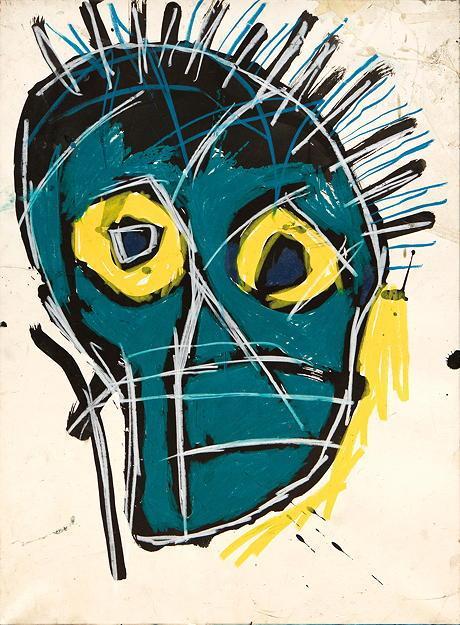 Jean-Michel Basquiat,
Untitled
, acrylic and wax pencil on paper, 76.2 x 55.8 cm. Private Collection.
BOOKS
The memory of walls
It looks like a huge book. It is grey, heavy, and massive. Inside we find stone, white, green or black marble, travertine, and some copper. There are names, hundreds of them, some famous ones such as Guy Môquet, Jean Moulin, colonel Fabien or Robert Desnos; other forgotten ones such as Louis Duriez or André Barraud, who died on 28 August 1944, three days after the Liberation; simple people such as the sewer worker Louis Chevalier or professors at the Sorbonne such as Jean Cavaillès. Their courage marked the Resistance. They were shot down, executed, tortured, deported to Mauthausen or to Dachau, or survived the monstrous conflict. They all have a plate on the walls in Paris. Philippe Apeloig, a graphic artist more known for his posters or for the visual identity of the musées de France, photographed them all one by one, from the front. The result is a surprising encyclopedia of over 1000 pages, arrondissement by arrondissement. An unusual guide, so that we do not forget, so that we look up. It succeeds in opening our historic appetite, as we would like to know more about each one of them, for most of those destinies were shattered and only a few engraved letters remain.
• Enfants de Paris 1939-1945, by Philippe Apeloig, Gallimard, 2018, 1184 p., €45.
Buy that book from Amazon