ROBERT G. SCHMIDT RECENT WORKS
FROM DECEMBER 13 2007 TO FEBRUARY 23 2008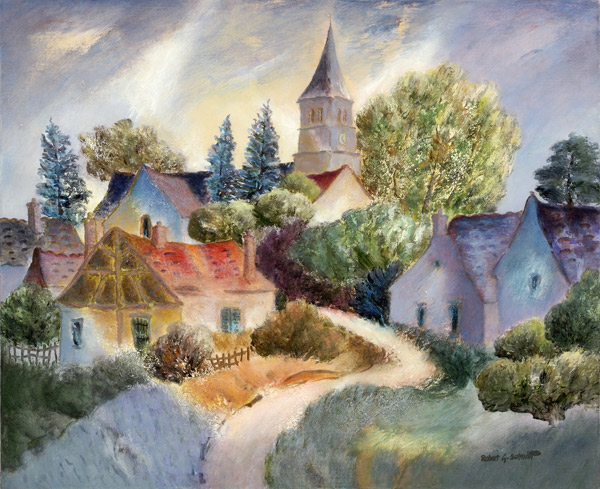 ROBERT G. SCHMIDTLa Nocle-Maulaix (in the Nièvre department). Oil on canvas 73 cm x 60 cm .

Robert G. Schmidt exhibited for the last time in Paris in 2001 at the galerie Saint-Roch. His production is rare, and this new exhibition, in the same gallery, will exceptionally last two and a half months. He will present 25 recent paintings of French villages, Breton and Mediterranean ports and a few still lives with violin.


Friendship with Paulhan and Messiaen

Robert G. Schmidt was born in Paris and studied the Beaux Arts at the Académie Julian. As of 1947 he painted a few "sur le motif" works -directly on the spot. For nearly 20 years he took care of an industrial binding business, while he continued to paint and draw. In 1948, he befriended Jean Paulhan, Marcel Aymé and Gen Paul and later Gilbert Cesbron, with whom he kept up a privileged correspondence. In 1958, he developed a passion for the sea, bought a sailboat capable of sailing the deep seas, and prepared himself to sail around the world. In 1966, he had his decisive encounter with Pierre Jérôme, and became his student. He was also greatly influenced by Braque whom he approached slowly, and he "graduated" from just as slowly. In May 1968, the galerie André Weil in Paris exhibited his first paintings. In that same year he encountered Olivier Messiaen and their friendship, based on music and painting, was immediate. From that date on he exhibited regularly in Paris and abroad. In 1969, he was selected for the Prix de la Critique (Critic's Prize). As a member of all the important Parisian salons and president of the Salon Comparaisons from 1996 to 2002, a great number of his works are in public and private collections in France, in the United-States, in Japan, in Switzerland, Spain and Morocco.


Color and silky luminosity

Through a colored universe, with a certain sensitivity and happiness, Robert G. Schmidt unveils for us a world where life is sweet and which he interprets with delight. His brush plays with the light and creates unexpected landscapes in which brightness and dreams mingle. His very personal and easily identifiable art has a certain originality and focuses on expressing the poetry in life. This brightness, this silky luminosity, the way he has of surrounding his subjects with a light halo give his landscapes a quasi-unreal dimension. He first made his precise drawings with black lead, on the spot. Later his paintings would take on their own personality in his workshop. His palette is wide, refined and eloquently discrete. He uses most of all blues, reds and yellows, without reducing them to their primary simplicity, but rather playing with the wealth of their variations.




A great variety of subjects

Robert G. Schmidt paints a street in Paris, a village in France, a small port in Brittany or in the Mediterranean as well as a still life. He turns a lamp, a small decanter or a violin in all directions and tries to make them speak. He gets attached to objects and invents their secret life. In the paintings of the Val-de-Loire we breathe our childhood dreams, the sweetness of living in the «garden of France». The delicate tenderness of his works on Paris reveals the atmosphere of Marcel Aymé's novels and short stories. Some still lives with a violin let us hear Olivier Messiaen's music. The Breton and Mediterranean seascapes are a call to the open sea …


PUBLICATIONS :

Robert G. Schmidt, by André Flament, hardback volume, 120 p., 60 illustrations, l'Archipel publishing house, Paris, 1974.

Robert G. Schmidt, by Roger Bouillot, art historian, hardback volume, 192 pages, 140 illustrations, in French, English and Japanese. Conseil Imprim Editions, Tarbes, 2001.

Robert G. Schmidt is referenced in the Dictionnaire critique et documentaire des peintres, sculpteurs, dessinateurs et graveurs de tous les temps et de tous les pays by E. Bénézit, éditions Gründ, Paris, 1999, Tome 12, page 468.

Illustration : ROBERT G. SCHMIDT Le violon de Montmartre(The violin of Montmartre) Oil on canvas 73cm x 60 cm



To see more illustrations, click on VERSION FRANCAISE at the top of this page