Home
>
Current events
>
SNOW, GOLD AND AZURE, CHU TEH-CHUN AND THE MANUFACTURE OF SÈVRES A contemporary Chinese master at the Guimet museum
SNOW, GOLD AND AZURE,
CHU TEH-CHUN AND THE MANUFACTURE OF SÈVRES
A contemporary Chinese master at the Guimet museum
FROM JUNE 10 TO SEPTEMBER 7 2009

The encounter between a famous Chinese artist and the know-how of an ancient institution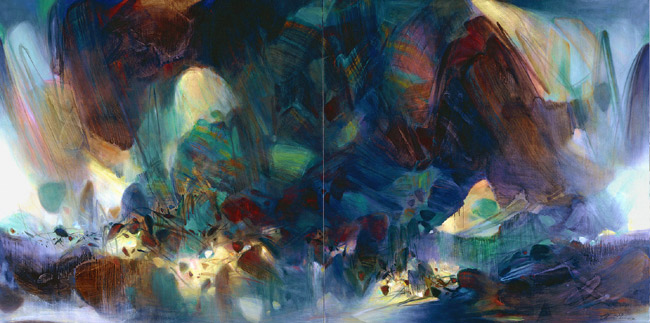 Résonances Pourpres Chu Teh-Chun (Zhu Dequn - 1920) Diptych, Oil on canvas (1997-1998), dimensions: 2.00x4.00m
Photograph Yvon Chu © Chu Teh-Chun workshop.

Highly appreciated in China, master Chu Teh-Chun, at the height of his art, has just dedicated two years to create a works in ceramic. Fifty-six, hand-painted vases are exceptionally presented in the midst of the collections of the Guimet museum. Chu Teh-Chun is the first French artist of Chinese origin to be elected to the Académie des Beaux-arts, in 1997. He wished to honor the country that has welcomed him since 1955, by associating his talent to that of the Manufacture nationale de Sèvres.


The stain and the line

Molding, casting, enameling, decorating, burnishing, in total over three hundred hours of patient labor on each piece created, were followed, documented and filmed. Thanks to an enterprise of this magnitude, it is possible today to present for the first time to the public an ensemble called «Snow, gold and azure», in the Great Rotonda of the Guimet museum. Following «La symphonie festive», the large painting created in 2002 for the Opera of Shanghai, Chu Teh-Chun offers once again a universe that is constantly pouring out. He concentrates silently on his work, to transcribe this highly sensitive internal language. In order to correctly carry out this difficult exercise of free improvisation on a very demanding matter, his execution must be precise. The graphics is focused on the stain that punctuates and modulates; and on the line that engenders the links.


White, blue and gold

In order to give more depth to his work, he progressively strips his palette to found his work on three chromatic values with cultural resonances: immaculate white from Chinese porcelain, sapphire blue from Persian cobalt, and the mat or shiny gold from ancient European Royal tables. To master this technique that is both familiar and foreign to him, the artist renewed with his own interior. Just like we enter the space of his paintings, we enter the empire of light his paintbrush strives to pull out of the chaos. In the manner of the ancient Chinese masters, he gives form to his vision. Drawing his inspiration from the great masters of the Song (960-1278), rejecting the horizon behind us, he sets us up in the actual middle of his compositions. Hence the idea of putting directly in the museum's itinerary some of his creations face to face with works from the past.


Voyage around a vase

Usually considered as objects of decoration, the 56 vases shown here are pictorial works in their own right. The artist even modifies the rapport by transforming it into active contemplation through its spherical surface. A subtle link between art and nature, each vase invites one to accomplish a sort of gyrating journey, without a beginning nor end, with a great number of paths through fields, where each one of us is capable of finding his own. Visitors will appreciate these unusual creations whose noble forms, purity of body and decorative spells, not matching Oriental or Western aesthetics, give a universal, contemporary language.

Illustration: Small casting Vase Vase, Famille Bleue ; Casting of the porcelain presented as a barbotine (liquid porcelain)
29 May 2006 -11 December 2008 Photograph Matte Aleti © Marlborough Gallery/Atelier Chu Teh-Chun


PUBLICATIONS:

Catalogue De neige, d'or et d'azur. L'œuvre céramique de Chu Teh-Chun. Text and presentation by Jean-Paul Desroches. Photographs of the works by Matte Aleti. Art director: Jean-Baptiste Leroux, photography-reporting, Martin Fraudreau. Trilingual edition: French, English, Chinese, La Martinière/Abrams publishing house, to be published in September 2009, 120 €.
Le journal de l'Exposition, Arlys publishers, 6 €


To see more illustrations, click on VERSION FRANCAISE at the top of this page

MUSÉE NATIONAL DES ARTS ASIATIQUES GUIMET
5, place d'Iéna – 75116 PARIS

INFORMATION:
Tel. 01 56 52 53 00 Website: www.guimet.fr

OPENING HOURS:
Open every day except Tuesdays, from 10 am to 6 pm. Tickets sold until 5:30 pm and the rooms close at 5:45 pm.

ADMISSION PRICE:
Permanent collection: 6.50 € (full rate), 4.5 € (reduced rate). Free admission - 26 years old.

CURATOR:
Jean-Paul Desroches

PRESS CONTACTS:
Hélène Lefèvre, Head of the Communication Department Tel. 01 56 52 53 32 Fax 01 56 52 53 54 helene.lefevre@guimet.fr

Sophie Maire, Jr press officer Tel. 01 56 52 54 11 sophie.maire@guimet.fr