DUANE HANSON,
THE AMERICAN DREAM…
FROM APRIL 21 TO AUGUST 15 2010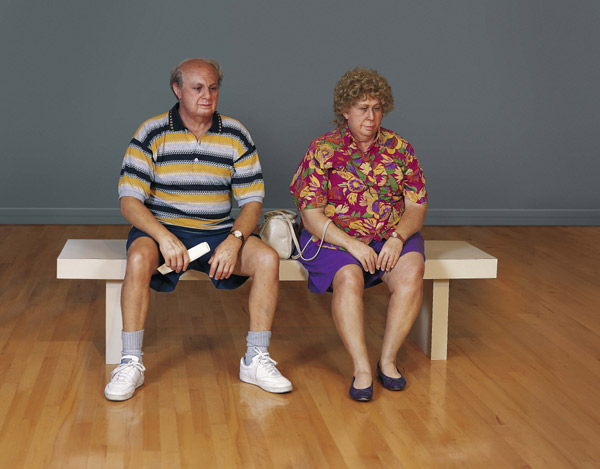 Duane Hanson Old Couple on a Bench, 1994 - Collection Hanson, Davie, Floride - photo Roy G. Crogan © ADAGP, Paris 2010 - Courtesy of the Institut für Kulturaustausch, Tübingen


The Parc de la Villette presents the last works of the sculptor Duane Hanson, considered today as the major artist in American hyperrealism. In the 60s, he developed his own artistic style and distinguished himself from the then dominating abstract expressionism current in the US.

Duane Hanson passed away in 1996 and has hardly been exhibited in France, and yet he is still very much of our times, as his critical view of American society between the 1970s and 1990s can find an echo in the utter distraught many find today in our own society.

The exhibition includes 15 sculptures, in resin and fibreglass, more real than life itself. Through his works the artist represents "today's stars", a cleaning woman, a student, a worker, a retired man. And he explores the sense of life, the life of each one of us.

The exhibition foments a surprising encounter with these characters, both touching and critical of our contemporary lives.

Exhibition catalogue, published by Éditions Actes Sud, on sale on the spot: 19 €
Buy that catalogue from Amazon

To see another illustration, click on VERSION FRANCAISE at the top of this page

PARC DE LA VILLETTE
Pavillon Paul Delouvrier 211 avenue Jean Jaurès Paris 19e France
(Metro Porte de Pantin)

INFORMATION:
Tél. Tél. +33 (0)1 40 03 75 75
Site : www.villette.com
e-mail : contact@villette.com

HOURS:
Wednesday, Thursday, Friday, Sunday 2pm-7pm , Saturday 2pm-9pm.

ENTRANCE FEES:
Free