THOMAS SCHÜTTE
Big Buildings – Models and Views
UNTIL 1 NOVEMBER 2010

A pioneering work aimed at bridging the gap between art and architecture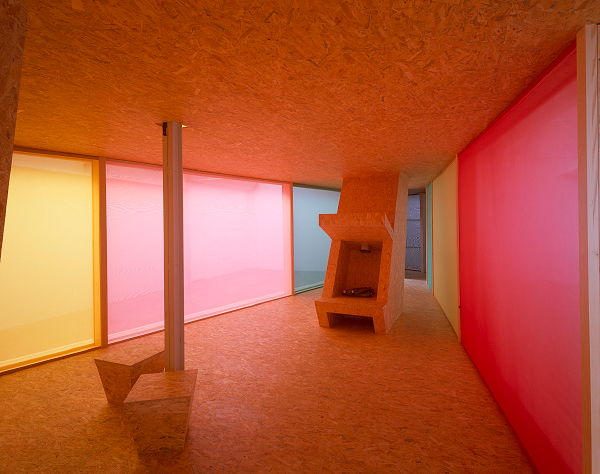 THOMAS SCHÜTTEFerienhaus für Terroristen, 2009–2010, inner view, wood, fabric,
height: approx. 400 cm, Photo: David Ertl, Cologne © Art and Exhibition Hall, Bonn

Thomas Schütte who lives in Düsseldorf and was born in Oldenburg in 1954 is one of Germany's most important internationally known artists. Three times his work has been shown at the Documenta in Kassel. He also received the Düsseldorf Art Award in 2010 and the Golden Lion at the Venice Biennale in 2005 as best solo artist. The show at the Art and Exhibition Hall, which comprises about 60 works, focuses on Thomas Schütte's long examination of the art of building.




Portrait of Thomas Schütte

An utopian atmosphere

Since the early 1980s, Thomas Schütte has been working on architectural models and drawings. As a result, models and views of houses, residential and office buildings, public squares, studios, gravesites, stage-like sets and architectural ensembles conveying a
utopian atmosphere were produced. Most of these works which include specifications with regard to scale or little figures are contrasted with larger constructions. Schütte's whole œuvre is defined by the game between large and small, between models and constructed buildings, between art as a model and the model as art. From the beginning, the art of building has been a latent element in Schütte's work. The aim of "Big Buildings – Models and Views" is to focus on this most challenging debate between art and architecture.


Architecture, light and space

Besides creating bronze and steel sculptures, drawings, ceramics and aquarelles, Thomas Schütte has continuously worked towards re-establishing architecture as an artistic discipline, both as a form of criticism and as an alternative. This development started during his time as a student at the Düsseldorf Art Academy (1973-1981). During the past three decades Thomas Schütte reclaimed classic fields of creative art which had been dismissed as folklore and kitsch by the avant-garde of 1960s and 1970s. In the same way, he chose an exemplary approach in order to bridge the divide between art and architecture thus placing these two disciplines in a new productive connection. The artistic examination of the constructed world, the art of building, architecture, and light and space is at the core of this exhibition.


Small-scale models and walk-in pavilions

The exhibition offers a selection of the artist's architectural work. This collection includes not only small-scale models from the past three decades but also expansive, recently realised walk-in houses based on Thomas Schütte's artistic designs. Ferienhaus für Terroristen (a holiday house for terrorists) and One Man House I will be shown to the public for the first time. These architectural models, views and walk-in pavilions are not only supplemented by a smaller selection of aquarelles (works from the Flower Series, the Deprinotes and the Mirror Drawings) but also by recently completed large sculptures such as Vater Staat (The State) (2010), Engel (Angel) (2010) and the fountain sculpture Die Weinende (Crying Woman).


PUBLICATION:


To see more illustrations, click on VERSION FRANCAISE at the top
of this page

ART AND EXHIBITION HALL OF THE FEDERAL REPUBLIC OF GERMANY
Friedrich-Ebert-Allee 4, 53113 Bonn

INFORMATION:
Tel: +49 228 9171 203 Fax : +49 228 9171 209
Website: www.bundeskunsthalle.de

OPENING HOURS:
Tuesday and Wednesday 10 a.m. to 9 p.m.
Thursday to Sunday 10 a.m. to 7 p.m.
Closed on Mondays

ADMISSION PRICE:
Standard admission: € 8. Reduced: € 5. Family ticket: € 14.
Happy hour ticket: € 5 (Tuesday and Wednesday: 7 to 9 p.m.; Thursday to Sunday: 5 to 7 p.m.)

CURATORSHIP:
Rainald Schumacher

PRESS CONTACT:
Sven Bergmann
Tel: +49 (0)228 9171-204 Fax: +49 (0)228 9171-211
E-mail : bergmann@kah-bonn.de