CHEN ZHEN
FROM SEPTEMBER 29 TO DECEMBER 13, 2010

A selection of works by the great Chinese artist, bought by the CNAP, is exhibited in the midst of the Guimet Museum permanent collection.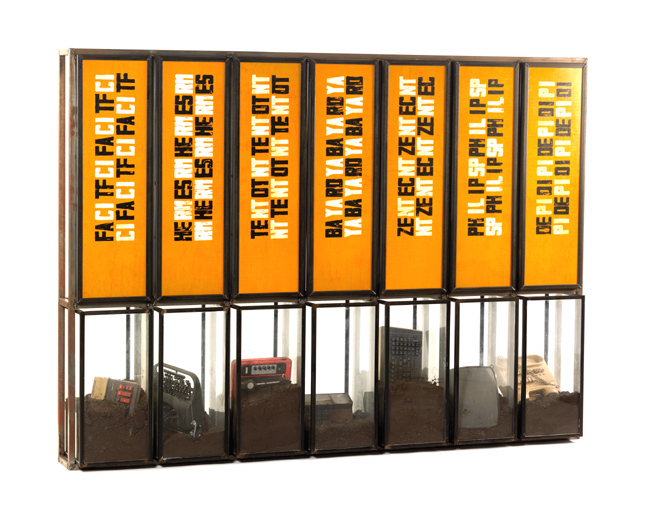 Chen Zhen, L'hibernation / la divagation, 1990 (FNAC 91549), Centre national des arts plastiques - ministère de la Culture et de la Communication, Paris. © CNAP/ photographer: Y. Chenot



The Musée Guimet joins the Centre national des arts plastiques to present together, in the areas of the museum's permanent collections, monographic sets by Asian artists or artists influenced by oriental art and represented in the CNAP's collections. For this first experience the choice fell on Chen Zhen (1955-2000), one of the most emblematic artists of the 1990s. Five major works will be displayed in the Chinese art rooms. Of world renown, his work has been mainly displayed in contemporary art museums in Europe, the USA, Canada, Japan, Korea, China and Israel. As a regular guest of biennial events in Lyon (1996), Shanghai (1997), and Venice (in 1999 and 2009), his works were more recently shown at the Museum of Modern art, in Paris.


Between tradition and modernity

It is rather audacious to present a contemporary artist in the middle of the collections of the Guimet museum, but he fits in perfectly with the institution's new scientific and cultural policy of opening up to « La Fabrique contemporaine de l'art en Asie » (The contemporary Creation of art in Asia). The visitor is invited to run his eye over the permanent and broken lines between tradition and modernity, in other words, over the entire artistic and cultural history of the Asian nations. The two public institutions of the ministry of Culture and Communication, the Centre national des arts plastiques (CNAP), a collection without a museum, and the Guimet museum, a true centre of knowledge of Asian arts and civilizations, have associated themselves to this fascinating project.


Dialogue between the far-East and the West

Chen Zhen's work speaks for itself. It is universal, but also deeply Chinese, and it crystallizes the centuries-old dialogue between the Eastern and the Western worlds in powerful and original protocols, borrowed from the entire universe of forms, materials and sounds. Since his arrival in Paris in 1986 up to his death, Chen Zhen relentlessly introduced a trans-cultural dialogue that goes beyond any classification. Born in Shanghai (1955) and naturalized French, Chen Zhen came from a family of doctors. At the time of globalization, he focused on the encounter between Chinese traditions and the principles of Western society. These works clearly underline the purpose of man's situation and his future in «shared life», conceptualized around his ideal where «Art has the power to go beyond politics and science, and in doing so to reveal man's good consciousness».




Chen Zhen, Round Table, 1995, (FNAC 02-532), Centre national des arts plastiques - ministère de la Culture et de la Communication, Paris.© ADAGP/CNAP

Purification and simplicity

Presented within the musée Guimet, Chen Zhen's works enter a spiritual and formal relation with those of the permanent collection. The Cradle refers to the permanence of life's cycle while Round table, arranged in the rotunda of the museum, summons the themes of communion, unity and harmony, in reference to «Guanxi». Chairs and table symbolize the ideal human order, developing the ideas of mutual respect, equality and multiculturalism. The notions of ritual transitions, of purification and simplicity are so many different ways to approach the works displayed, such as Funeral Stele/Coffin, Hibernation/Rambling and Altar n°9.


To see more illustrations, click on VERSION FRANCAISE at the top of this page


MUSÉE GUIMET
6, place d'Iéna – 75116 PARIS

INFORMATION:
• Tel: 01 56 52 53 00
• www.guimet.fr

OPENING HOURS:
• Open every day except Tuesday, 10:00 AM to 6:00 PM.
• Ticket office closes at 5:30 PM, rooms close at 5:45 PM.
• Free audio guides.

ENTRANCE FEES:
• Full rate exhibition: €7,5.
• Reduced rate: €5,5.
• Combined exhibition and permanent collections ticket: €9.50 full rate; €7 reduced rate.
• Permanent collections: museum admission: €7.50 full rate; €5.50 reduced rate, free under the age of 26.
• One day Pass , from 29 october 2010 to 24 january 2011 , giving access permanent collections and all temporary exhibitions.: 12,50€ (pfull rate) et 10€ (reduced rate)

CURATORSHIP:
• Jacques Giès, President of the musée Guimet
• Caroline Arhuero, Documentary Studies, in charge of contemporary art at the musée Guimet
• Sébastien Faucon, in charge of the CNAP collections.

PRESS CONTACTS:
• Musée Guimet
Hélène Lefèvre, Head of Communication
Tel: 01 56 52 53 32 Fax: 01 56 52 53 54
helene.lefevre@guimet.fr
Sophie Maire, Junior Press Officer
Tel: 01 56 52 54 11 Fax: 01 56 52 53 54
sophie.maire@guimet.fr
• Centre national des arts plastiques (CnAP)
Perrine Martin-Benejam
Tel: 01 46 93 99 55 Fax: 01 46 93 99 79
perrine.martin@culture.gouv.fr
• Heymann, Renoult Associées
Pauline Hamamssi, Press Officer
Tel: 01 44 61 76 76 Fax: 01 44 61 74 40
p.hamamssi@heymann-renoult.com