Home
>
Current events
>
BRUGES CENTRAL VAN EYCK TO DÜRER and LUC TUYMANS: A VISION OF CENTRAL EUROPE
BRUGES CENTRAL
VAN EYCK TO DÜRER and
LUC TUYMANS: A VISION OF CENTRAL EUROPE
VAN EYCK TO DÜRER FROM OCTOBER 29 2010 TO JANUARY 30 2011 AT THE GROENINGEMUSEUM
LUC TUYMANS: A VISION OF CENTRAL EUROPE FROM OCTOBER 22 2010 TO JANUARY 23 2011 IN VARIOUS LOCATIONS

Two ambitious exhibitions that look East make one of the great cultural events of 2010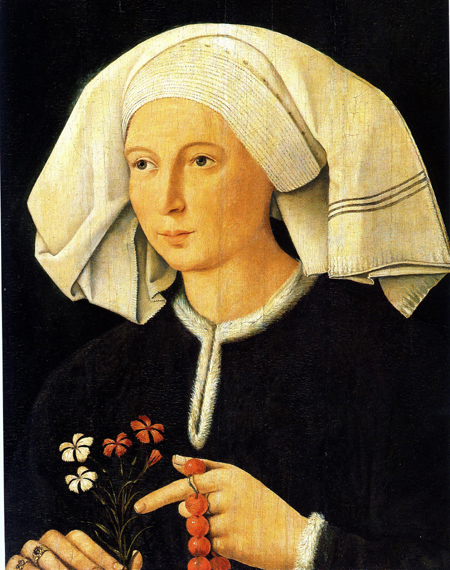 Anonymous Master Portrait of a woman ca. 1480 © Museo Thyssen-Bornemisza Madrid

Every five years Bruges provides the stunning setting for a large-scale cultural festival. In this edition creative Belgians and artists from Central Europe take over the city. 'Bruges Central' will regale residents and visitors with a packed and varied programme of concerts, films, stage performances, exhibitions and other events over a period of more than four months. The programme is poised between East and West, past and present, confrontation and harmony. Along with the art-historical exhibition 'Van Eyck to Dürer', the contemporary art trail 'Luc Tuymans: A vision of Central Europe' will be one of the highlights of this major event.


In the footsteps of van Eyck

The major exhibition 'Jan van Eyck, the Flemish Primitives and the South' organized by the Groeningemuseum in 2002, showed the impact of the Flemish Primitives on Southern Europe. Now Bruges looks East. 'Van Eyck to Dürer' illustrates for the first time the extraordinary artistic revolution the Flemish Primitives triggered in the Central Europe of their day. The artistic and technical innovations of talented painters like Jan van Eyck spread across that region with amazing speed, inspiring local artists and the young Albrecht Dürer. The cross-fertilization between proud traditions and new influences produced a magnificent heritage we treasure to this day. The Groeningemuseum brings together van Eyck and Dürer, two great masters from the period 1420-1530, in a prestigious exhibition that includes important loans from leading European and American collections: masterpieces by the likes of Bouts, Campin, Lochner, Memling, Schongauer, van der Goes and van der Weyden and first-rate works by equally gifted masters from Central Europe, though their names are less familiar to us here. Paintings, but also drawings, miniatures, prints and sculptures stage a fascinating confrontation.


Impulses from the East

Luc Tuymans (Antwerp, 1958) is one of the leading artists of his generation. Here his fascination with Central Europe's eventful history is translated into an idiosyncratic exhibition of work by thirty of its artists who have left their mark on the artistic scene in their own country and far beyond. In their work the chosen artists display a clear social vision and, like Tuymans, do not shy away from themes like war, violence and trauma. Looming large will be installations and sculptures by the Polish artist Miroslaw Balka, whose structure How It Is has recently dominated the Turbine Hall at Tate Modern in London. Using materials like hair, ash, rust, steel and soap, he represents the aftermath of the Holocaust in sober, minimal installations into which he often integrates sounds and smells and, increasingly, motion pictures. The video works he has made over the years are also given a special place in the exhibition.




Andrzej Wróblewski Mother with killed son 1949 Courtesy: Grazyna Kulcyk Art Stations Foundation, Poznan © A. Cieslawski

From Neo Rauch to Althamer's zeppelin

Internationally rated fellow artists like Katharina Fritsch, Deimantas Narkevicius, Sigmar Polke, Neo Rauch and Gerhard Richter as well as lesser-known names and the youngest generation of enfants terribles from Poland, Armenia, Lithuania, Serbia, the Czech Republic, Croatia, the Ukraine and Albania will present their work. The Berlin-based Andreas Slominski and the Polish artist Pawel Althamer will be allowed to express criticism and self-mockery. In 2007 Althamer caused quite a stir with his naked self-portrait in the form of an aerostat more than 20 metres long. To conclude, the avant-garde works of Bruno Schulz, Alina Szapocznikow and Andrzej Wróblewski will add a historical dimension to the exhibition, whose trail will lead to five 'islands of meaning': There will also be a film programme centred around Eastern European cartoons. The Japanese artist Takashi Murakami, known for his contemporary variation of pop art, has been asked to make a production.




PUBLICATIONS:

• Catalogue Van Eyck to Dürer : €39: paperback ; €49: hardcover.
• Catalogue Luc Tuymans: A Vision of Central Europe : 49 €. Available at http://www.brugescentral.be or in the museum shop.

GROENINGEMUSEUM
Dijver 12, 8000
BRUGES

FORUM+ (CONCERTGEBOUW)
't Zand 34, 8000
BRUGES

ARENTSHUIS
Dijver 16, 8000
BRUGES

MEMLING IN SINT-JAN – HOSPITAALMUSEUM
Mariastraat 38, 8000
BRUGES

STADSHALLEN
Markt 7, 8000
BRUGES

GROOTSEMINARIE
Potterierei 72, 8000
BRUGES

INFORMATION:
• Tel +32 (0)50 44 46 60
• Website : http://www.brugescentral.be
• Practical information (transportation, hotels, Brugge City Card):
http://www.brugge-centraal.be/en/practical-info/book-room

OPENING HOURS:
• From 9:30AM to 6PM
• Closed on Mondays 25 December 2010 and 1 January 2011

RATES:
• € 11: individuals
• € 9: visitors aged 65 and over, groups of min. 15 people, concessions
• € 1: young people aged 6 to 25
• Free: children aged under 6, schools, brugge City Card-holders

CURATORSHIP:
• Till-Holgert Borchert (Van Eyck to Dürer)
• Luc Tuymans: A Vision of Central Europe

PRESS CONTACTS:
Anne De Meerleer
E-mail: anne.de.meerleer@brugge.be