BONNARD IN NORMANDY
FOM APRIL 1 TO JULY 3 2011

An original exhibition about a lesser-known, although particularly rich, period of the artist's activity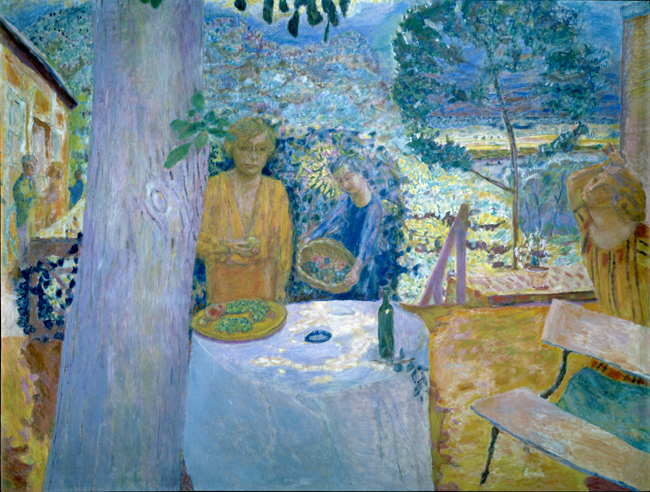 Pierre Bonnard Décor à Vernon (La Terrasse à Vernon) 1920-1939. Oil on canvas, 148x194,9 cm New York, The Metropolitan Museum of Art, 68.1 Gift of Florence J. Gould, 1968 . © The Metropolitan Museum of Art Dist. RMN, image of the MMA

Pierre Bonnard loved Nature and gardens. As of 1900 he used to spend a part of the year in the countryside. Between 1910 and 1938, he lived near Giverny and shared his time between Normandy and the south of France. As a reference to the artist's Normand period the musée des impressionnismes has managed to bring together nearly 80 paintings and drawings from some twenty French and foreign museums - Orsay, the Pompidou Center, the future Bonnard museum in Cannet, the Metropolitan Museum of Art, the Brooklyn Museum ...- as well as from private collections.

In 1910, Bonnard rented La Roulotte, a house located in Vernonnet, five kilometers from Giverny, which would become a recurrent theme in his work. In 1912 he bought it and stayed there regularly until 1938. And as of then he settled definitely in Cannet, near Cannes. Throughout these years the artist painted over one hundred landscapes inspired by Vernonnet and its surroundings.

This period is the least studied for it is often considered as one of transition between the production of his youth and that at Cannet. And yet, it was one that was particularly rich. At the turn of the century, Bonnard drifted away from the Nabi aesthetic and searched for a new language. His art turned progressively towards a stronger expression in which colors were freer, and his search ran parallel to that carried out at the same period by his friend and neighbor, Claude Monet.

Bonnard treated all themes at that time: landscapes in particular, but interior scenes as well, nudes or still lives, not to mention decorative painting often inspired from the landscapes along the embankments of the Seine. Around the paintings and drawings chosen to present this productive period, the exhibition adds an ensemble of the artist's photographs in Normandy, as well as an important section of documents, correspondence and archives.


Exhibition catalogue: Bonnard in Normandy Under the direction of Marina Ferretti Bocquillon. Texts by Dita Amory, Chantal Duverget, Ursula Perucchi-Petri, Marina Ferretti Bocquillon and Vanessa Lecomte 152 p , 24x29cm, bound, 100 col. ill. Copublished by Musée des impressionnismes/Hazan 29 € ISBN 978 2 7541 0546 0
buy that book from Amazon

MUSÉE DES IMPRESSIONNISMES
99, rue Claude Monet
27620 GIVERNY

INFORMATION:
Tél : 02 32 51 94 65
Site : www.mdig.fr
E-mail : contact@mdig.fr

HOURS:
Every day from 10am to 6pm (last admission : 5,30pm)

ENTRANCE FEES:
• Full price: 6.5 €
Guided visit supplement, individuals: 4 €
• Concessions: Children + 12 years , students, teachers, unemployed: 4.5 €
• Children 7 to 12 years, Handicaped visitors: 3 €
• Children - 7 years: Free
• Free for all 1st Sunday of each month

CURATOR:
Marina Ferretti Bocquillon

PRESS CONTACTS:
• Catherine Dufayet Tél. 01 43 59 05 05
catherine.dufayet@wanadoo.fr
• Géraldine Brilhault Tél. 02 32 51 92 48
g.brilhault@mdig.fr