BURAGLIO, THE PRIVATE WAR
FROM 12 OCTOBER 2011 TO 4 MARCH 2012

War seen through the eyes of a committed artist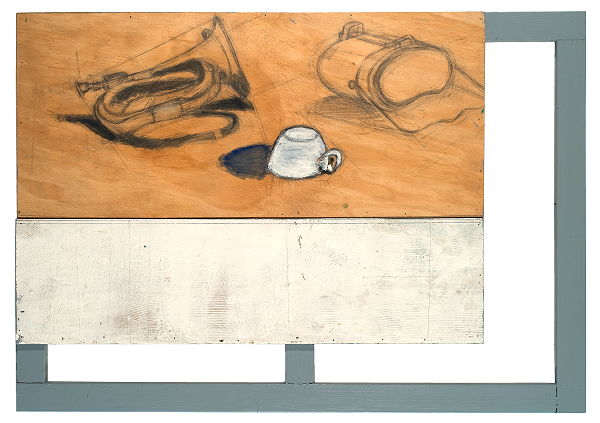 Pierre Buraglio, Kamerad V (to Marcel Gromaire), 2010-2011, pencil, paint on plywood, mounted 65X92 cm. © Alberto Ricci / ADAGP, Paris, 2011

The first retrospective of Pierre Buraglio's works dealing with the theme of war, along with the new works created during his residence at the museum in 2011, is presented in conjuntion with the Historial's graphic arts collection. The exhibition features alongside a selection of 60 drawings extracted from the graphic arts collection of the Historial, which Pierre Buraglio selected by following his heart. Pierre Buraglio, the private war is one of 40 exhibitions set up within the framework of « Dessiner-Tracer », which approaches drawing in all its dimensions – artistic, scientific, educational and entertaining.




Maurice Le Poitevin, Avec les débris de la Ve Armée anglaise en retraite sur Noyon, mars-avril 1918, charcoal and watercolour on white paper pasted on grey cardboard, 34x27 cm.

Childhood memories

Pierre Buraglio is an artist of international renown, whose art is committed to revisit history. Born in 1939, Pierre Buraglio wasmarked by World War II and the family stories relating to the Great War. Indeed, for several years now, Buraglio has focused his attention on different wars: that of his early childhood during the 1939-1945 period, that of the concrete bunkers of the Atlantic Wall, that of the wounded soldier Birdy, wars which leave their marks and their wounds on humankind. Since 2004, he has been working in particular on his childhood memories from the 1939-1945 period with the multi-part series 'J1' (the 'J1' of the title refers to the ration tickets issued for the youngest children - category J1 - during the Second World War).


Buraglio and the soldier artists

The discovery of the museum and of its collections brought back personal and buried memories for him. Cut, combined, the silhouettes of war objects drawn on different media are mixed with symbols: as the Red Cross, or initials K the letters K for Karl Liebknecht, and R, for Rosa Luxembourg. The exhibition will feature alongside a selection of 60 drawings extracted from the graphic arts collection of the Historial, which Pierre Buraglio selected by following his heart: drawings of soldier artists, famous or not, sketches executed on the front or at the rear. All aroused in him a look that is both critical and passionate. What the artist created, which is presented beside the drawings dating from the Great War, reveals the art of Pierre Buraglio in a new and rich expression, a free expression in face of history.




Pierre Buraglio, Rosa-Karl, 2011, silk print Eric Seydoux, Coedition Historial and Galerie Catherine Putman. © Alberto Ricci / ADAGP, Paris, 2011

Between art and politics

From the early 1960s to the present, Pierre Buraglio has constantly moved between abstraction and representation. He began studying at the Beaux-Arts in Paris in 1959 and was selected two years later to participate in the Salon de la Jeune Peinture (an annual showcase for young artists). During the 1960s, he developed original artistic practices such as the 'Recouvrements' (Overlappings), 'Agrafages' (Staplings) and 'Camouflages'. In the wake of May '68, he stopped painting in order to devote himself to militant political activity. When he returned to art in 1974, he began producing 'paintings' where the paint was applied directly on wooden stretchers, frames and window frames. In 1978 he came back to representation with the long series of 'Drawings after…' based on works by major figures of the art-historical canon such as Poussin, Ingres, Cézanne and Degas. A prolific writer and former professor at the Beaux-Arts, Buraglio exhibits regularly in France and abroad.


PUBLICATION:

• Catalogue: Buraglio, la guerre intime. Dessiner-Tracer. Amiens : Association générale des Conservateurs des collections publiques de France, section fédérée de Picardie, 2011. 80 pages, 50 illustrations, 12 €.


To see more illustrations, click on VERSION FRANCAISE at the top
of this page

HISTORIAL DE LA GRANDE GUERRE
Château de Péronne – BP 20063 – 80201 PÉRONNE

INFORMATION:
• Tel: +33 (0)3 22 83 14 18
• E-mail: info@historial.org
• Website: http://www.historial.org

OPENING HOURS:
• Everyday from 10AM to 6PM
• Closed from December 17 2011 to January 15 2012.

ENTRANCE FEES:
Free entrance.

CURATORSHIP:
Marie-Pascale Prévost-Bault, head curator, and Pierre Buraglio

PRESS CONTACT:
Céline Persyn press@historial.org