MEOW WOLF PRESENTS GLITTEROPOLIS
FROM 30 NOVEMBER 2011 TO 18 FEBRUARY 2012

AN IMMERSIVE INSTALLATION AT THE NEW MEXICO STATE UNIVERSITY ART GALLERY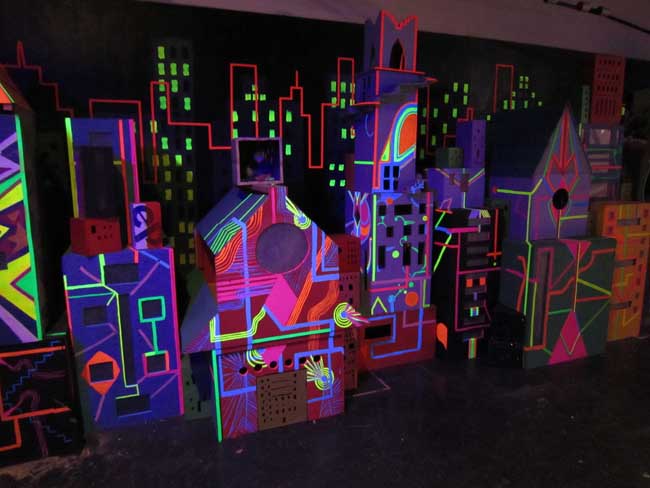 Meow Wolf. Glitteropolis (The Factories)
The New Mexico State University Art Gallery invites the public to visit GLITTEROPOLIS, an immersive, interactive installation by the Santa Fe-based artist collective MEOW WOLF. Follow the path through a futuristic city of bling -- past the factories and the suburban front yard into the Glo Forest and an Ice Hotel.
Meow Wolf is very process-oriented. This is seen both in their collective decision-making strategies, and in the way that their initial plans are treated as armatures that are fully expected to be altered by the community of participants that is created anew for each installation. For GLITTEROPOLIS, Meow Wolf has opened the process to students at NMSU, who are free to participate "each according to their abilities."
NMSU Gallery Director Preston Thayer notes that underlying the offer of a fully-immersive experience for the visitor is Meow Wolf's desire to reify the installation process, and thus extend the excitement of collaborative creation beyond the opening night. In this temporal extension, GLITTEROPOLIS becomes theater. Join us!

OPENING RECEPTION

Wednesday, 30 November 2011 at 5:00pm. Free and open to the public


PUBLIC GALLERY TALK

• Meow Wolf members will give a public talk on 25 January 2012, at 5:30pm.
• Venue: Health & Social Sciences Auditorium on the NMSU campus.

NEW MEXICO STATE UNIVERSITY ART GALLERY
1390 E University Avenue
MSC 3572 POBox 30001
LAS CRUCES New Mexico 88003 USA

INFORMATION
• Phone: 01-575-646-2545
• Website: http://www.nmsu.edu/artgal
• Fax: 01-575-646-8036
• Mail : artglry@nmsu.edu


OPENING TIMES
Tuesdays thru Saturdays noon – 4:00pm + Wednesdays 6:00 – 8:00pm
Closed during University holidays.

ADMISSION PRICE
Free entrance

CONTACTS :
• Gallery office Phone: 01-575-646-2545
artglry@nmsu.edu