BENANTEUR, AN ITINERARY.
PAINTINGS FROM 1957 TO 2011
FROM 19 JANUARY TO 25 FEBRUARY 2012
Opening: Thursday 19 January, 5-8 PM

The humanist and colorful painting of the great parisian and algerian painter Abdallah Benanteur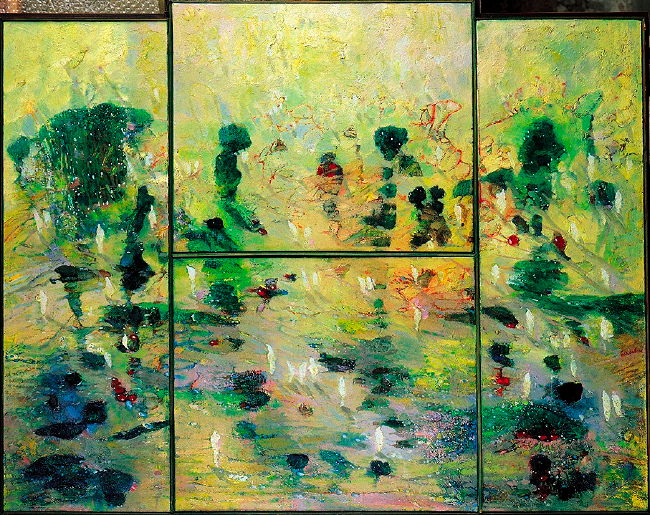 Benanteur, Le Jardin de Saadi, 1984. Polyptyque, oil on canvas, 95 x 120 cm.

Born in 1931 in Mostaganem, Abdallah Benanteur was brought up by his family in an Algerian cultural world very sensitive to illuminated Works and the written word, to Sufi poetry and to Andalusian music and song. He left Algeria in 1953, and chose Paris as the capital of life, of creation and of international renown.


A childhood in Oran

I started painting very early, Benanteur writes, at the age of 10 or 12. I was a shy child and not very healthy. This helped me quite a bit as my parents never contradicted me, even though painting meant nothing to them. They accepted that I enter the School of Fine Arts in Oran at the age of 14. My father had a workshop built for me over his shop and I spent my afternoons painting according to motif. I had a passion for the olive grove and I never tired of painting that motif repeatedly. His family had no inkling for painting but was literate and sensitive to art. His father was a merchant, a professor of Arabic, an Imam and a lover of classic Arab poetry and Sufi mysticism, which he introduced to his son. His uncle was in an orchestra of Andalusian music, and those notes nourished his childhood. A painter is never born from nothing Benanteur concluded.


Dinet, Klee and Paris

Benanteur was first influenced by Étienne Dinet and the Orientalist painters - an admiration he later in life relativized -, and was then interested in the European painters who worked in North Africa. Chassériau, Delacroix, Matisse… and above all Klee, who deeply affected him during his first years of learning. When Benanteur arrived in Paris at the age of 22, he realized not only artists inhabited the French capital. He had to work hard to be able to paint on weekends. But the contact with painters from various countries, the visits to galleries contributed to shape his art. He was impregnated by the major Works he saw in French and European museums, but created a very personal work, poetic landscapes bathed by the light of his native Mediterranean or the Brittany he adopted, landscapes that were either abstract and sometimes inhabited by silhouettes of people in movement.


A humanist and glistening painting

A typographer, a model maker and a Genius of an engraver, he created hundreds of books - copies that were often unique on poems from the world over - which he designed and carried out completely on his own, from the work on the paper to the printing of all the proofs on his hand press. His paintings, half way between abstraction and figuration, are «transparent, iridescent with multiple colors and always accompanied with refined prismatisations» (Marc Hérissé), while refusing all academicism (…) and all folkloric arrangement» (Raoul-Jean Moulin). The panels of his diptychs and his polyptychs reflect an idealistic, humanist and universal vision. They are articulated in perfect harmony, like complementary images, similar and different, reflections of one another, up to infinity.


EXHIBITIONS:

Established in october 1988, Galerie Claude Lemand dedicated to Benanteur 20 personnal exhibitions and 28 collective ones.


PUBLICATIONS:

The Galerie Claude Lemand has published the monograph of BENANTEUR in 2 volumes. Bound books, in a colored jacket and case, texts in French and in English. On sale at the gallery:
• 1 Benanteur, Peintures 120 €
• 2 Benanteur, Oeuvres graphiques, 140 €


To see more illustrations, click on VERSION FRANCAISE at the top
of this page

GALERIE CLAUDE LEMAND
16 rue Littré - 75006 PARIS

INFORMATION:
Tél : 01 45 49 26 95 / 01 45 45 19 66 E-mail : clemand@wanadoo.fr

OPENING HOURS:
Wednesday to Saturday, 3 PM to 7 PM, and by appointment

ADMISSION PRICE:
Free admission