WRITERS'DRAWINGS
The collection of Pierre and Franca Belfond
EXHIBITION FROM 11 TO 13 FEBRUARY 2012
AUCTION TUESDAY 14 FEBRUARY 2.30pm AT ARTCURIAL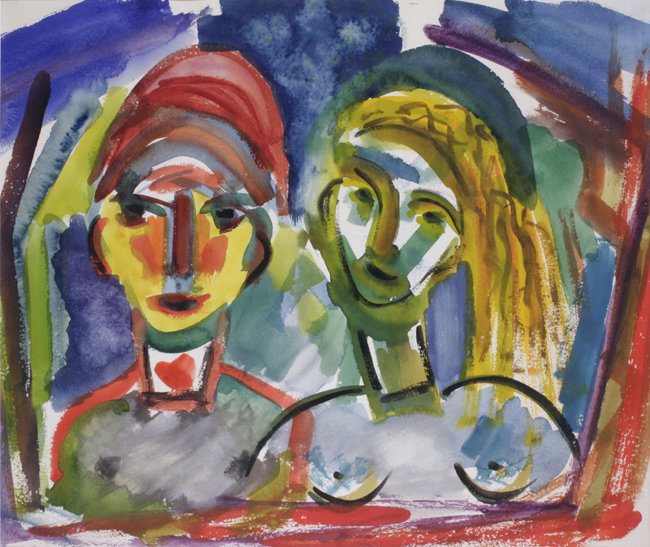 HENRY MILLER Portrait of a couple Signed and dated, Henry Miller, 5/58 on a breast, bottom right. Watercolor, 44x52cm, framed under glass (estimate 3000/4000 euros).

Pierre and Franca Belfond have decided to part with their extraordinary collection of writers' drawings they started over 40 years ago: 135 drawings, from Apollinaire to Alfred de Vigny, including William Burroughs, Marcel Proust and even Saint Exupéry. Landscapes, street scenes, geometric or abstract compositions, realist or surrealist sketches, portraits and self-portraits. A "Couvée de poussins"(A brood of chicks) by Nathalie Sarraute is estimated at 1000/1500 Euros, A "Jeune cocher de Londres" (Young coachman in London) by Arthur Rimbaud, between 120 000 and 150 000 Euros. Before being put up for sale at ArtCurial on 14 February 2012, they will be shown there for three days. A unique opportunity to visit this ephemeral museum before it is scattered. Explanations and commentaries from the collector himself...


Why would you collect writers' drawings?

Why would a publisher you mean collect writers' drawings? As if he should be overfed by lame manuscripts, hesitant translations, and, worst of all, by writers (unhappy, complaining, unsatisfied) that I need to console or to throw out my office window (4th floor)? Well, no. Each publisher is something of a psychoanalyst: everything is useful to help him understand the psychology of the writers who honor or dishonor his catalogue: and nothing is more revealing of a person's thoughts than the scribbling on the side of a letter or a sketch meant to explain what is not explainable. Napoleon pretended, «A letter, a plan tell me a lot more than a long speech». He was right. The first drawing I ever bought -it was in 1971- a car signed by Marcel Proust, made me realize immediately why the author of «In search of» used so many parenthesis and hyphens: his car was made of countless pieces that had nothing to do with mechanics!


And how to chose?

What writers was I going to chose? The most famous or the least known? The cursed or the most celebrated? Those whose works I preferred or those whose artist's hand I most admired? Cruel dilemmas! Let us look, if you wish, at six drawings that have nothing in common:
• Creation of the Homunculus II, by William Burroughs. One sees a vague yellow silhouette against a red background. Was I seduced by the «subject» (um! What was it?)or by the both soft and violent harmony of the colors? Was I influenced by the fact I published one of Burroughs' most famous novels, «Junkie»? Not easy to answer.
• Portrait of a couple, by Henry Miller. Funny, another American author! And I also published a work of his, a large volume, his «private» correspondence with a French writer, Joseph Delteil. Would this mean I am sensitive to Mr. Miller's fame? Unless the pretty blue breasts of the lady in the portrait made me think the author of «Sexus» wished to confide in us some details that do not appear in his book.
• Je suis tellement perplexe (I am so perplexed) by Antoine de Saint-Exupéry. It is obvious that the nice gentleman who speaks to us is an etching of «The little Prince». Who could ever not like the Little Prince? And to top it off, St. Ex was shot down when he was piloting his Lightning: he is more than a drawer, he is a hero. How could I ever hesitate to buy such a moving drawing by a hero?
• Portrait de Céline, by Gen Paul. This is not a writer's drawing, but rather a writer who posed for a painter. The painting is from 1936. If this portrait – the most beautiful ever seen of Céline – had been painted during World War II, during the Occupation, I am certain I would never have bought it. But, in 1936, there was nothing to be ashamed of, and on the contrary, Céline had two masterpieces: «Voyage au bout de la nuit» (Journey to the end of the night) and «Mort à crédit» (Death on the instalment plan). No one had the right to let such an opportunity, those two names put side by side, go by. They just landed in my bag.
• Ship in a Greek port, by Lawrence Durrell. The Alexandria Quartet made Lawrence Durrell famous. One can smell the Mediterranean when looking at it. How could you not welcome it and hang it in your office or living-room, this watercolor representing a sailboat anchored in a Mediterranean port? And, when you reread Balthazar or Mountolive, you can taste the mysterious insinuations with greater insight. Now there you have a simple psychoanalysis that does not require Dr. Lacan's couch!
• Paysage avec deux femmes nues (Landscape with two nude women), by Paul Eluard. When we know a little about Paul Eluard's intimate life, we can let ourselves go and imagine that these two delightful creatures (whose names we can guess) straddled (if we can risk such an image) on an anteater, are here for the sole pleasure of the two accomplices (who are hiding), Paul Eluard and Salvador Dali. Here again, this drawing – actually a collage – reveals what "L'Amour, la poésie"(Love, poetry) hides behind literature alone.


And what about art in all this?

One unsolvable problem remains: «What about art in all of this? » We could never forgive Ingres for an extra vertebrate. Writers are forgiven before hand. Nevertheless, the legs of the horse in Apollinaire's Sergeant in mounted arms are pretty strange. As for Alfred Kubin's swan, it actually looks like a goose. And the arms of Eugène Ionesco's parents are quite out of proportion in regard to the size of their children. We should then admit that there is a double-be it triple- standard: the Goncourt Prize or the Pullitzer Prize, or the Nobel Prize for that matter, are enough to justify the most monstrous clumsiness. The greatest disgrace that could be bestowed on poets, novelists, dramatists or philosophers would be to be rewarded the Prize of Rome for painting!
They can rest assured: the Prize of Rome was cancelled by the French 5th Republic...


To see another illustration, click on VERSION FRANCAISE at the top
of this page

ARTCURIAL
Hôtel Marcel Dassault 7 Rond-point des Champs-Elysées
75008 PARIS

INFORMATION:
• Tél.: +33 (0)1 42 99 20 20
• Site: http://www.artcurial.com
• bputtemans@artcurial.com

ON LINE CATALOGUE:
http://www.artcurial.com
TELEPHONE DURING THE AUCTION:
Tél.: +33 (0)1 42 99 16 49

EXHIBITION:
Hôtel Marcel Dassault
Saturday 11, Sunday 12 and monday 13 from 11am to 7pm
Free admission

AUCTIONEER:
Hervé Poulain

EXPERTS AND PRESS CONTACTS :
• Alain Nicolas, expert près la Cour d'Appel Tél.: +33 (0)1 43 26 38 71
neufmuses@orange.fr
• Benoît Puttemans, junior spécialist Tél.: +33 (0)1 42 99 16 49
bputtemans@artcurial.com
• Armelle Maquin, press Tél.: +33(06 11 70 44 74
amaquin@artcurial.com