TURNER, MONET, TWOMBLY. LATER PAINTINGS
UNTIL 28 MAY 2012

The Staatsgalerie Stuttgart presents three trailblazing painters of the past two centuries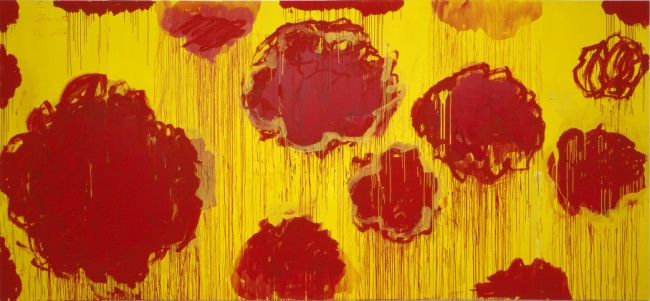 Cy Twombly, Untitled (Blooming: A Scattering of Blossoms and Other Things), 2007,
Private Collection, Courtesy Gagosian Gallery ฉ Cy Twombly Foundation

Until 28 May 2012, the Staatsgalerie Stuttgart presents three trailblazing painters of the past two centuries: William Turner, Claude Monet and Cy Twombly.

Focusing on their late work, it presents a selection of some seventy paintings.
All three artists tested the boundaries of painting and radically challenged traditional modes of depiction. A spacious hang allows the richly coloured canvases and works on paper to interact with each other in unexpected and fascinating ways. Carefully judged juxtapositions bring out a multitude of correspondences between Turner, Monet and Twombly: not only in the way they experiment with colour, pushing the boundaries of painting and breaking with traditions in ways that were not always comprehensible to their contemporaries, but also in their choice of motifs and subject matter. They deal with death and the transience of life, with the changes wrought by the passage of time and with nature as a place of both tranquillity and mortal danger.

With his turbulent seascapes, the English painter William Turner (1775 -1851) created an abstract pictorial language which was adopted by the Impressionists. Claude Monet (1840 -1926) explored the motifs in series of water lily paintings with differing light atmospheres.

Cy Twombly (1928 - 2011) provided impulses for a new perspective on Turner and Monet. A prominent exponent of Abstract Expressionism, the American painter developed their poetic pictorial idiom further in his mythological works.
The exhibition at the Staatsgalerie Stuttgart will not only unite three great painters, but also give visitors new insights into their individual oeuvres.

Exhibition organised by Moderna Museet, Stockholm in collaboration
with Staatsgalerie Stuttgart and Tate Liverpool.


To see another illustration, click on VERSION FRANCAISE at the top
of this page

STAATSGALERIE STUTTGART
Konrad-Adenauer-Str. 30-32
70173 Stuttgart
Germany

INFORMATION:
• Phone: +49 (0)711- 470 40-0
• Website: http://www.staatsgalerie.de
• Fax: +49 (0) 711- 236 99 83
• Mail : info@staatsgalerie.de


OPENING TIMES:
• 10 am to 6 pm, every Tuesday and Thursday 10 am to 8 pm • Every Monday closed
• Also opened on holidays, except Good Friday
• ArtNight: Saturday, 19 May 2012, 6 pm to 12 pm

ADMISSION PRICE:
• € 12 / 9, Children up to age 12 free, Young persons (age 13-20) € 2,
• Collection included € 14 / 11, Family Ticket € 24 (2 adults with young people up to age 20)
• Members of "Friends of the Staatsgalerie" free with a valid Bahncard
• € 9 with a valid VVS-Ticket or a Metropol Single Day Ticket •

CONTACTS:
• Press Contact: Anette Frankenberger Phone: +49 (0)711- 470 40-176
a.frankenberger@staatsgalerie.de