MISIA, QUEEN OF PARIS
FROM JUNE 12 TO SEPTEMBER 9 2012

An extraordinary character who both witnessed and played a part in the artistic life of France for almost sixty years.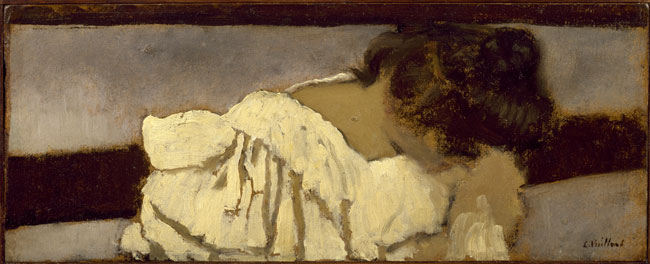 Édouard Vuillard (1868-1940) La Nuque de Misia, 1897-1899 Huile sur carton contrecollé sur panneau parqueté, 13,5 x 33 cm Private collection © Archives Vuillard, Paris

Music above All

Misia (Marie Sophie Olga Zénaïde Godebska, Saint-Petersburg 1872 - Paris 1950), who was taught by Fauré, associated with the most inspired composers of her time: Debussy, Ravel, Stravinski, Satie and Poulenc. Paintings by Vuillard and Bonnard and a print by Vallotton depict her playing the piano, a reminder of the recitals she used to give for her friends.
Extracts of pieces by Ravel, dedicated to Misia, complete the portrait of the musician along with an extract from Satie's Three Pieces in the Shape of a Pear, her favourite composition


The Period of La Revue Blanche


In 1893, Misia Godebska's marriage to Thadée Natanson, a childhood friend who was then
director of the artistic and literary periodical La Revue Blanche, propelled the young musician into the centre of a group of avant-garde creative artists and writers who championed a style of art based on suggestion, symbolism and decoration. Bonnard, Vuillard, Vallotton, Toulouse-Lautrec, Mallarmé, Romain Coolus, Tristan Bernard and Lugné-Poe were part of this circle of close friends who were regularly invited to the Natansons' Parisian apartment and to their country house at Valvins, then in Villeneuve-sur-Yonne.
While Mallarmé saw her as the true spirit of the Revue Blanche, and presented her with a fan with a poem written on it, Bonnard and Lautrec chose her as the model for an advertising poster extolling Natanson's magazine. This section is rounded off with photographs of Misia by Vuillard and Thadée Athis (Thadée Natanson's brother) or anonymous, which shed more light on the group portraits and paintings of the "Misia years", when her Slavic charm fascinated artists.


Madame Verdurinska

Thadée, ruined by La Revue Blanche, pushed Misia into the arms of the extremely wealthy press baron Alfred Edwards, the founder of Le Matin, whom she married in 1905. From then on, she presided over the artistic soirées and intrigues of the Parisian cultural élite in the years before the First World War and Années folles, spending Edwards' fortune on productions of the Ballets Russes. With The Afternoon of a Faun (1912), The Rite of Spring (1913), which caused a huge scandal, and Parade (1917), a new generation of creators emerged around Misia: Diaghilev, Debussy, Stravinski, Ravel, Cocteau, Reverdy, Gide, Picasso and Marie Laurencin. Misia's apartment on the rue de Rivoli became a home from home for the Ballets Russes.
Her role as an intermediary between creators and the international aristocracy gave her a powerful platform from which to impose her tastes and proclaim her likes and dislikes. Nicknamed Madame Verdurinska by Coco Chanel, her closest friend from 1916 on, Misia was the model, in part, for the character of Princess Yourbeletieff in Proust's Remembrance of Things Past. It was in 1908 that she met the Catalan painter, José Maria Sert, whom she went on to marry in 1920 after they had lived together for twelve years.


Love, Castanets and Tango

Her tempestuous relationships with her husbands, friends and artists are evoked in paintings and prints by Vallotton, Vuillard and Marie Laurencin as well as in numerous photographs. The decorative border painted by Bonnard in 1906-10 for the dining room in Misia's apartment at 29, quai Voltaire, is a cryptic allusion to her jealousy in affairs of the heart: the pearl necklace that adorns the panels is a reference to the accidental death of the actress Geneviève Lantelme, her rival for the affections of Edwards – a death that remained unexplained.
Misia's extraordinary life inspired several novels. The episode when she was the victim of a bargain to save Thadée Natanson from financial ruin appeared in a play co-written by Octave Mirbeau and Thadée Natanson. Home was written performed in 1908, and was the subject of a trial. Misia was the model for Princess de Bormes in Cocteau's Thomas the Imposter (1923) and inspired The Sacred Monsters (1940), a play featuring Misia, Sert and Roussy, the mistress and then wife of Misia's third husband, the painter José Maria Sert. A film by Bobsie Chapman, made in 1934, with Misia, Roussy and Colette, brings to a close the account of the love life of this extraordinary character who both witnessed and played a part in the artistic life of France for almost sixty years.

To see another illustration, click on Version Française, at the top of the page


This exhibition has been organised by the Musée d'Orsay with the cooperation of the National Opera of Paris during the Parisian venue and coproduced with the Musée Bonnard, Le Cannet.


PUBLICATION:

Exhibition catalogue, joint publication by Musée d'Orsay / Gallimard, 192 pages, approx.100 illustrations, €35

MUSÉE D'ORSAY
1, rue de la Légion d'Honneur, 75007 PARIS

INFORMATION:
Tel. 33 (0)1 40 49 48 14
Website musee-orsay.fr

CURATORS:
Isabelle Cahn and Marie Robert, curators, Musée d'Orsay

HOURS:
Open daily, except Mondays, 9.30am – 6pm, Thursdays until 9.45pm

ENTRANCE FEES:
Full rate: €9 Concessions: €6.50