MARCEL DUCHAMP: 1° LA CHUTE D'EAU
by STEFAN BANZ
June 6 2012

The starting point of DUCHAMP'S famous final masterpiece ÉTANT DONNÉS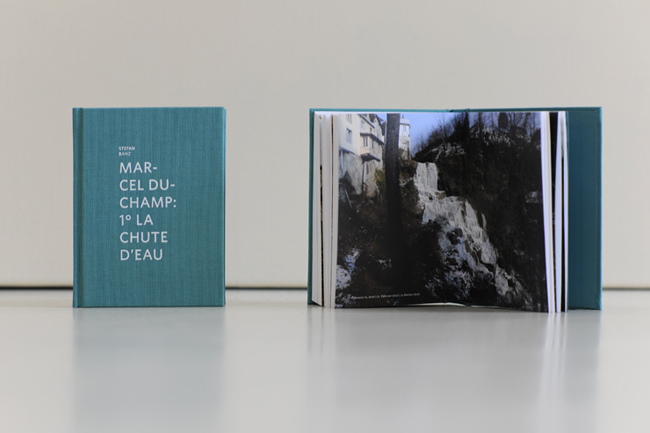 THE BOOK
In the Summer of 1946, Marcel Duchamp spent five weeks in Switzerland, including five days at the Hotel Bellevue (today, Le Baron Tavernier) near Chexbres, on Lake Geneva. There he discovered the Forestay waterfall. No research was ever done as to why the artist chose this waterfall and not another to become the starting point for, and ultimately the landscape, of his famous final masterpiece, Étant donnés: 1° la chute d'eau, 2° le gaz d'éclairage (Given: 1. The Waterfall, 2. The Illuminating Gas). Stefan Banz describes precisely and captivatingly how all this happened


THE AUTHOR
Stefan Banz is an artist and curator. He studied art history, modern German literature and literary criticism at the University of Zurich. In 1989 he co-founded the Kunsthalle Lucerne and was its artistic director until 1993. In 2001–7 he was a member of the Swiss Commission for the Arts, received in 2000 the Manor Art Prize and the Recognition Award of the city of Lucerne, and was the curator of the 2005 Swiss Pavilion at the Venice Biennale. Since 1993 numerous exhibitions in international museums and galleries, and since 2004 he has been also collaborating with Caroline Bachmann. Together they founded the Kunsthalle Marcel Duchamp in Cully, Switzerland, in 2009. Websites: Sites web: www.banz.tv and www.bxb.ch..


By the same publishers

Ernst Strouhal – M. Duchamp | V. Halberstadt. A Game in A Game
176 pages; 14 x 10.5 cm; Deutsch | English | français; 62 color and 8 black and white images; ISBN 978-3-86984-327-8.

Ernst Strouhal playfully yet validly demonstrates how Opposition and Sister Squares are Reconciled by M. Duchamp & V. Halberstadt (1932). The book not only comprises a rare, almost utopian treatise on chess endgames but is also a unique chess book for artists and an artist's book for chess players.

KUNSTHALLE MARCEL DUCHAMP | VERLAG FÜR MODERNE KUNST NÜRNBERG
rue de l'Indépendance 2
CH_1096 Cully

INFORMATION:
• Site: http://www.akmd.ch
• E-mail : hello@akmd.ch


PRICE:
euros 20.00

BOOK SPECIFICATIONS :
english | deutsch | français
364 pages, fully illustrated
hardcover
14 x 10.5 cm
isbn 978-3-86984-328-5