TEA AT GUIMET
STORIES OF A CENTURIES OLD BEVERAGE
From 3 October 2012 to 7 January 2013

The itinerary of a universal beverage through Asia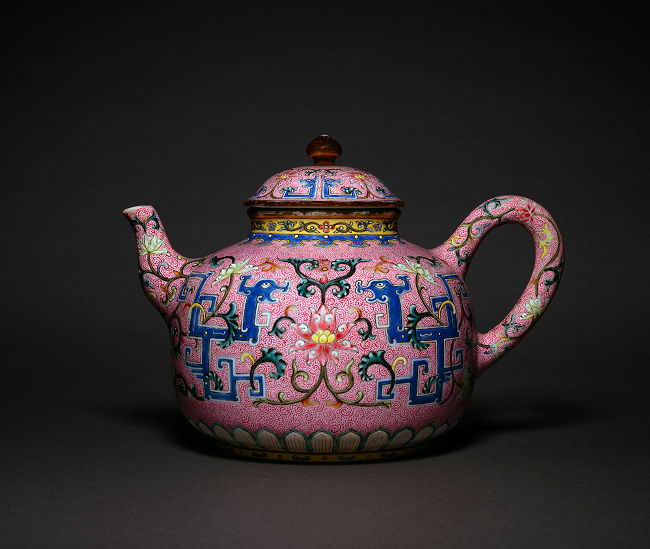 Teapot, Chahu, porcelain, graviata pattern on rose enamel. China, Jingdezhen, (Jiangxi), Qianlong stamp and Period (1736-1795). H. 13.2 cm. Dimension at bottom: 9.2 cm

Born in China, tea has become through the ages the most popular beverage in the world. This large autumn exhibition aims at presenting the more important moments of its history, its expansion throughout the Asian continent, its cultures and practices, as well as the commercial challenges it unveils.




«Preparing tea», Wang Wen (1497–1576). Painting, ink on paper. China, Ming Period (1368–1644). H. 29.5 cm ; L. 283.1 cm. National Palace Museum, Republic of China (Taiwan)

The beginnings of tea

Tea is a derivative of the camellia that flourished wildly in South-West China and was cultivated in small bushes at the beginning of our era. According to a Japanese legend brought to us by botanist Alphonse de Candolle, a monk who was outraged for falling asleep cut his two eye-lids and threw them out. They changed into a tea bush, and its leaves had the power of keeping one awake. Whether one believes the legend or not, the beverage extracted from the leaves of the Thea sinensis little by little became a "way of life" throughout Eastern Asia. Over the two centuries of its history, it went through three different phases: the age of boiled tea under the Tang dynasty (618-907), the age of beaten tea under the Song dynasty (960-1279) and the age of brewed tea under the Ming dynasty (1368-1644).


The three phases of tea

"The age of boiled tea" corresponds today to a method that is practically extinct, except in Mongolia and Tibet where this brew is combined with milk or butter and spiced up. "The age of beaten tea" is embodied in a mousse which currently remains the privilege of Japan with in particular the chanoyu or tea ceremony. This ritual originated in Buddhist monasteries around the VIIIth century in China and Korea, and was exported to the Japanese archipelago that elevated it to the rank of a liturgy. "The age of brewed tea" appeared in the Chinese literati society. This type of preparation exalts the subtle flavors of the tea leaves and soon after, under the Qing dynasty (1644-1911), the gongfucha was born. This refined crockery and codified gestures widened the range of possible aromas. This practice is still used today.




Bowl, "hare-fur" glazed stoneware, silver hooping. China, Jian (Fujian) ovens, 12th-13th century. H. 7cm, Diameter: 12.7cm. EO 2926. © RMN-Grand Palais (Musée Guimet, Paris)/Richard Lambert

Some clues to know more

Different activities will allow those interested to go further. Les routes du thé by Jean-Paul Desroches, curator of the exhibition (15 November at 12: 15 PM) and Le thé des lettrés by Catherine Delacour, curator in charge of arts of China (13 December at 12: 15 PM), are two public conferences which may be attended free of charge. Les ustensiles de la cérémonie du thé et leur utilisation is a workshop with Yuko Takaoka, that will allow the participants to approach the material aspect of the ceremony (24 October and 14 November at 2: 30 PM). The conference by Sylvie Guichard-Anguis, Les douceurs de la cérémonie du thé) will show all the refinement that accompanies this secular tradition (20 October at 2: 30 PM) while Un autre thé : le sencha will be a demonstration-tasting session (3 November 11 AM, 2 and 3:30 PM). Yuuko Suzuki will offer a lecture-performance, L'encre et le thé, poèmes calligraphiés (1st December at 2: 30 PM). In the encounter with Claire Xuan and La route du thé et des temples en Corée, the speaker will study the example of another country with a strong tradition, Korea (8 December at 2: 30 PM) while the round table Les mots des parfums et saveurs will help perfect the semantic knowledge of this very rich universe (15 November at 6: 30 PM). Last but not least, La voie du thé is an invitation to come share the tea ceremonies in the heart of the Japanese garden of the galleries of the Buddhist Pantheon.


PUBLICATION:


To see more illustrations, click on VERSION FRANCAISE at the top of this page

MUSÉE GUIMET – GALERIES DU PANTHÉON BOUDDHIQUE
19, avenue d'Iéna – 75116 PARIS

INFORMATION:
• Tel. 01 56 52 53 00
• Website: www.guimet.fr

OPENING HOURS:
• Open every day except for Tuesdays, from 10 AM to 6 PM.
• Ticket booths close at 5: 15 PM, the galleries at 5: 45 PM.
• Closed on 25 December and 1st January.
• Free audioguides.

ADMISSION PRICE:
• Full rate: €8. Reduced rate: €6.
• Joint ticket for temporary exhibition and permanent collections, full rate: €9.50, reduced rate: €7.

CURATOR:
Jean-Paul Desroches, General Curator, China section

PRESS CONTACTS:
• Hélène Lefèvre, Head of the Communication Service
Tel. 01 56 52 53 32 Fax 01 56 52 53 54
helene.lefevre@guimet.fr
• Sophie Maire, assistant
Tel. 01 56 52 54 11 Fax 01 56 52 53 54
sophie.maire@guimet.fr