MARIBOR PROJECT
REBECCA HORN & GUESTS
FROM 28 SEPTEMBER TO 11 NOVEMBER 2012

First exhibition of Rebecca Horn's works in Slovenia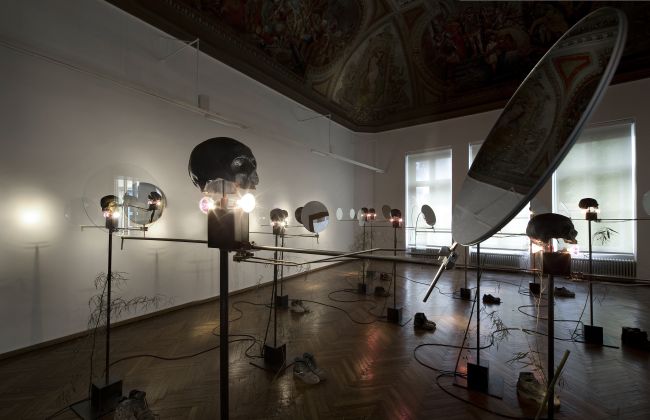 Rebecca Horn, Will of the Wisps, 2012, photo: Damjan Svarc
Rebecca Horn exclusively for UGM presents part of her most acknowledged  works, selected personally by the artist, comprising installations, mechanised sculptures and drawings. Rebecca Horn also selected works by guest artists Matthias Deumlich, Ali Kaaf, Antonio Paucar, Jakob Schaible and Markus Wüste, who represent one of the most exciting trends in the contemporary art. The artworks are brought into a dialogue with each other through content, material, form and sound connections, as the core of exhibition installation that creates unique course and sound experience. The show is Horn's first exhibition in Slovenia and one of the highlights of European Capital of Culture Maribor 2012.
Since the beginning of the 1970s, Rebecca Horn has been creating an oeuvre consisting of an ever-growing flow of performances, films, sculptures, spatial installations, drawings and photographs. The most frequently recurring themes in Horn's work are sexuality, human vulnerability and emotional fragility, which illustrates the richness and complexity of her work.
Following the physical experience of her performances with body extensions, masks and feather objects of the 1970s came the first kinetic sculptures featured in her films. Maribor exhibition displays feather kinetic object Large Feather Wheel (1997), constructed of feathers and metal mechanism, that creates a fragile, elusive impression while in motion. In the late 1970s and early '80s Horn began to move away from body-centred art into more narrative work including a greater use of film. She used film initially to document her performances but since then has developed it into a new sphere of work, producing several feature films. The association between sculpture and film, which continues to be a key element of her work, is fully explored in the exhibition in works such as Time Goes By (1990/91), in which 40,000 metres of developed Hollywood film, thermometers, binoculars and copper snakes are presented in a mechanised installation in homage to tragic-comic actor Buster Keaton, whose shoes form the central focus of the installation.

In the 1980s and 1990s huge installations were created out of and dedicated to places charged with political and historical importance, for example Tower of the Nameless (1994) and Concert for Buchenwald (1999). One of the key elements of the installations were mechanically playing instruments such as violins, cellos and drums, conveying the sound experience of certain space. Mechanically playing violin and drums are incorporated at UGM exhibition and they open the sonic dimension of Horn's work. Art installation Will o' the Wisps (2012) was made for UGM and the artist explores the theme of human transitoriness and the eternal journey of a man between life and death. The installation is accompanied by the vocal and instrumental composition of Hayden Chisholm, who recorded it in Pleterje monastery in Slovenia and it combines gracefully with the installation in its subtlety, fragility and hints at the unspeakable. 
UGM, MARIBOR ART GALLERY
Strossmayerjeva 6, 2000 MARIBOR Slovenia

INFORMATION:
• Phone: 00386 2 229 58 60
• Website: http://www.ugm.si
• Fax: 00386 2 252 77 84
• Mail : info@ugm.si


OPENING TIMES:
Open every day except Monday, from 10 AM to 6 PM.
Closed on 1st November.

ADMISSION PRICE:
Full rate: € 3, reduced rate: € 2

CONTACTS:
• Andreja Rakovec Phone: 00386 2 251 0494
info@ugm.si