THE BRUSSELS ANTIQUES AND FINE ARTS FAIR
THE POWER OF 10 !
FROM 19th TO 27th JANUARY 2013
With 128 top exhibitors, Brafa inaugurates the international art market calendar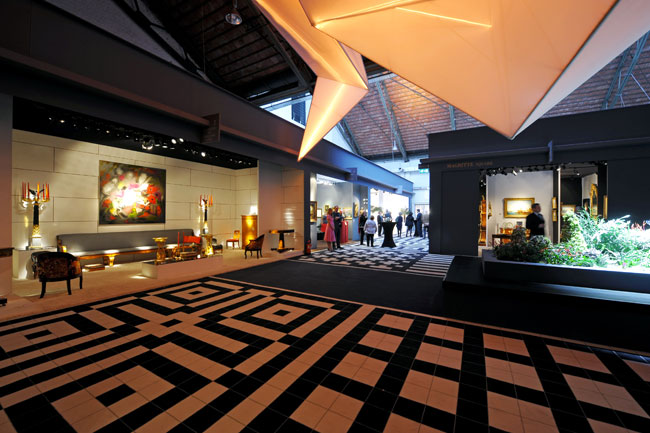 View of the 2012 edition. Good taste always

A record 46,000 visitors attended BRAFA in 2012 and the 2013 event is pulling out all the stops in an attempt to surpass this figure. Its efforts are supported by 128 galleries, exhibiting thousands of works of art in every conceivable style and from all eras and origins, all united in their quest to present the very highest quality and authenticity. Once again, this classic fair will be using the diversity of its specialist areas, cross-over effects and an eclectic approach to catch the eye of the most discerning visitors. All this remains true to BRAFA's philosophy of continuously surprising its visitors, from art market professionals to distinguished collectors and amateur art lovers.


Some new names and new trends for 2013

Of the 128 exhibiting galleries, 17 are attending for the first time and 11 are making a comeback after an absence of one year or more. The Belgian contingent accounts for 53 of these galleries (42%), compared with an international presence of 58%, with 75 galleries from 12 different countries.

While a subtle balance is still apparent between the different specialities, a few trends are crystallising for the 2013 event. Such as Archaeology, which has taken a great leap forward to become a major attraction in its own right, with eight specialist exhibitors of international level: the galleries J. Bagot Arqueologia – Ancien Art (Barcelona), Chenel (Paris), Cybèle (Paris), Roswitha Eberwein (Göttingen), David Ghezelbash (Paris), Gilgamesh (Paris), Harmakhis (Brussels) and Phoenix Ancient Art (Geneva – New York). Pre-Columbian art follows, with the long-established exhibitor Galerie Mermoz (Paris) joined by a new arrival in the form of Galerie 1492 (Paris). Primitive arts are confirming their strong showing with no fewer than six exhibitors, including the gallery Alain de Monbrison (Paris) which will be joining its counterparts from Brussels (Didier Claes, Pierre Dartevelle, Serge Schoffel, Adrian Schlag) and Canada (Jacques Germain). Il Quadrifoglio (Milan) is set to swell the ranks of the 17th century – 1830 continental furniture section, while Galerie J. Zeberg (Antwerp) is preparing to make its comeback in the Haute Epoque area. The 19th-20th century paintings, sculptures and drawings section will be welcoming Jörg Schuhmacher (Frankfurt) and Galerie des Modernes (Paris), while Galerie Tanakaya (Paris) will be strengthening the Asiatic Arts contingent. 20th century decorative arts – return of 88-Gallery (Antwerp – London – Paris) and arrival of Dansk Møbelkunst (Copenhagen) Galerie Pierre Mahaux (Brussels) – and modern and contemporary art – return of Manuel Barbié (Barcelona) – also remain very well represented.

Encouraged by the success of their joint showcase in 2012, the ceramics and porcelain specialists - Jean Lemaire, Artcade, N. Ikodinovic & Co S.A. (Brussels) and Marc Michot (Bruges) – will once again be exhibiting under a shared banner: 'Pavillon de la Céramique'. Finally, 2013 marks the debut appearance of a new specialist section, manuscripts. Admirers of this area of rapidly growing interest will find a wide selection of examples on the stand of the gallery Signatures (Paris), as well as those of the Chambre Professionnelle Belge de la Librairie Ancienne et Moderne, Librairie Thomas-Scheler (Paris) and Sanderus Antiquariaat (Ghent), famous for its antique maps.


An anniversary edition

2013 also marks the tenth anniversary of its move to Tour & Taxis, opening up an area of 14,000 square metres in these vast warehouses to support its ambitious growth plans. By virtue of the relentless efforts of successive decision makers, its excellent organisation, outstanding exhibitors and rigorous assessments to guarantee first class works for prospective buyers, BRAFA has taken up its place at the forefront of the European circuit.

TOUR ET TAXIS
Avenue du Port, 86c, 1000 BRUSSELS

DAYS AND HOURS:
From 19 to 27/01 11 AM to 7 PM
Nocturnes on 22 to 24 till 10 PM

INFORMATION:
• Tel. +32 (0)2 513 48 31
• Fax. +32 (0)2 502 06 86
• Site : www.brafa.be
• Email info@brafa.be

ENTRANCE FEES:
20 € / Groups (>= 10 pers.) 10 € p.p.