CHRISTOPHE CARTIER
IT WAS A VERY GOOD YEAR IN THE EIGHTIES
FROM 5 TO 30 MARCH 2013
Opening 5 March at 6pm

Christophe Cartier's new exhibition based on his film It was a Very Good Year in the Eighties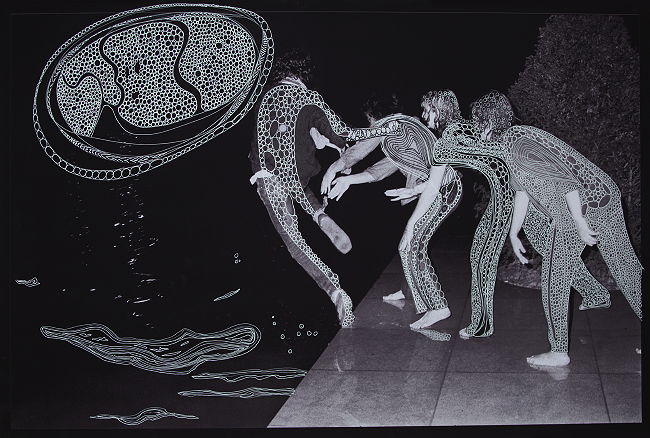 Christophe Cartier, It was a Very Good Year in the Eighties
Autofiction: The Great Hereafter
The autofiction movement is turning back on itself and in danger of stuttering out. Here, however, Christophe Cartier allows foundational images to see the light of day, and they speak for themselves. Before the exhibition came the film. A succession of black and white fixed images and dissolves – poignant, sometimes erotic, sometimes desperate, always seeking their place in the world. The film evokes the self-searching of prolonged adolescence when figures of the possible and impossible emerge from every angle. Twenty years after, we see our own youth in this work.
We find ourselves in the great hereafter, where the film can be situated from the perspective of its foundational images resurfacing through Cartier's inking on selected photos and new black and white drawings that appear as traces of remembrance and oblivion.
"A unique mix of painting, drawing and photography where the "I" slips away, even to himself" (Pierre Furlan)
Christophe Cartier lives and works in Paris, where he got his degree from École Nationale Supérieure des Beaux-Arts. After having worked as a journalist and photoreporter for daily and periodical publications, he has dedicated himself to art since 1985. Both a painter and a photographer, his creation develops at the intersection of painting, drawing photography. He has exhibited in France (Aix-en-Provence, Strasbourg, Paris), Belgium, Switzerland, Spain, Germany, Austra, Tunisia, USA, China, Israel (Tel Aviv, Jerusalem). His most recent exhibition was at Musée Paul Delouvrier (Evry).
In his exhibitions, at Kommerz to.com, at galerie Magda Danysz and AVRIL.EXE, in Paris, 2003, or at Rencontres d'Art Contemporain de la Médina, Tunis, 2003, he's been involved both as an artist and as a curator. He has frequently collaborated with poet Jacques Norigeon and has published in 1991 a portfolio of silk prints, at Linard, Strasbourg, and éditions de l'Ours, à la Tour d'Aigues, Double vue (1997), A voir (1998). He has published in 2011 a novel, , and a photonovel in collaboration with Gisèle Didi, D'une main peindre...