FEMALE POWER
3 MARCH - 20 MAY 2013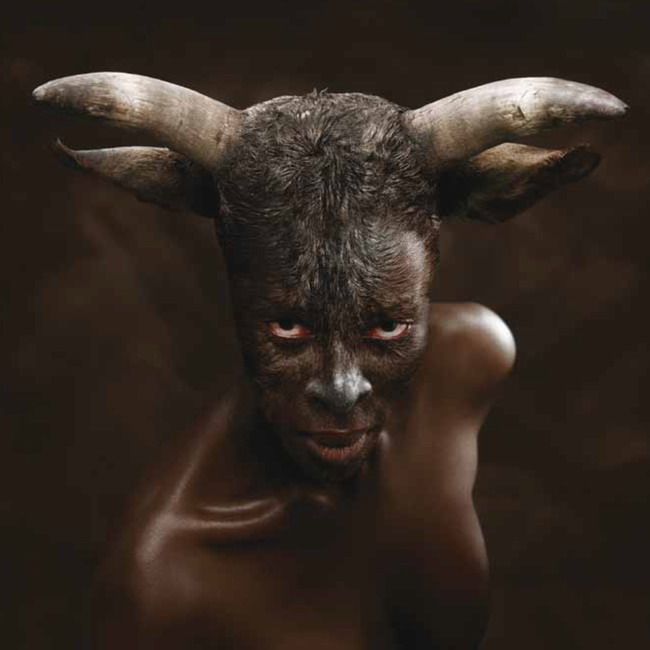 Nandipha Mntambo, Europa 2008, foto 112 x 112 cm Courtesy: Nandipha Mntambo & Michael Stevenson Gallery. Exhibition Female Art, MMKA, 2013
The MMKA presents Female Power an exhibition showcasing female power and strength. Twenty-two international artists show a vision of the future accompanied by a dip in history, from the mother, great-grandmother, to the (mother) goddess. Contemporary art is combined with work of artists such as Louise Bourgeois and Mary Beth Edelson who, in the 70s and 80s of the last century, have contributed with their activism and their images to the empowerment of women.
Is it possible to imagine a society other than the one we have today? A society with different relationships between men and women? At the end of the 1960s and the beginning of the 1970s, many fell under the spell of the idea that there once could have been a society in which women had an important position, equal to that of men. A connection was made between the prehistoric Venus- or fertility figurines, used to worship the (mother-)goddess, and the social position that women would have occupied in the distant past. Inspired by these discussions, many women artists in America and Europe created pieces in which female power was celebrated and women could see themselves presented in a positive light. The search for a sense of identity went hand in hand with a look into the past – to mothers, grandmothers, and great-great-grandmothers, to (mother-)goddesses. Artists like Louise Bourgeois and Betsy Damon were inspired by the classical statue of many-breasted Artemis of Ephesus. In their performances, Ana Mendieta and Mary Beth Edelson drew on the visual language of the prehistoric Venus of Willendorf and the traditional Egyptian Snake Goddess.
Positive perspective
Recently, artists have once again become interested in 'female power.' They visit existing communities where children take their mothers' names and/or where women occupy important economic positions (e.g. in China, Japan, and America). Some depict other societies in their works, for example a commune made up exclusively of women. Others create images in which female forebears or historical female figures are positively represented.There is also a steadily growing group of artists who are absorbed with the role of (historical) belief systems and spirituality and the meanings of gods and goddesses, often in relation to nature and the societal position of women. Their fascination sometimes derives from their critique of contemporary materialistic society, in which there is a lack of spirituality and reflection.
A publication will accompany the exhibition.
Participating Artists: Melanie Bonajo, Louise Bourgeois, Betsy Damon, Mary Beth Edelson, Vidya Gastaldon, Chitra Ganesh, Mathilde ter Heijne, Cuny Janssen, Shakuntala Kulkarni, Ana Mendieta, Almagul Menlibayeva, Nandipha Mntambo, Tsholofelo Monare,  Mai-Thu Perret, Lea Porsager, Nina Poppe, Tracey Rose, Pinaree Sanpitak, Nancy Spero, Niki de St Phalle, Su Tomesen, Miwa Yanagi.   
Side events: A symposium will be organized at May 16th in collaboration with the Radboud University Nijmegen. For programs related to the Female Power exhibition in Arnhem and elsewhere, visit www.mmkarnhem.nl
MUSEUM VOOR MODERNE KUNST ARNHEM
Utrechtseweg 87, 6812 AA, Arnhem, The Netherlands

INFORMATION:
• Phone: 0031 (0) 26 3775300
• Website: http://www.mmkarnhem.nl
• Mail : mmka@arnhem.nl


OPENING TIMES:
Tuesday – Sunday and holidays 11 a.m. – 5 p.m.
Closed on New Year's Day (January 1), Christmas (December 25), and the Queen's Birthday (April 30) Open on Easter, Whitesunday.

ADMISSION PRICE:
Adults € 9,00 p.p.
Students, 65+ € 5,00

FREE ADMISSION
Children (up to 12 years), Friends, ICOM, Vereniging Rembrandt, Museumkaart

REDUCTION
Youth age 13 -17 years € 5,00

CONTACTS:
• MMKA Phone: 0031 (0) 26 3775301
mmka@arnhem.nl