Home
>
Current events
>
THE VOICE AND THE CHORUS Russian video art in Museum De Hallen Haarlem

THE VOICE AND THE CHORUS
Russian video art in Museum De Hallen Haarlem
FROM 9 MARCH TO 26 MAY 2013

Russian video art selected from the collection of the National Centre for Contemporary Arts (NCCA)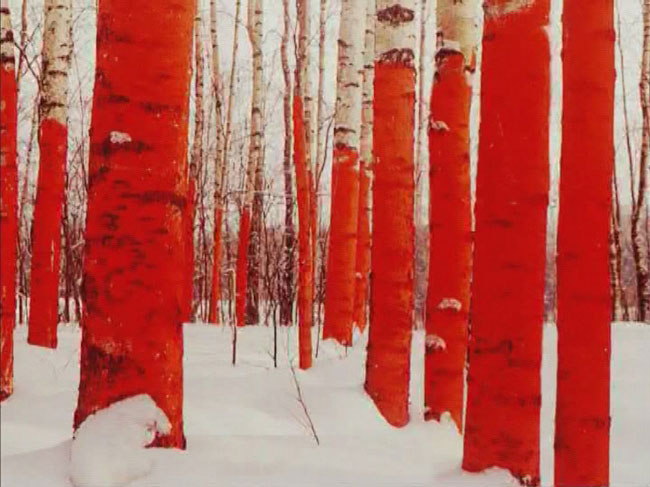 Yury Vasilyev. «Grove». Project «Russian Red». 2001
'The voice and the chorus' shows works from the video collection of the National Centre for Contemporary Arts in Moscow. This institution for contemporary art was founded in the early 1990s and is one of the most important centres in Russia for the research into and the presentation of contemporary art. Most works in the exhibition have been made in the past ten years and offer a concise overview of contemporary Russian video art. 'The voice and the chorus' shows works by artists who also made a name for themselves outside of Russia, like AES+F and Victor Alimpiev, as well as works by young and promising collectives like Upward! Community and Where the Dogs Run Group.
For many artists the Russian identity is an important subject, which therefore takes centre stage in most of the exhibited works. Sometimes this is guided by a sociological perspective, in which the individual's position within society or the collective is highlighted. In the tradition of Russian cinema some of the artists use the Russian landscape as a symbol for Russian identity – the mythic, Romantic landscape in works by Blue Soup Group and Upward! Community, or the urban landscape in Marina Chernikova's work. Works by several members of Upward! Community will be on show, including Dimitri Venkov's absurdist spy thriller 'America' that deals with a secretive conspiracy in the Russian dairy industry.
The film Lullaby (2011) by artist duo PROVMYZA places collective experiences within nature. We see a group of young men struggling with a speaker on a sand dune – a scene that bears references to both 2001 and Zabriskie Point, as well as echoing Tarkovsky's mystic estrangement. The film examines modern society's lack of compassion or attention for the individual: we see a lost generation in its search for meaning. In this work PROVMYZA Group explicitly refers to the American counterculture of the seventies, Richard Hell's blank generation, which did not feel represented by prevailing social structures.
The exhibition's title refers to the dynamic relation between the individual and the collective. To the artist's individual voice and the collective's shared ideological and artistic principles for example – many Russian artists work in a group and prefer a collective to an individual practice.
Under the aegis of the Russia–Holland Year 2013
Organizers: NCCA, Museum De Hallen Haarlem
Under the support of: the Embassy of the Kingdom of the Netherlands in Russian Federation, the Embassy of the Russian Federation in the Kingdom of the Netherlands
MUSEUM DE HALLEN HAARLEM
Grote Markt 16, Haarlem, Netherlands

INFORMATION:
• Phone: +31 (0)23 511 5775
• Website: http://www.dehallen.nl/
• Mail : dehallen@dehallen.nl


OPENING TIMES:
Open Tuesday-Saturday 11:00 - 17:00
Sundays and bank holidays (Easter) 12:00 - 17:00
Closed on Mondays
Closed on Queens Day (April 30)

ADMISSION PRICE:
Adults € 6.00
Groups (per person) € 5.00
19 - 24 / Studentcard € 3.00
Children 18 and under free
Museum card free
Friends of De Hallen Haarlem free
Rembrandt Society free

CURATORS:
Irina Gorlova, Karina Karaeva, Xander Karskens

PARTICIPANTS:
AES+F, Victor Alimpiev & Marian Zhunin, Vika Begalska, Yury Vasiliev, Where the Dogs Run Group, PROVMYZA Group, Bluesoup Group, Elena Kovylina, Marina Chernikova, Upward! Сommunity