MATTHEW DAY JACKSON
AT ZKM | CENTER FOR ART AND MEDIA KARLSRUHE
FROM 18 MAY TO 10 NOVEMBER 2013

One of the most inventive artists of the new generation is presented for the first time in Germany.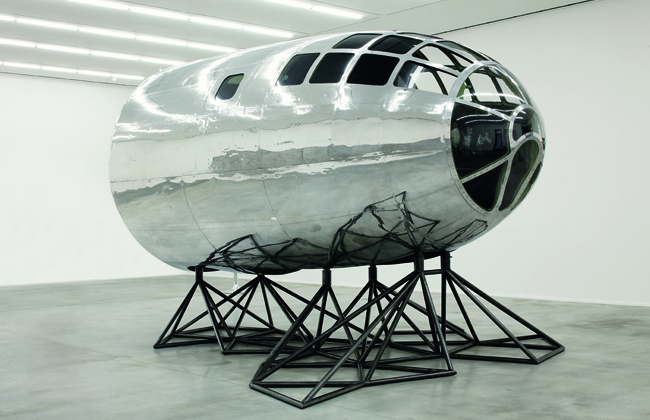 Matthew Day Jackson "Axis Mundi", 2011. Repurposed cockpit of a B-29 aircraft. Private collection. Image courtesy the artist and Hauser & Wirth. Photo: Peter Mallet.
The exhibition Matthew Day Jackson. Total Accomplishment is a comprehensive thematic show in which Jackson, starting out from American cultural history, undertakes a critical, multi-approach examination of the technological occupation of our world. In his work, he scrutinizes the impact of this technological occupation both on the individual and collectively through various media. In doing so, he thematizes the Western civilization by unraveling its myths through the creation of new enigmas.
The predominantly sculptural work of the New York-based artist Matthew Day Jackson (b. 1974; Panorama City, California) is distinguished by its selection of interdisciplinary themes. Here, technology and pop culture, but also aesthetics, philosophy, and sport comprise the wealth of sources from which the works emerge and negate a linear model of history. The artist's questions turn on the deconstruction of history. Through his use of bricolage, connecting the remains of artifacts with high-tech materials, objects emerge that combine utopian as well as dystopian elements of a technologized world. Jackson's practice of unveiling the past renders him as an artist-archaeologist who, in his versatile work, combines historical realities with a fictional search for traces — whereby media-critical reflection is an inherent feature of his works. In this process, the artist's self-mythologizing invariably occupies the center of his oeuvre, thus contextualizing physicality and the destructive results of the human power of invention. 
Matthew Day Jackson. Total Accomplishment is the artist's first German solo exhibition. It offers an overview of Jackson's still young but astonishingly comprehensive work, essentially typified by a 'processing' of the art and cultural history of the Occident.
Publication: A comprehensive ZKM publication appears in conjunction with the exhibition in the form of a mid-career oeuvre index, edited by Andreas Beitin and Martin Hartung, with written contributions by Andreas Beitin, Michael Broderick, Graham Burnett, Knut Ebeling, Anne Ellegood, Jerome Friedman, Donatien Grau, Martin Hartung, Caroline A. Jones, Thomas Macho, Jen Mergel, Sally O'Reilly and Paul Virilio.
Curators: Andreas Beitin and Martin Hartung
ZKM | CENTER FOR ART AND MEDIA KARLSRUHE
Lorenzstrasse 19
76135 Karlsruhe

INFORMATION:
• Phone: +49-(0)721-8100-0
• Website: http://www.zkm.de
• Mail : info@zkm.de


OPENING TIMES:
Wed–Fri 10am–6pm
Sat–Sun 11am–6pm
Mon/Tue closed

ADMISSION PRICE:
Exibition opening on Friday, May 17, 2013, 7 p.m.: admission free

Entrance to the museum: 6 €