VEDOVA TINTORETTO
FROM 24 MAY TO 3 NOVEMBER 2013

Vedova and Tintoretto as if on an ideal journey and dialogue in time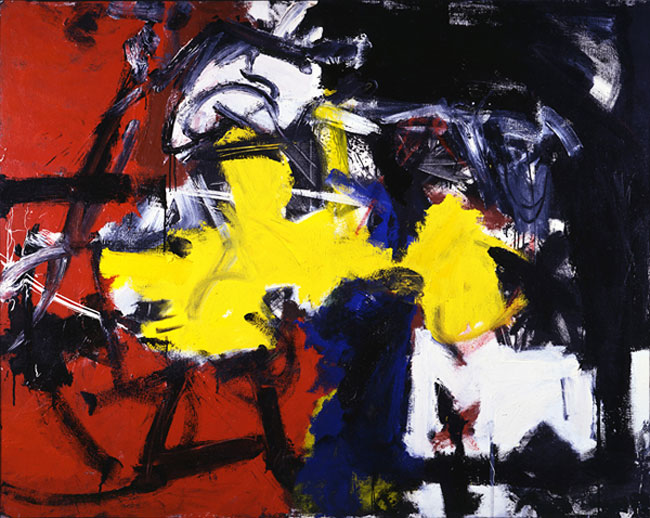 Vedova, Ciclo '62(B3), mixed media, 145,5x185 cm. Fondazione Emilio e Annabianca Vedova.
The Scuola Grande di San Rocco, which houses the grandiose cycle of paintings by Jacopo Tintoretto, opens up to modern and contemporary art with San Rocco Contemporary: in dialogue with Tintoretto. This project puts five great international 20th-century artists into relation with the work of the master of Mannerism.
The first appointment in the cycle is dedicated to Emilio Vedova, a leader on the international scene in the 20th-century. Works that show the close link the young Vedova felt with Tintoretto's work will be shown for the first time, along with more recent ones from his maturity, in an exhibition held jointly by the Scuola Grande di San Rocco and the Fondazione Emilio e Annabianca Vedova.
The works referring directly to Jacopo Tintoretto will be exhibited, on the basis of a programme by Germano Celant and Stefano Cecchetto, as if on an ideal journey and dialogue in time. The observer will almost be able to relive and perceive the close, sensitive look that inspired such a powerful sense of attraction in Vedova, while the Oltre cycle will be installed on the Ground Floor between the columns of the nave.
It will be possible to see Vedova's studies after Tintoretto, produced in various periods up until 1936, two sculptures and a large canvas from the 1960s and on to the Oltre cycle, which the artist created in 1985, in an ideal pathway that finds Vedova back in the places of Tintoretto.
Jacopo Robusti (Tintoretto) was much more than an old master of reference to Emilio Vedova: he was the very basis of his artistic education. This itinerary highlights the impetus and power of a conversation-laceration; starting from the beginning, from the first style exercises, already marked by a strong personality, it offers an understanding of the development of what was to subsequently become the stylistic code of one of the major figures on the international scene of the 20th century.
The analysis of Jacopo Tintoretto's work, intensified by the writings of Jean Paul Sartre, finds the immediate correspondence of an absolutely extraordinary conceptual similarity in the relationship with Emilio Vedova.
SCUOLA GRANDE DI SAN ROCCO VENICE
S.Polo 3052 30125 VENICE

INFORMATION:
• Phone: +39 041 5234864
• Website: http://www.civitatrevenezie.it
• Mail : segreteria@civitatrevenezie.it


OPENING TIMES:
Monday - Sunday 9.30 am – 5.30 pm
Ticket office closes at 5 pm

ADMISSION PRICE:
Full price: € 10.00
Discounts:€ 8.00