MATEJ ANDRAZ VOGRINCIC / I DON'T KNOW
FROM 5 JULY TO 4 AUGUST 2013

An overview of Matej Andraz Vogrincic's work in the last 15 years.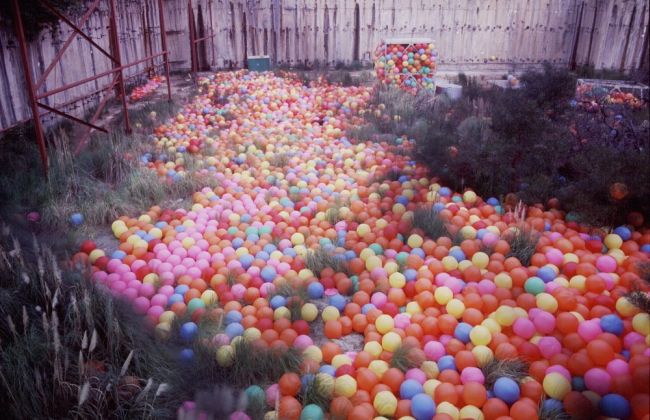 Matej Andraz Vogrincic, Beach Balls, 2003, Perth, Australia, photo: J. Babnik
Matej Andraz Vogrinčič, the author of site-specific installations in urban and natural landscapes across Europe, Australia, Asia and the USA, presents works created in the last 15 years in Ljubljana, Venice, Australia and Siberia. Instead of working on an external venue, the author will this time - rather unusually for him - fill the gallery space with the 'remains' of his outdoor interventions. In their aestheticised and edited appearance the public space interventions will thus search for their new life in the gallery. I don't know begins with the work Suitcase with a shirt (1997) which was selected for the milestone U3 Triennial of Slovene Contemporary Art by Peter Weibl. To the author this was a peak of an era when he through experimenting with his own style and with an open enthusiasm for historical avant-garde, especially for Dada ideas, "tailored" clothes for him, for bananas and eventually for a house in Venice during the Venice Biennale (Casa vestita, 1999). After early experiments where multiplication and metamorphosis of common objects were permanent features, the author was given a chance to apply his ideas in totally new dimensions and unexpected settings. His possibly most iconic and monumental works which also attracted extensive media coverage were designed in Australia between 2000 and 2005: 15,000 toy cars for a "blind" facade in Adelaide (Car park – Members Only, 2000), 1800 watering cans in a desert in the heart of Australia (Moon Plain, 2002); 10,000 colourful balls for a deserted construction site in Perth (Beach Balls, 2004) and 1000 umbrellas for the Melbourne old post office (When on a Winter's Night a Traveller, 2005). Next, the exhibition tracks the author's most prominent intervention in Europe, 56 boats in the ruins of a Gothic church of St. Luke in Liverpool, commissioned for the Liverpool Biennial (Untitled (56 Boats), 2006) and more recent works commissioned for the 7th and 9th Siberian Biennial in Krasnoyarsk (Shovels, 2007; Untitled (Eggs), 2011). I don't know isconcluded by two works in situ which were already exhibited in the course of the European Capital of Culture Maribor 2012: a reconstruction of the 'Babylon' tower made of glasses (Impilabile; in co-operation with Ulay, Judgement tower, 2012) and the intervention Swimming Pool (after Hockney) which was created on the roof-top of the nearby Hotel Slavija at the end of 2012 for the exhibition 100 years of Slovenian art. By combining the basic swimming elements and bright Californian colours the intervention transformed the bleak light shaft of an office building into a humorous and rather scary illusion of a swimming pool that is both provoking and suggestive.
It seems as if Matej Andraz Vogrinčič has - on his way from an dressed suitcase in his hand to the 56 boats in a Gothic church or a swimming pool on a roof top sandy beach – walked the path from a 'tailor' to a 'land-artist'. However, the connection between these temporally and contextually distant works is closer than it seems at first. Despite almost urgent associations to land-artistic approaches, Vogrinčič has never been interested in the late modernistic issue of leaving the white cube and building images in nature. Instead, he has been far more interested in incorporating the absurd, the unestablished and combining ambiguous ideas in the Neo-Dada style. It is no coincidence that his personal art history reference is Ben Vautier, a rather obscure Italian-French avant-garde artist from the 1960's. In his works one can find the following elements developed further by Vogrinčič: piling of various common objects, witty ideas expressed in simple sentences and anti-establishment. Or – as according to Vautier: no art. If something sublimely beautiful is created as a side product, the author obviously does not mind.
Curator: Simona Vidmar
UGM MARIBOR ART GALLERY / SLAVIJA NO 11
Ulica Vita Kraigherja 3, 2000 Maribor, Slovenia

INFORMATION:
• Phone: +386 2 2295860
• Website: http://www.ugm.si
• Fax: +386 2 2527784
• Mail : info@ugm.si


OPENING TIMES:
Tuesday-Sunday, 10:00-18:00

ADMISSION PRICE:
2 €