VIDEOFOCUS FESTIVAL
FROM 28 JUNE TO 28 JULY 2013

The Festival presents various trends in Russian and international contemporary visual art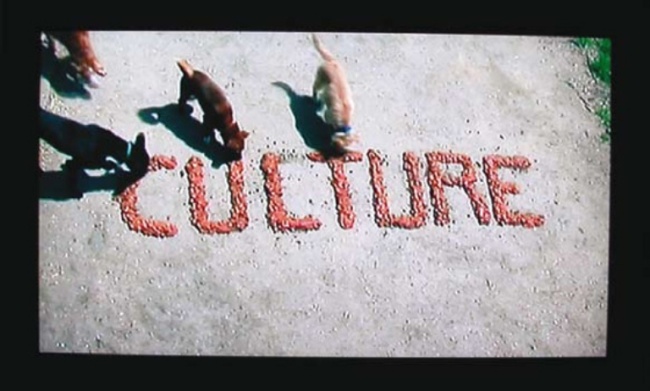 Avelino Sala. Culture. 2006-2009. Video DVD. 3'45''
The VideoFocus Festival is being held for the second time this year and is already preparing to claim its place as an annual event, presenting on a regular basis various trends in Russian and international contemporary visual art: video art, digital art, new film, science-art and others. The overall goal of the Festival is to uncover the new role of this art within museum space.
EXHIBITIONS:
THE CONFESSIONS
June 28 – July 28, Exhibition Hall
Curator: Karina Karaeva
Works by: Andrey Blazhnov, Alina Gutkina, Taus Makhacheva, Roman Mokrov, Haim Sokol (Russia); Ali Hasanov (Azerbaijan); Roee Rosen (Israel)
The curator is turning to the definition of "new sincerity" formulated in the 1980s by Dmitry Prigov. The artist claimed that the "confessional" art of the 1970s was replaced by art "playing" sincere.
Project participants not only wear certain masks to create their works but really immerse themselves in the circumstances that they are studying. Is such "living" of suggested circumstances possible for the sake of creating art? How important are the artist's personal experiences, or on the contrary, his removal in this case?
Existing taboos in various societies force artists to react to the changing political structures, national conflicts and gender dictate with a certain degree of aggression. Each artist interprets reality differently. At the same time, a common trend can be observed in the way the treat communities, particularly ethnic ones, in their works.
THE FOUND
July 5 – 11, Small Hall
Curators: Karina Karaeva, Oleg Elagin
Works by: Sergey Balandin, Oleg Elagin, Vladimir Logutov, Denis Yakinin – Samara; Vladimir Seleznyov – Ekaterinburg; Aleksey Buldakov, Svetlana Shuvaeva – Moscow
The Found is an exhibition experiment for artists from the regions. To them, found footage is a sort of a ready-made, randomly found object. Deconstructing the video image allows for its new interpretation, an exposure of the properties unnoticed outside of the art context.
AN ESSAY ON CULTURE
Exhibition of works by Spanish artist Avelino Sala
July 16 – 28, Small Hall
Opening on July 15, 19.00
Curator: Karina Karaeva
Works by Avelino Sala
Avelino Sala is one the most active and radical Spanish artists, working on the borderline between a strong social statement and a critique of an artist's behavior in existing economic and political conditions. His art is always an attempt at a reflection on social conflict in Spain.
Moreover, in his works the artist questions the originality and richness of contemporary artistic expression. Can it merely be an interpretation and reflection of political events or a product of "media trash"?
NATIONAL CENTRE FOR CONTEMPORARY ARTS
123242, 13, bld.2, Zoologicheskaya st., Moscow, Russia

INFORMATION:
• Phone: +7 (499) 254 06 74
• Website: http://www.ncca.ru/en/events.text?filial=2&id=1021
• Fax: +7 (499) 254-85-83
• Mail : pr@ncca.ru


OPENING TIMES:
12.00 - 8 p.m. daily, except Monday
12.00 - 9 p.m. on Thursday

ADMISSION PRICE:
Entrance fee to the exhibition hall:
200 rubles – full
100 rubles – discount
On Thursday the entrance to the exhibition is free

Entrance to the small hall is free