HENRY VAN DE VELDE
PASSION FUNCTION BEAUTY
From 13 September 2013 to 12 January 2014

The life and work of a multi-facetted artist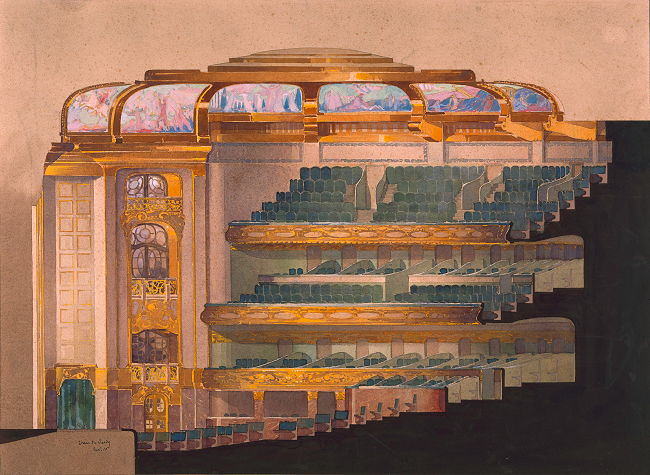 Henry van de Velde. Cross-section of the Théâtre des Champs-Élysées, 1911 Pencil, gouache and watercolour on paper Fonds Henry van de Velde, ENSAV - La Cambre, Brussels, inv. 1902. Dimensions: 80 x 75 cm © Fonds Henry van de Velde, ENSAV-La Cambre, Bruxelles



Henry van de Velde (1863-1957) was trained as a painter, but developed further as an architect, interior designer, designer, teacher and artistic adviser. He left an impressive oeuvre and built up an international career, boasting a great number of creations in Belgium, Germany, The Netherlands and France. The exhibition, set up by the Royal Museums of Art and History in co-operation with the Klassik Stiftung Weimar is based on a never previously seen assembly of works of art and a multitude of documents, including photographs and letters.




Henry van de Velde The Bloemenwerf villa in Uccle, 1895 Bibliothèque royale, Archives et Musée de la Littérature © Sabam, Belgium, 2013-2014

An international career

Henry van de Velde began his artistic career in Belgium during the latter part of the nineteenth century. Leaving for Germany in 1900, he first stayed at Berlin, before establishing himself at Weimar in 1902 at the request of Grand Duke Willem Ernst von Saksen-Weimar-Eisenach. Following a sojourn in Switzerland from 1917 to 1919, he moved to The Netherlands, where he was engaged by the Kröller-Müller family to carry out a number of commissions for it. At the end of 1925, he returned to Belgium. After the Second World War, he removed definitively to Switzerland. The exhibition focuses on the four most important stages of his life: the first Belgian period (1883-1900), the German period (1900-1917), the Dutch period (1919-1927) and the second Belgian period (1925-1939).


Architect and craftsman

Among his best-known buildings are the villa Bloemenwerf in Ukkel, various Art Nouveau residences in Weimar, the Kröller-Müller Museum in Otterlo and the modernist Boekentoren of the University of Ghent. He was one of the originators of the school of art that gave rise to the Bauhaus and founded the Ter Kameren school of art in Brussels. In his furniture, silverware, porcelain, jewellery, book bindings and other creations, he proved able, as no other, to combine practical utility with elegant sturdiness, thereby gaining international renown. Few artists' lives are as well known as Henry van de Velde's. He left extremely comprehensive memoirs that not only permit researchers to reconstruct his life in detail, but also shine a light on the creative thought-process underlying the art works.




Henry van de Velde, pair of six-armed candelabra, 1898-1899. Silver-plated bronze. Exhibited at La Libre Esthétique in 1900. Royal Museums of Art and History, Brussels, inv. 6868-6869. Dimensions: 58,5 x 51,4 x 51,4 cm © Sabam, Belgium, 2013-2014.

A masterpiece : the pair of candelabras

Of the more than five hundred items of art (paintings, furniture, silverware, jewellery, ceramics, book bindings, architectural designs and yet others), some – through their perfect combination of functionality and beauty – are absolute masterpieces and have gained iconic status. Certainly to be counted among them is a pair of candelabras from the collection of the Cinquantenaire Museum. In 1900, just before Van de Velde left for Germany, the museum bought a pair of candelabras that the artist had exhibited at the famous Brussels salon, La Libre esthétique. The purchase price of 850 francs represented a small fortune for the Belgian State to pay, and the pair immediately became the most expensive acquisition of the museum's recently established Arts décoratifs modernes section. More than a hundred years later, however, the candelabras are still counted among the most important items in the Art Nouveau collection. They date from around 1898-99 and are exemplary witness to Van de Velde's telling precept that 'A line is a force […]'.


PUBLICATION:

• Catalogue Henry van de Velde - Passion Function Beauty, Lannoo, 288 p. (+ 24 p.), €45.
Also available in French and Dutch.


To see more illustrations, click on VERSION FRANCAISE at the top of this page

CINQUANTENAIRE MUSEUM
Parc du Cinquantenaire 10 – 1000 BRUSSELS

INFORMATION:
• Tel : +32 (0)2 741 72 11
• Website: www.mrah.be
• E-mail: info@mrah.be

OPENING HOURS:
• Tuesday to Sunday: 10AM–5PM
• Closed on Mondays, 1st and 11 November, 25 December and 1st January.
• Ticket-offices close at 4PM
• Night opening: Thursday 24 October, 5PM to 10 PM

ADMISSION PRICE:
€10/€7/€3

CURATORS:
• Dr. Thomas Föhl, Head Curator (Klassik Stiftung Weimar)
• Sabine Walter, Curator (Klassik Stiftung Weimar)
• Prof. Dr. Werner Adriaenssens, Curator (Cinquantenaire Museum, Brussels)

PRESS CONTACT:
Bart Suys, Head of the Communication Service
• Tel: +32 (0)2 741 73 00
• E-mail : b.suys@mrah.be