DÉPAYSEMENTS
FROM 28 SEPTEMBER TO 10 NOVEMBER 2013

Exhibition of the Beaux-Arts students graduated with honor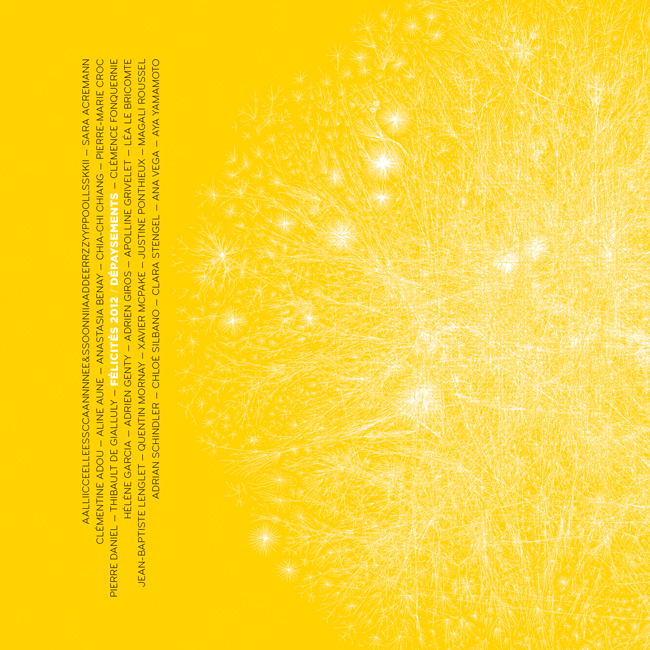 Graphic creation: Agnès Dahan studio
The Beaux-Arts de Paris presents for the first time at CENTQUATRE Paris the annual exhibition of the young artists graduated with honor.



Curator : Gunnar B. Kvaran, Director of Astrup Fearnley Museum (Oslo, Norway) and curator of 2013 Lyon Biennale.


The jury of master diploma comprised Gunnar B. Kvaran (President), Cécile Bart, artist, Katinka Bock, artist, and Thomas Boutoux, art critic, editor and teacher at Bordeaux Art school.


The artists of the exhibition
aalliicceelleessccaannnnee&ssoonniiaaddeerrzzyyppoollsskkii / Sara Acremann / Clémentine Adou / Aline Aune / Anastasia Benay / Chia-chi Chiang / Pierre-Marie Croc / Pierre Daniel / Thibault De Gialluly / Clémence Fonquernie / Hélène Garcia / Adrien Genty / Adrien Giros / Apolline Grivelet / Léa Le Bricomte / Jean-Baptiste Lenglet / Xavier Mc Packe / Quentin Mornay / Justine Ponthieux / Magali Roussel / Adrian Schindler / Chloé Silbano / Clara Stengel / Ana Vega / Aya Yamamot



«  More than ever, today's artists are travelers, explorers, with almost nothing to tie them down: art speaks every language and the new subjectivities of artists are invented through travelling, dislocation and confrontation with the world, a world we know is undergoing major shake-ups – political, social, environmental, economic and intellectual. It is an unchallenged truth that trips are part of an artist's education, but the destination is no longer simply Rome as it was in the past, and the stakes of traveling have changed. Young French artists, unlike what is often thought, have taken stock of this evolution: I meet them all over the world, in New York, London, Berlin or Brussels, for instance. By meeting the students of the Beaux-Arts de Paris, I understood to what extent the School, was permeable to the world, and the importance of its role in the globalization of young French artists. It is to highlight and further encourage this phenomenon that I have chosen to give a very open form to this exhibition. Among other things, I want to foster the conditions of a dialogue and potential collaboration between this community of artists and a set of new independent European exhibition venues that stand out for their drive and creativity. By reinventing modes of production and exhibition, these alternative venues strive to shake up the laziness and routine of curatorial practices, to disrupt routines and established aesthetics, and it is for this reason that they are, in my opinion, by definition, the best interlocutors – and the most demanding – for recently graduated artists. I thought of the special moment, for most of these young artists, that a first exhibition in a major Parisian institution represents: not a moment of recognition but the moment when they truly enter the  professional field of contemporary art, a moment to stimulate, confront and activate their potential. A moment to open up to the field of possibilities."
Gunnar B. Kvaran




This brand new partnership between CENQUATRE and the Beaux-Arts de Paris witnesses one of the school's main direction in its actual project: dealing with the question of « professionnalization » of its former students by creating the conditions of their projection in the art field.



CENTQUATRE - PARIS
5, rue Curial, 75019 Paris
Métro Line 7 : Riquet and Crimée, Line 2, 5 and 7 : Stalingrad, Line 12 : Marx Dormoy.
Bus Stop : Crimée and Crimée/Curial (lines 54 and 60) and Riquet (54)

INFORMATION:
• Phone: +33 (0)1 47 03 50 00
• Website: http://www.ensba.fr
• Fax: +33 (0°1 47 03 50 80
• Mail : info@ensba.fr


OPENING TIMES:
September 28 to November 10 2013
Open from wednesday to sunday – 2.30 PM to 7.00 PM

ADMISSION PRICE:
Free entrance