JOAN MIRÓ. PAINTING WALLS, PAINTING WORLDS
UNTIL 12 JUNE 2016

Around 50 works from important collections present a new approach to Miró's art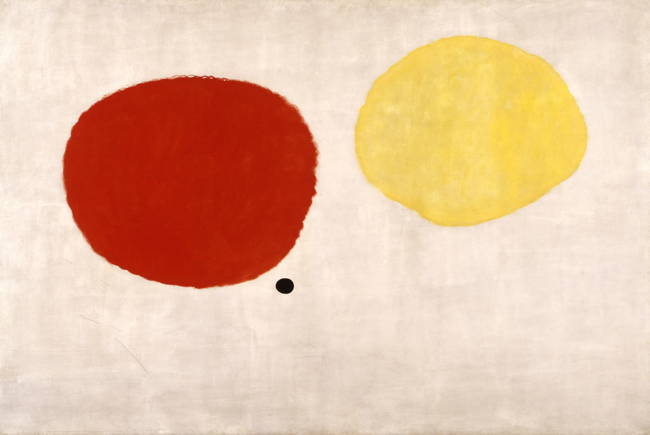 Joan Miró, Painting (The Magic of Colour), Peinture (La Magie de la couleur), 1930, Oil on canvas, 150,2 x 225,2 cm, The Menil Collection, Houston © Successió Miró/VG Bild-Kunst, Bonn 2016.

Joan Miró (1893–1983) once famously declared that he wanted to "assassinate" painting. Today, he is widely regarded as one of the greatest artists of the 20th century painting. Schirn Kunsthalle Frankfurt presents an until now little discussed aspect of his œuvre in a focused solo exhibition : Miró's preference for large-scale formats and his fascination with the wall.




Joan Miró, Painting, summer 1936 (Peinture, été 1936), Oil, casein, tar and sand on Masonite, 108x78 cm, Coll. Nahmad, Switzerland © Successió Miró/VG Bild-Kunst, Bonn 2016.

Masonite, sandpaper and tarpaper

In his painterly practice, the wall was the starting point – both as an object to be depicted and as an inspiration for the textural quality of his works. Miró distanced himself from the simple reproduction of reality and equated the picture plane with the wall. He explored the structure of its surface and aimed to dissolve the boundaries of the image space. His particular approach with the wall explains the care with which he selected and prepared the materials and the grounds of his pictures at every stage of his career. Miró's paintings hereby gained the haptic qualities and textures of wall surfaces. The artist used whitewashed canvas, coarse burlap, Masonite (hardboard), sandpaper and tarpaper in order to create unique visual words of outstanding materiality.


An effort to overcome traditional approaches

The exhibition covers over half a century of Miró's œuvre, beginning with his emblematic painting The Farm / (La Ferme (1921/22), in which the artist depicts the brick wall of the stable alongside the goings-on on the farm of the Miró family in Mont-roig, South of Barcelona. In the mid-1920s, Miró dripped and splashed paint onto blue grounding in order to create the impression of old, weather-worn walls. This process resulted in paintings reminiscent of graffiti. The exhibition then proceeds with the iconic dream paintings of the 1920s and his key work Painting (The Magic of Colour) / Peinture (La Magie de la couleur) from 1930. By employing a sparse, persuasive materiality and reduced formal language it references the wall per se like no other painting. Two large patches in red and yellow, surrounded by an empty space made up of white painterly grounding, exemplify Miró's effort to overcome traditional approaches to composing images.




Miró working on Blue II (Bleu II), 1961, Pierre Matisse Gallery, New York. Archiv Successió Miró © Successió Miró / VG Bild-Kunst, Bonn 2016.

A link towards Abstract Expressionism

After works and frieze formats painted on unconventional grounds in the 1940s and 1950s, the display ends with the artist's late works, such as the monumental triptych Blue I–III / Bleu I–III (1961) and the extraordinary Painting I–III / Peinture I–III (July 27, 1973). The engrossing blue patches illustrate Miró's unshakable belief in the inspirational power of bare walls, consolidating his thoughts on murals, which were formative for Abstract Expressionism, and bear witness to his boundless creative vitality even in old age. It was of vital importance to Miró that his work be publicly accessible. In accordance with his wishes the exhibition therefore ends with two extraordinary designs for ceramic murals for the public sphere, shown in original scale. He conceived the Wall of the Moon and the Wall of the Sun, both around 1957, for the UNESCO headquarters in Paris. The preparatory work for these reveal his extensive examination of the possibilities available in creating large format ceramics. At the same time, they are great examples of Miró's artistic reaction to incidental drawings and the "blemishes" found on bare walls – as well as his working process, which could begin with a small sketch or doodle and lead to a painting of monumental size.


To see other illustrations, click on Version Française, at the top of the page

SCHIRN KUNSTHALLE FRANKFURT
Römerberg, 60311 Frankfurt

INFORMATION:
• Tel: +49 69 29 98 82-112
• Fax: +49 69 29 98 82-240
• Email : welcome@schirn.de
• Websites : www.schirn.de www.schirn-mag.com

OPENING HOURS:
• Tuesday and Friday to Sunday, 10 AM to 7 PM
• Wednesday and Thursday, 10 AM to 10 PM
• Closed on Monday

RATES:
• Normal rate: €12
• Reduced rates: €10
• Free entry for children under 8 years
• Tickets can be ordered online at www.schirn.de/tickets

CURATOR:
• Simonetta Fraquelli

PRESS CONTACTS:
Pamela Rohde (Head of Press/PR), Johanna Pulz (Press officer), Timo Weißberg (Trainee)
• Tel: +49 69 29 98 82-148
• Fax: +49 69 29 98 82-240
• Email : presse@schirn.de

CATALOGUE:
• Joan Miró. Wandbilder, Weltenbilder. Edited by Schirn Kunsthalle Frankfurt and Zürcher Kunstgesellschaft/Kunsthaus Zürich, introduction by Max Hollein, essays by Joan Punyet Miró, Simonetta Fraquelli, William Jeffett, Carolyn Lanchner. German edition, 136 pages, 105 colour images, Hirmer Verlag, Munich, 2016, Schirn edition € 29; in bookstores € 34.90.