ISA GENZKEN: MAKE YOURSELF PRETTY!
FROM 9 APRIL TO 26 JUNE 2016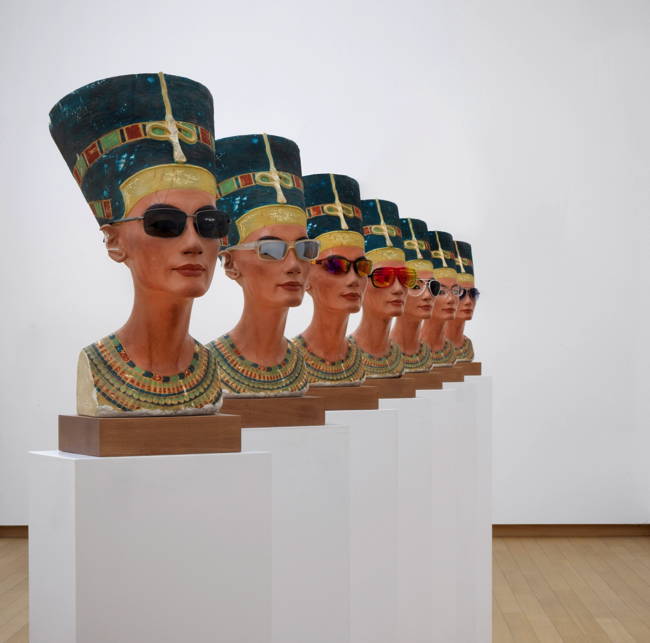 Nefertiti, 2014, 7 plaster busts with glass, wood, on wooden base with wheels, 190.7 x 40 x 50 cm, 4 metal plates, each 150 x 120 cm. Dimensions variable. Courtesy Galerie Buchholz, Cologne / Berlin / New York, David Zwirner, New York / London and Hauser & Wirth.

Isa Genzken (1948) is one of the most remarkable and radical artists of our time. The exhibition presents the broad spectrum of her work, from her early films, drawings, ellipsoids and concrete sculptures to complex narrative collages and everyday items integrated into montages.




Actor, 2013 mannequin, chair, shoes, wig, wood, cloth, plastic and metal, dimensions variable. Collection Syz Geneva, Courtesy Galerie Buchholz, Cologne / Berlin / New York © Isa Genzken, VG Bild-Kunst, Bonn 2016.

Crazy, impossible and off-key things

Isa Genzken has earned international renown with her profound work, which represents one of the most important contemporary stances of our time. This first comprehensive presentation in Berlin highlights topics such as modernity, the human body, portraits, city culture and architecture. As an artist, Isa Genzken is prepared to risk it all in her quest for artistic regeneration. In her radical manner she develops diverse works, which are concerned with the topic of beauty in the sense of the essential and absolute. Based on the category of sculpture, her work distinguishes itself through constantly further developing imagery and unlimited use of media and materials. "I always wanted to have the courage to do totally crazy, impossible and off-key things." (Isa Genzken, 1994)


Autobiographical elements

In the 1970s, she produced sculptures designed on the computer, and thereby referred back to American minimalism and conceptual art. In the long, elegantly slender wooden sculptures, so-called ellipsoids and hyperbolos, one radical step followed another: sculptures made from bare plaster or concrete, collage books, complex narrative assemblages of industrially produced materials and everyday items, various film formats, photography, paintings, architectural models and outdoor sculptures. Her art is playful and sometimes brightly-coloured but anything other than superficial. With her feel for materials and their arrangements she creates pieces that make you think. Her power of innovation and her ideas are rich in autobiographical elements and subtle comments on society, and they serve as a point of reference and source of inspiration for generations of artists.




X-Ray, 1989/2015, b/w photo, 108x81.5 cm. Courtesy Galerie Buchholz, Cologne/Berlin/New York © Isa Genzken, VG Bild-Kunst, Bonn 2016.

2013 at the MoMA

Born in Oldesloe, Schleswig-Holstein, in 1948, Isa Genzken has taken part in Documenta several times (1982, 1992 and 2002). She studied history of art and painting in Hamburg, Cologne and Berlin and completed her studies at the Academy of Art in Düsseldorf. Isa Genzken was represented at the Biennale in Venice in 2007 at the German Pavilion. In 2013 the Museum of Modern Art (MoMA), New York, devoted a first complete exhibition to her, which toured America and could be viewed at the Museum of Contemporary Art in Chicago and the Dallas Museum of Art. Isa Genzken lives and works in Berlin. She describes her way of working with two quotes: "I like to put things together that were previously unconnected. This connection is like a handshake between people." And: "I love being daring."


FURTHER READING:

MARTIN-GROPIUS-BAU
Niederkirchnerstraße 7
10963 BERLIN

INFORMATION:
• Tel +49 30 254 86-0
• Fax +49 30 254 86-107
• Email: post@gropiusbau.de
• Website: www.gropiusbau.de

OPENING HOURS:
• Wednesday to Monday, 10AM to 7PM
• Closed on Tuesday
• Except: closed on Monday 11 April and open on Tuesday 12 April

ADMISSION PRICES:
• Normal price: €11
• Concessions: €7
• Groups (of 5 or more): €7 per person,
• School groups: €5 per person
• Admission free up to 16 years
• Online tickets: www.gropiusbau.de/tickets

CURATORS:
Beatrix Ruf and Martijn van Nieuwenhuyzen

PRESS CONTACTS:
• Tel: +49 30 254 86 – 236
• Fax: +49 30 254 86 – 235
• Email: presse@gropiusbau.de