FREDERICK KIESLER: LIFE VISIONS
FROM 15 JUNE TO 2 OCTOBER 2016

A visionary who thematized the relationship between artwork, human and environment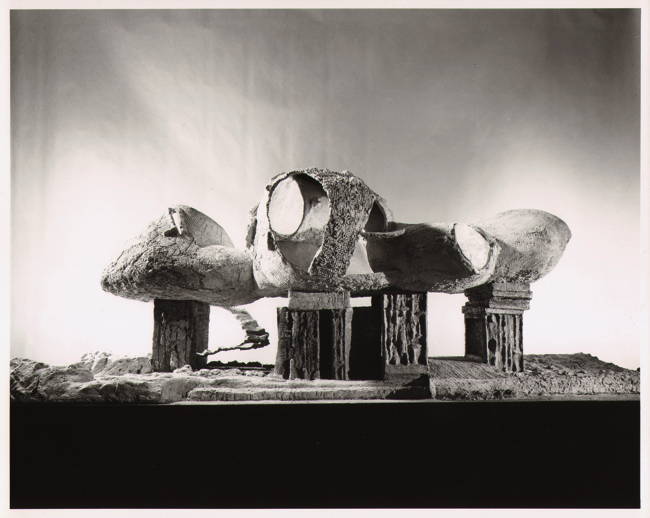 Frederick Kiesler, Model for an Endless House, New York, 1959, © 2016 Austrian Frederick and Lillian Kiesler Private Foundation, Vienna.

Frederick Kiesler (1890–1965) not only fascinated his contemporary generation of artists and architects with his revolutionary, utopian ideas. The transdisciplinary contributions made by this Austrian-American artist, designer, architect, set and exhibition designer continue to influence the European and American avant-garde through today. Realized in cooperation with the Austrian Frederick and Lillian Kiesler Private Foundation, the MAK retrospective illuminates this trend-setting visionary's fascinatingly complex body of work, his out-of-the-box thinking, his theory of Correalism, which he used to thematize the relationship between artwork, human, and environment, as well as his activities as an architect and exhibition designer.

Following the sweeping retrospective JOSEF FRANK: Against Design, this reappraisal of Kiesler's oeuvre is integral to the MAK's efforts to take another look at the great visionaries of Viennese Modernism. Born in Chernivtsi, a multicultural city (then in Austria-Hungary, now in Ukraine), Kiesler began studying architecture and painting in 1908 at the University of Technology and at the Academy of Fine Arts in Vienna, but did not graduate. He celebrated his first big successes with theater and exhibition projects in Berlin, Vienna, and Paris. In 1926, in the hopes of being able to realize his visions, he traveled to New York, where he stayed for the rest of his life. The years he spent in Vienna surrounded by people like Otto Wagner, Josef Hoffmann, and Adolf Loos—and also to a significant degree, the idea of the Gesamtkunstwerk—were key influences on all of his artistic and theoretical endeavors.

Since the beginning of the 21st century, the perception of Frederick Kiesler has shifted from a primarily architectonic reception to an artistic interest in his holistic concept. This includes the fusion of artistic and scientific insights and modes of presentation, and particularly his goal of doing away with the separation between autonomous art and real life. Kiesler innovatively grappled with the newest developments in film and television, just as much as with curatorial concepts and their radically new, pioneering design. The thematically structured MAK exhibition affords a view into the complexity of Kiesler's work from the 1920s to the mid-1960s. The objects—stemming mainly from the extensive holdings of the Frederick and Lillian Kiesler Private Foundation, some of which have never been shown before—span the range from art projects, architectural visions, and exhibition design to store planning, furniture design, and media concepts, and also include poster and book jacket designs. Numerous archival documents give insight into his theoretical deliberations and innovative inventiveness.

CATALOGUE
• Frederick Kiesler: Life Visions, edited by Christoph Thun-Hohenstein, Dieter Bogner, Maria Lind, and Bärbel Vischer, German/English, 224 pages with numerous color illustrations. MAK Vienna/Birkhäuser Verlag, Basel 2016. Available at the MAK Design Shop for €39.95.

MAK Exhibition Hall

Stubenring 5, 1010 VIENNA

INFORMATION
• T +43 1 711 36-0
• F +43 1 713 10 26
• www.mak.at
• office@mak.at

OPENING TIMES
• Tuesday 10AM–10PM
• Wednesday to Sunday 10AM–6PM.
• Free admission on Tuesdays from 6 to 10PM

ADMISSION PRICES
• Normal price: € 9.90
• Reduced € 7.50
• Family Ticket € 13
• Free admission for children and teens under 19

CURATORS
• Dieter Bogner and Maria Lind, guest curators
• Bärbel Vischer, curator, MAK Contemporary Art Collection

PRESS CONTACTS:
• Judith Anna Schwarz-Jungmann (Head)
• Sandra Hell-Ghignone
• Veronika Träger
• Lara Steinhäußer

T +43 1 711 36-233, -229, -212
presse@mak.at