WILLIAM KENTRIDGE.
SMOKE, ASHES, FABLE
UNTIL 25 FEBRUARY 2018

The first exhibition of William Kentridge in a Belgian museum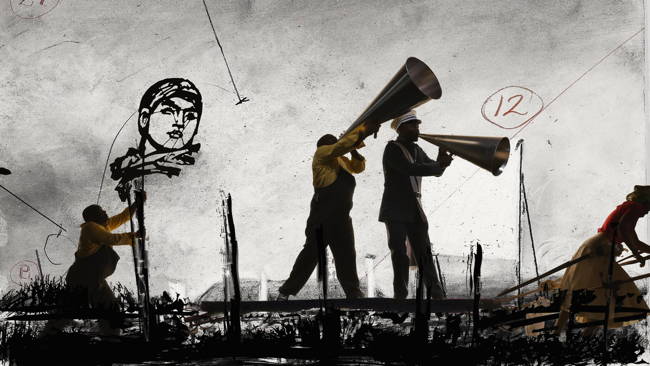 © William Kentridge, More Sweetly Play the Dance.

Through a dialogue between William Kentridge's works and the remarkable hospital setting, the exhibition presents art as a powerful means of 'working through' layers of history.

Since his international debut at Documenta X in 1997, South African artist William Kentridge has achieved worldwide renown. Most recognized for his ten animated films titled Drawings for Projection (1989-2011), Kentridge's astonishingly diverse corpus includes masterful drawings, prints, tapestries, sculpture, lectures, and opera productions. This major exhibition presents a unique selection of Kentridge's work curated for Sint-Janshospitaal in Bruges—at 850 years one of Europe's oldest surviving hospital buildings. Organized around the themes of trauma and healing, the show takes as its centerpiece Kentridge's 2015 video installation More Sweetly Play the Dance, a contemporary interpretation of the medieval Dance of Death, an artistic genre that flourished during the hospital and the city's heyday in the late Middle Ages.

"Today, Sint-Janshospitaal contains a museum dedicated to the art of the great early Netherlandish master Hans Memling, and some of the towering works by Memling's predecessors Hugo van der Goes and Jan van Eyck hang in the Groeningemuseum nearby. The proximity of these masterpieces sharpened something central to Kentridge's art generally: his highly complex engagement with the art of the past. As it turns out, Bruges, with its richly sedimented history — as exemplified in cultural survivals such as Sint-Janshospitaal — is an uncannily suitable setting for an artist for whom the past is always inescapable and, at the same time, too easily erased.

It also seemed useful to include in the exhibition the work of a Belgian artist of the recent past whose aesthetic stance, choice of media, forms of self-presentation, and set of thematic concerns would serve as a foil to the work by Kentridge on display. The art of Marcel Broodthaers fit these criteria beautifully, and including works by this eccentric avatar of the European avant-garde was simplified by the fortuitous presence in Bruges of a number of fine examples. As Kentridge would have it, it is best not to dictate what is to be gained by the association but to allow the visitor to draw his own conclusions."
(Margaret K. Koerner)


PUBLICATION

• Smoke, Ashes, Fable, catalogue of the exhibition, directed by Margaret K. Koerner. Texts by Margaret K. Koerner, Benjamin H. D. Buchloh, Joseph Leo Koerner & Harmon Siegel. Mercatorfonds, distributed by Yale University Press, 232 pages, €49,95. Available in English, Dutch and French.

SINT-JANSHOSPITAAL
Mariastraat 38, 8000 BRUGGE

INFORMATION:
• Phone: +32 50 44 87 43
• Website: www.museabrugge.be
• Email : musea@brugge.be


OPENING TIMES:
• From 09:30 to 17:00
• The pharmacy is closed between 12:30 and 13:30
• Closed on Mondays

ENTRANCE FEES
• €8 (individuals)
• €6 (12-25 years or over 65 years)
• free under 12 years

CURATOR
Margaret K. Koerner

PRESS CONTACT
Sarah Bauwens
• Phone: +32 50 44 87 08
• Email : sarah.bauwens@brugge.be