ROMANTIC SHAKESPEARE
UNTIL 25 FEBRUARY 2018

"Ah, there are moments in life that are funny, and unexpected, and sublime all at the same time, as in Shakespeare!" (Félicien Rops)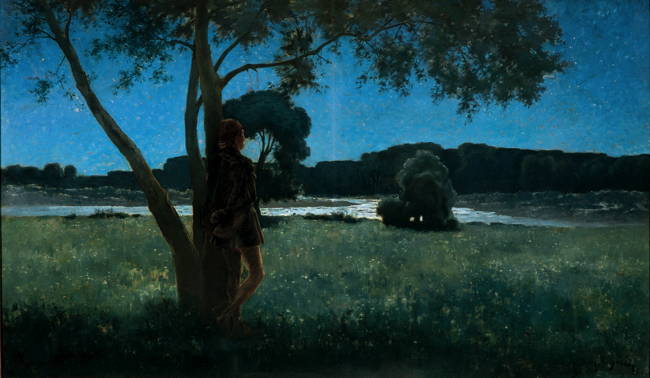 Amédée-Ernest Lynen, A Midsummer Night's Dream, 1891, oil on canvas, Belfius Art Collection, inv. 1669

As of 1750, William Shakespeare -1564-1616- had already acquired the title of master in national literature. In France, it was not until the 19th century that the great bard's work received its well-deserved recognition, greatly due to the interest of Romantic authors, as well as of Romantic painters. Indeed, the great literary frescoes of the past, those by Dante, Racine, as well as Shakespeare become true sources of essential inspiration for Romantic authors as well as for painters, who all had a special relationship with the art of directing. Eugène Delacroix, Gustave Moreau, Théodore Chassériau and many other French painters, engravers, and sculptors invested their talent to interpret the feelings, dramas, and passions of Shakespeare's heroes.

All these characters, be it Hamlet and Ophelia, Romeo and Juliet, Macbeth and his "Lady", Othello and Desdemona, all had dramatic destinies, haunted by the torments of love, regrets, and death. The exhibition at the Rops museum focuses on these tragic heroes who inspired the artists of the mid-19th century, avid for impressive epics of love, strangeness, and morals. Following the Romantics, the Symbolist artists also represented Shakespearian heroes like prototypes of human passions. Constantin Meunier, Alfred Stevens, Eugène Smits and many other Belgian artists were influenced by this English theatre and unveiled their doubts and questions when trying to befriend the fin de siècle they faced.

Through a partnership with the Louvre museum and the Eugène-Delacroix national museum, the Rops museum presents some sixty works, including paintings, engravings, posters, and sculptures from different institutions brought together to give the measure of the impact of Shakespeare's theater on graphic arts in the 19th century. Today, these works still inspire the representations by directors and actors.


Exhibited artists: Jules-Robert Auguste, Louis Boulanger, Jules Bastien-Lepage, Léopold Burthe, Leonetto Cappiello, Albert Ciamberlani, Thomas Couture, Théodore Chassériau, Eugène Delacroix, François-Emile Ehrmann, Ernest Hébert, Amédée-Ernest Lynen, Constantin Meunier, Luc Olivier Merson, Gustave Moreau, Alfons Mucha, Tony Robert-Fleury, Félicien Rops, Charles Samuel, Eugène Smits, Paul Steck, Alfred Stevens.


PUBLICATION

• Catalogue (in French): Shakespeare romantique. Füssli, Delacroix, Chassériau, under the direction of Dominique de Font-Réaulx and Marie-Lys Marguerite, 2017, Musée de l'hôtel Sandelin, 90 p., €6.

MUSÉE FÉLICIEN ROPS
PROVINCE OF NAMUR
Rue Fumal 12 , 5000 Namur

INFORMATION
• Tel: +32 (0)81 77 67 55
• Website: www.museerops.be
• facebook.com/museerops
• Fax: +32 (0)81 77 69 25
• E-mail: info@museerops.be

OPENING DAYS AND HOURS:
• From Tuesday to Sunday, 10 a.m. to 6 p.m.
• Night openings (until 8 p.m.), every first Thursday of the month
• Closed 24, 25, 31 December and 1 January

ADMISSION PRICE:
• Normal price: €3
• Reduced price: €1.50
• School groups: €1
• Under the age of 12, Article 27, 1st Sunday of the month: free
• Guided visit: +32 (0)81 77 67 55

CURATORS
• Dominique de Font-Réaulx, director of the Eugène-Delacroix national museum
• Marie-Lys Marguerite, director of the Arras museum
• In collaboration with the Louvre Museum and the the Eugène-Delacroix national museum

PRESS CONTACT:
Valérie Minten
• Tel: +32 (0)81 775 370
• valerie.minten@province.namur.be