BASQUIAT. BOOM FOR REAL
FROM 16 FEBRUARY TO 27 MAY 2018
The first major survey in Germany for 30 years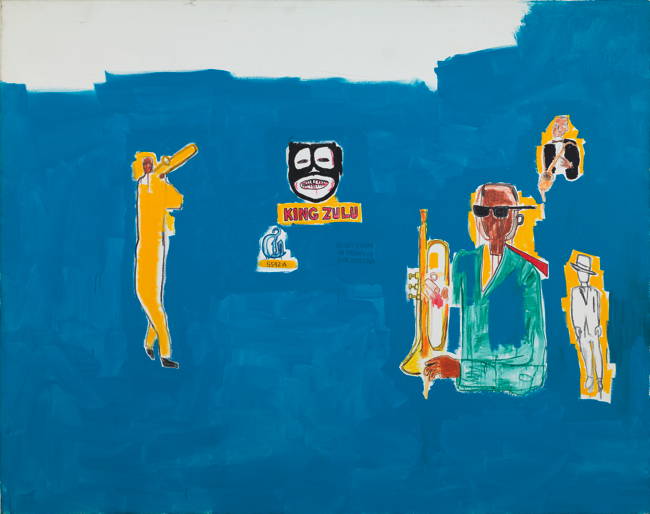 Jean-Michel Basquiat, King Zulu, 1986. Acrylic, wax and felt-tip pen on canvas, MACBA Collection. Government of Catalonia long-term loan. Formerly Salvador Riera Collection, © VG Bild-Kunst Bonn, 2018 & The Estate of Jean-Michel Basquiat. Licensed by Artestar, New York, Photo: Gasull Fotografia

Jean-Michel Basquiat (1960–1988) is acknowledged today as one of the most significant artists of the 20th century. More than 30 years after his last solo exhibition in a public collection in Germany, the Schirn Kunsthalle Frankfurt is presenting a major survey devoted to this American artist. Featuring more than 100 works, the exhibition is the first to focus on Basquiat's relationship to music, text, film and television, placing his work within a broader cultural context.




Edo Bertoglio, Jean-Michel Basquiat wearing an American football helmet, 1981, Photo: © Edo Bertoglio, courtesy of Maripol, Artwork: © VG Bild-Kunst Bonn, 2018 & The Estate of Jean-Michel Basquiat. Licensed by Artestar, New York.

The youngest participant in the history of documenta

In the 1970s and 1980s, Basquiat teamed up with Al Diaz in New York to write graffiti statements across the city under the pseudonym SAMO©. Soon he was collaging baseball cards and postcards and painting on clothing, doors, furniture and on improvised canvases. Basquiat collaborated with many artists of his time, most famously Andy Warhol and Keith Haring. He starred in the film New York Beat with Blondie's singer Debbie Harry and performed with his experimental band Gray. Basquiat created murals and installations for New York nightclubs like Area and Palladium and in 1983 he produced the hip-hop record Beat Bop with K-Rob and Rammellzee. Having come of age in the Post-Punk underground scene in Lower Manhattan, Basquiat conquered the art world and gained widespread international recognition, becoming the youngest participant in the history of the documenta in 1982. His paintings were hung beside works by Joseph Beuys, Anselm Kiefer, Gerhard Richter and Cy Twombly. Basquiat's raw, vibrant imagery is matched by a startling erudition, seen in the extensive fragments of bold, capitalized text that abound in his works. These bear witness to his encyclopedic interests and his experience as a young artist with no formal training. Basquiat maintained a playful approach to language and rebelled against political indifference through his searching texts.


An interdisciplinary vision

This exhibition at the Schirn traces Basquiat's journey from his beginnings as an artist to his early death, aged 27, in 1988. Thematic sections illuminate the context in which his works were made and the story of their reception. It discusses questions such as the role of SAMO© and the influence of Downtown New York scene on Basquiat's artistic development and the significance of his interdisciplinary art production, which has seldom been considered before. At the Schirn, an outstanding selection of paintings, drawings, notebooks and objects by Basquiat are presented from public and private collections, together with rare films, photographs, music and archive material, which capture the range and dynamism of his practice over the years.




Jean-Michel Basquiat, Dos Cabezas, 1982. Acrylic and oil stick on canvas with wooden supports. Private collection, © VG Bild-Kunst Bonn, 2018 & The Estate of Jean-Michel Basquiat. Licensed by Artestar, New York.

The building of a myth

"Basquiat's myth still overrides the scientific examination of his artistic oeuvre. And frequently the historic and cultural context in which his unusual works were created is neglected as well. The exhibition Basquiat. Boom for Real starts out from this premise, demonstrating the vitality and diversity of the artist's entire oeuvre and telling of the wide-ranging influences. Because Jean-Michel Basquiat's art is closely linked with life itself: social, political and art-historical subjects flow together in his work. It is a mixture which dissolves the boundaries of the disciplines and those of his own identity. More than 30 years after Basquiat's last solo presentation in a public collection in Germany, the Schirn is dedicating a major overview exhibition to his oeuvre. It is a unique event", comments Dr. Philipp Demandt, the Director of the Schirn Kunsthalle Frankfurt.
Lisane and Jeanine Basquiat, the artist's sisters, on the exhibition: "If you want to know what there is to know about Jean-Michel, the place to go is to his work. Presenting it now to the public both in London and Frankfurt in this major survey is a great opportunity and very special to to us".


CATALOGUE

• Basquiat : Boom for Real, edited by Dieter Buchhart and Eleanor Nairne with Lotte Johnson. With a foreword by Philipp Demandt and essays by Dieter Buchhart, Eleanor Nairne, Christian Campbell, Carlo McCormick, Glenn O'Brien, Francesco Martinelli and Jordana Moore Saggese; also including comprehensive archive and photo material, some of it published for the first time. German and English edition, each 296 pages, 312 illustrations, 24 x 28 cm (portrait format), hardcover; design: A Practice for Everyday Life; Prestel Verlag, Munich. Schirn edition : €35, in bookstores : €49.95.


FREE DIGITORIAL

The SCHIRN offers a digitorial for use with the exhibition that provides background information and the key aspects about the artist including video and sound footage. This digital educational service is available for desktop, tablet and mobile and is free of charge. It is supplied in both German and English under www.schirn.de/basquiat/digitorial/en

SCHIRN KUNSTHALLE FRANKFURT
Römerberg, 60311 Frankfurt

INFORMATION:
• Tel: +49 69 29 98 82-0
• Fax: +49 69 29 98 82-240
• Email : welcome@schirn.de
• Websites : www.schirn.de/en/
www.schirn.de/en/magazine

OPENING HOURS:
• Tuesday and Friday to Sunday, 10 AM to 7 PM
• Wednesday and Thursday, 10 AM to 10 PM
• Closed on Monday

RATES:
• Normal rate: €12
• Reduced rate: €9
• Free entry for children under 8 years
Tickets can be ordered online at www.schirn.de/tickets

CURATORS:
Exhibition curated by Barbican Centre, London, in cooperation with the Schirn Kunsthalle Frankfurt

PRESS CONTACT:
Pamela Rohde
• Tel: +49 69 29 98 82-148
• Fax: +49 69 29 98 82-240
• Email : presse@schirn.de