CAILLEBOTTE
At the heart of Impressionism
FROM JUNE 24 TO OCTOBER 23, 2005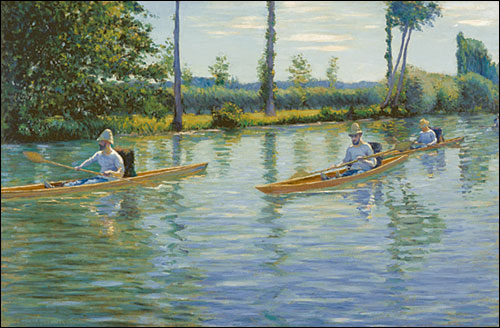 GUSTAVE CAILLEBOTTE, Périssoires, 1877. Oil on canvas, 103 x 156 cm.
Milwaukee Art Museum, Gift of the Milwaukee Journal Company, in Honor of Miss Faye McBeath.
© photo John Glembin, courtesy Milwaukee Art Museum.



With about a hundred paintings, pastels and drawings, this retrospective highlights just how essential Gustave Caillebotte's (1848-1894) contribution was to Impressionism. Both as a painter – he took part in the Impressionist group's exhibitions from 1876 to 1882 – and as a collector and patron of the arts, Caillebotte played a pivotal role at the heart of the movement. Very close to Renoir and Monet, he gave unfailing support to his friends and was very active in promoting the 'New Painting'.


Between Realism and Impressionism

Caillebotte developed his own original art straightaway, combining distinctive viewpoints with dramatic perspectives. Oscillating between a Realistic style and then a freer touch, between the atmosphere of contemporary Naturalistic novels and the major Impressionist themes - Haussman's Paris, the Seine near Argenteuil - he worked out a new artistic language over the years, blending the traditional with the modern. From the countryside around Yerres to the streets of Paris, from bourgeois interiors to the shores of Normandy and landscapes of the banks of the Seine, or from portraits to still lifes, this exhibition gives the full measure of a fascinating artist who was to have barely twenty years to reveal his enormous talent.


A surprisingly clairvoyant artistic taste

An intrinsically modern artist and an enthusiastic yachtsman and gardener, Caillebotte was also a collector with exceptionally astute artistic judgment as can be seen from the outstanding ensemble of paintings he bequeathed to the French nation and which is the nucleus of the Musée d'Orsay's Impressionist collection today.


A hundred prestigious loans

Designed by the Fondation de l'Hermitage and presented exclusively in Lausanne, this first exhibition in Switzerland to be devoted entirely to Caillebotte leads the visitor to the very heart of Impressionism. It brings together prestigious loans from major public and private european and north american collections.


Special Activities

Adults: guided tours, lectures, special evenings. Children: workshops, free brochures.
Information and bookings: tel. +41 (0)21 320 50 01


Publication

Catalogue, 192 pages, 24 x 29 cm, 100 color illustrations, ISBN: 2-88453-123-8. Co-edited by the Fondation de l'Hermitage and Bibliothèque des Arts. Price: CHF 54, Euros 35.

FONDATION DE L'HERMITAGE
Route du Signal 2, 1000 Lausanne 8, Switzerland

INFORMATION:
Tel. +41 (0)21 320 50 01 Fax +41 (0)21 320 50 71 Web: www.fondation-hermitage.ch
E-Mail: info@fondation-hermitage.ch

HOURS:
Tuesday to Sunday, 10 a.m. to 6 p.m., Thursdays 10 a.m. to 9 p.m.

ADMISSION FEES:
Adults: CHF 15, Seniors: CHF 12, Students: CHF 7. Free under 18. Reduced prices for groups

PRESS CONTACTS:
Liliane Beuggert Tel. +41 (0)21 320 50 01 info@fondation-hermitage.ch
L'Observatoire, Paris Tel. +33 (0)1 43 54 87 71 contact@observatoire.fr