FIRE UNDER ASHES:
FROM PICASSO TO BASQUIAT
FROM OCTOBER 8 2005 TO FEBRUARY 13 2006

An original analysis, by a great collector of that time, of separations that have influenced the development of modern art.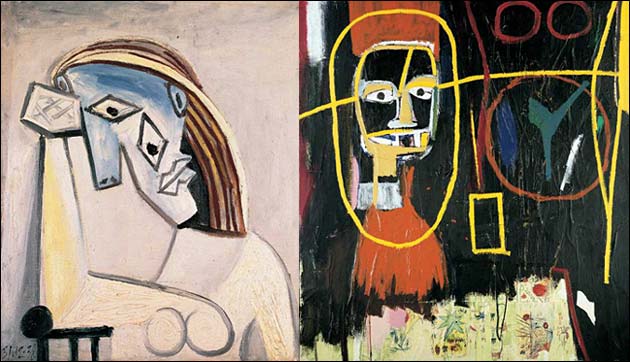 PICASSO, Pablo 1881-1973 Tête de femme désespérée, 1938 Oil on cloth, 55 x 46 cm
Collection Marina Picasso Courtesy Galerie Jan Krugier, Ditesheim & Cie, Genève © Succession Picasso, 2005
BASQUIAT, Jean-Michel, 1960-1988 Self-Portrait, 1985 Acryliqc, crayon and bottle caps on two wood panels, 142,2 x 152,4 cm Galerie Jan Krugier, Ditesheim & Cie, Genève © The Estate of Jean-Michel Basquiat / Adagp, Paris 2005


The concept of fire under the ashes suggested by the exhibit's curator, Jan Krugier, is a type of reference in the succession of separations that have influenced the development of modern art. It was upon a visit to Mark Rothko that he heard for the first time the American painter mention the idea that there existed a sort of filiation between certain works of art, susceptible of setting fire all by themselves to the field of painting. Only those artists capable of involving their lives in their art possessed that light covered by the ashes of time.


An art of the scream and of deconstruction

When facing Picasso, Francis Bacon, Germaine Richier we are in the presence of an art of the scream, where by deforming we can better express an unaccessible truth. Francis Bacon once declared, «I wanted to paint the scream more than the horror ». With that premise, various orientations are open to the spectator. The road of abstraction, with Geneviève Asse's painting and Chillida's sculpture. Torrés Garcia's initiatory itinerary in which he will follow a strange course, from Greek art to Mondrian, and which will open a second category, the tabula rasa, the table bare from all forms of culture. This new destiny of modern art takes body in art brut. Dubuffet, Chaissac created a new vision that owes nothing to the primitivism from which Picasso had drawn the forms and ideas of modernity. In parallel, we can witness through Louis Soutter's work the emergence of the subconscious and its plastic translation. The fire under the ashes drifts away from expressionism to anchor in silence.
Giacometti's interiority, Chirico's painting.




The question of the being

Jan Kruger looks among the young contemporary artists for a new generation of painters who will reify the question he himself names the question of the being. The to be or not to be of litterature becomes the challenge of painting. Rolf Iseli, Michel Haas, François Rouan, Irving Petlin are the direct heirs of these fire magicians. Jackson Pollock declared that one of the characteristics of the New York school was to create in a state of trance. Dripping was a form of dance in which the artist physically lived his painting. These painters of fire under the ashes transmit an original message in an hallucinatory mode. Jean-Michel Basquiat wasted away as he advanced in his work, combining painting and destiny, becoming a Rimbaud-style figure in the New York scene.

Illustration: CHAISSAC, Gaston (1910-1964) Personnage chapeauté aux yeux ronds, circa 1961-1962 Oil on paper marouflé on cloth, 98 x 63 cm Galerie Jan Krugier, Ditesheim & Cie, Genève © Adagp, Paris 2005


Shamans of modern art

Zoran Music belonged to this choice of artists who lived the cruelty of man in their own flesh. He too had placed his life in the scale before finding through painting an answer to the images that haunted him. Without Dachau –he used to say – I would have been a simple illustrator. After Dachau I had to go into things in depth. His work confirms the mysterious filiation between all these artists who created an expression free from any constraints of style. Beauty in painting is no longer held to respect Plato's concept of beauty that becomes good and expresses truth. Now only need orients the art of our time towards its destiny. This need to question our societies or the mystery of human nature will always remain the object of art. The present which we name contemporary remains a terra incognita, in spite of four thousand years of civilization. Painters are sort of shamans constantly forced to reinvent art to express the metamorphosis that takes place in front of our eyes.


PUBLICATION

Catalogue of the exhibition. Preface by Dina Vierny, introduction by Bertrand Lorquin, interviews with Jan Krugier. With the reproduction of all the works exhibited.

FONDATION DINA VIERNY MUSÉE MAILLOL
59 - 61, rue de Grenelle 75007 Paris

INFORMATION:
Tel: 33 1 42 22 59 58 Fax: 33 1 42 84 14 44 Site: www.museemaillol.com
E-mail : contact@museemaillol.com

HOURS:
Everyday, except Tuesdays, from 11am to 6pm. Last admission 5,15pm

PRICES OF ADMISSION:
Normal Price: 8 € Concessions: 6 € Free under 16.

CURATOR:
Jan Krugier

PRESS CONTACTS:
i&e Consultants Claude Unger Elisabeth Apprédérisse
Tel: 33 1 56 03 12 25 Fax: 33 1 56 03 13 00 E-mail: cunger@i-et-e.fr eapprederisse@i-et-e.fr