THEO VAN RYSSELBERGHE
FROM FEBRUARY 10 TO MAY 21 2006


220 works, often shown for the first time, trace the career of a major figure of neo-impessionism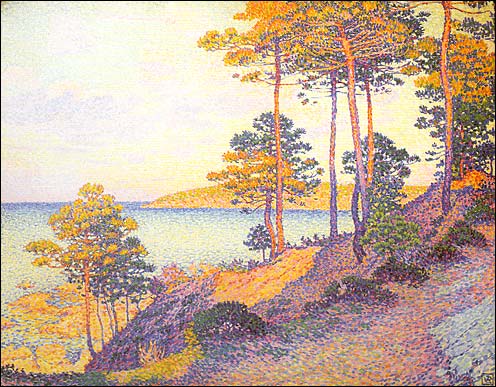 Théo Van Rysselberghe, La pointe de Saint-Pierre à Saint-Tropez, 1896, © Musée national d'histoire et d'art,
Luxembourg

Following the exhibitions on Jean Arp and Rik Wouters, the Centre for Fine Arts in Brussels now dedicates a new, large, monographic exhibition to Théo Van Rysselberghe, a major figure in the neo-impressionist movement. Through the collaboration of various public and private collections in Europe and in North America, the Centre has been able to bring together over 180 paintings, works on paper and prints, often shown for the first time or rarely seen before, as well as a great number of documents - letters, catalogues, newspapers and photographs.


An avant-garde melting pot

In the same vein as Ensor, Khnopff, Delvaux or Magritte, Théo Van Rysselberghe is one of the most important Belgian artists. Together with Seurat and Signac he was the spearhead of the neo-impressionist movement. His priviliged relations with the most important Belgian and French painters and authors place him among the most indispensable figures in the Belgian and European cultural arena at the eve of the XXth century. Proof of this can be seen in the many portraits he made of his friends Emile Verhaeren, Octave Maus, secretary of the XX and co-founder of l'Art Moderne, Edmond Picard, Camille Lemonnier, or even André Gide, Paul Signac and Henri-Edmond Cross. Hanging next to the artist's most important canvases, the exhibition presents a large number of works that have never been seen before and confronts them with works of his contemporaries and friends, Seurat, Signac, Cross, Morren, Finch or Khnopff. In this manner it shows how Brussels was, at the time, an avant-garde melting pot, impulsed by the XX and Octave Maus, and presents the reciprocal influence these young, promising artists had on one another.




But the colour it has old man, the colour!

Théo Van Rysselberghe's beauty of colours, his firm touch and the way light is reflected radiate in the history of neo-impressionism. The exhibition opens with two paintings Van Rysselberghe had presented at the first Salon of the Groupe des XX, in 1884, to the same bourgeoisie that had been shocked by Monet and Renoir's impressionist lines. After three trips to Morocco he discovered Seurat's technique of pointillism in Paris and adopted it. In 1888, he wrote Verhaeren, "But the colour it has old man, the colour!. His own pointillist period culminated with La Promenade (1901), La Lecture d'Émile Verhaeren (1903) or Le Thé au jardin (1904). He then returned to a more traditional form of impressionnism, surely influenced by the Fauvist movement, which Olivier Bertrand explained by saying, He has become bourgeois. But the strength of light and colour which he sought throughout his life transcends his paintings even in Saint Clair, his last retreat, in the South of France, where he died in 1926.


Illustration Théo Van Rysselberghe "Jeune fille au tub", 1925, Oil on canvas, © Private collection


To see more illustrations, click on VERSION FRANCAISE at the top of this page

CENTRE FOR FINE ARTS BRUSSELS
Rue Ravenstein 23 B-1000 Bruxelles Entrance 10 rue Royale, 1000 Bruxelles

INFORMATION:
TEl.: +32 (0) 2 507 82 00 E mail: info@bozar.be, tickets@bozar.be Site: www.bozar.be

HOURS:
Tuesday to Sunday: 10 am to 6 pm Thursday: 10 am to 9 pm Monday, only on reservation for a group over 150 persons.

PRICES OF ADMISSION:
Full price € 9 Combiticket Van Rysselberghe & Wiener Werkstätte: € 15
Concessions: Bozarcard, -26, +60, students, groups, schools, teachers, unemployed, Other reductions on the web site
Audioguides: 2€
Guided tours: On Sundays 15.00 (NL-ENG) 16.00 (FR) , 75 min. € 4,00 / € 3,00 (-18/+60) Max. 20 pers per group

CURATORSHIP:
Olivier Bertrand ( Belgian Art Research Institute)

PRESS CONTACT:
Canan Marasligil Tel. +32 (0) 2 507.83 91 E-mail: canan.marasligil@bozar.be
Press release and images on the web site.