CÉZANNE AND PISSARRO
1865-1885
FROM FEBRUARY 28 TO MAY 28 2006

Sixty paintings, exceptionnaly gathered, show the kinship and converging vision of two great 19th century masters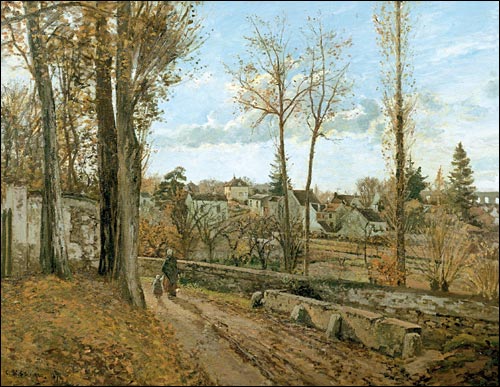 Camille PISSARRO Louveciennes, 1871 Huile sur toile, 90 x 116,5 cm Collection particulière
To see the same landscape by Cézanne, click on VERSION FRANCAISE at the top of this page

Towards the end of his life, when he had just seen the Cézanne paintings the art dealer Vollard had brought together in his Parisian art gallery, Pissarro exclaimed: In Pontoise, Cézanne was influenced by me and I by him. What is striking is the affinity between certain landscapes he painted in Auvers and Pontoise and mine. By Jove! We were inseparable! But one thing is certain: each of us retained the only thing that matters, "his sense of feeling". This would be easy to demonstrate… Assembling some sixty paintings exceptionnaly gathered from public and private collections around the world, and a number of graphic works, this exhibition does achieve this demonstration.




Two decades

Paul Cézanne - 1839-1906 - and Camille Pissarro - 1830-1903 - first met in Paris at the painter Suisse's studio in 1862, and a profound and lasting friendship was to develop between them. With its English title: Pioneering Modern Painting: Cézanne and Pissarro 1865-1885, the exhibition has been conceived by Joachim Pissarro, great-grandson of the artist and Curator at the Museum of Modern Art in New York, with the aim of exploring the relationship between the work of over the two decades of their close friendship, from the beginning of their careers, around 1865, until 1885. The show presents the two artists on an equal footing and features, throughout its succession of chronological thematic sections, a number of paired works, each an apt demonstration of the interplay between them.


Illustration: Camille PISSARRO, Portrait de l'artiste, vers 1873 Huile sur toile, 56 x 46,7 cm Paris, musée d'Orsay, donation Paul-Émile Pissarro, fils de l'artiste, 1930, sous réserve d'usufruit jusqu'en 1947 © Photo RMN / Hervé Lewandowski


Converging vision

Portraits and self-portraits, still-lifes and landscapes - of Louveciennes and later of Pontoise and Auvers-sur-Oise - are juxtaposed to illuminate the converging vision of Cézanne and Pissarro around 1875. If, amongst the Impressionists, Monet and Sisley were attracted to the theme of water, Cézanne and Pissarro concentrated mostly on the countryside, painting traditional villages with their streets and houses, winding roads and views of the woods. In 1872, Pissarro chose the region of Pontoise and Auvers-sur-Oise. He was soon joined by Cézanne who shared with him his art of giving structure to the painted landscape. In return, several Cézanne paintings show the benefit of Pissarro's advice, who had urged him to lighten the dark range of colours that had characterised his early work. It was Pissarro, then, who initiated the naturalistic trend with pastoral themes within Impressionism. Later, Cézanne would reinterpret several of Pissarro's earlier compositions and would adopt some of the elder man's long held points of view.




Something like God

Hanging their work together and highlighting their "kinship" –-as apparent in their approach to the "silent world" of their still-lifes as in their exploration of "rustic" themes - and exploring the enduring links that united the two men until their last meetings in the mid-1880s, enables Cézanne and Pissarro to be interpreted from a fresh angle. Yet each was keen to assert his own personality. In contrast to Cézanne's pure, analytical and deserted landscapes, Pissarro preferred an inhabited environment, often evoking a human presence by introducing peasants into his compositions.Till the end, Pissarro continued to be a passionate apologist for Cézanne's art: You would find it hard to believe how difficult it is to have certain art-lovers, friends of the Impressionists, understand fully all the great qualities of Cézanne, he wrote to is son Lucien. And towards the very end of his life, Cézanne said of the man whom he called "the humble and colossal Pissarro": As for the old Pissarro, he was a father to me. He was a man to be consulted and something like God

Illustration: Camille PISSARRO Pommes et poires dans un panier rond, 1872 Huile sur toile, 45,7 x 55,2 cm Collection privée de Marge Scheuer En dépôt au Princeton University Art Museum


PUBLICATION

Exhibition catalogue: Cézanne et Pissarro, 1865-1885, 24 x 29cm, 256 pages, 178 colour illustrations, joint publication by Réunion des musées nationaux/Museum of Modern Art, distributed by Interforum, price: €39.00


This exhibition is a collaboration between the Musée d'Orsay, the Réunion des Musées Nationaux, The Museum of Modern Art, New York, and The Los Angeles County Museum of Art, Los Angeles.
With the support of the ABN AMRO group and its subsidiaries, Banque de Neuflize and Banque OBC
Media partners: Paris Première, Europe 1, Le Parisien


To see Cézanne's paintings, click on VERSION FRANCAISE at the top of this page

MUSÉE D'ORSAY
Entrance through the square 1, rue de la Légion d'Honneur

INFORMATION:
Tel. 01 40 49 48 00 Site: www.musee-orsay.fr

OPENING HOURS:
Every day, from 9:30 AM to 6:00 PM, Thursday until 9:45 PM. Closed on Monday

ADMISSION PRICES:
Museum + exhibition Cézanne and Pissarro 1865-1885: €9.00 Concessions and Sundays: €7.00
Free admissions: under 18, and holders Carte blanche du musée d'Orsay, MuséO, La Carte jeune du musée d'Orsay, Amis du musée d'Orsay, and the first sunday of each month.

CURATORS:
Joachim Pissarro, Curator, the Museum of Modern Art, New York Jean-Patrice Marandel, Chief Curator, the Los Angeles County Museum of Art Sylvie Patin, Chief Curator, Musée d'Orsay, Paris

PRESS CONTACTS:
Amélie Hardivillier 01 40 49 48 56 Patricia Oranin 0140 49 47 42 E-mail presse@musee-orsay.fr