ANTONI CLAVÉ
FROM MAY 20 TO OCTOBER 29 2006

67 large canvases, produced between 1959 and 2005, the largest selection of his monumental works presented in France since the 1978 retrospective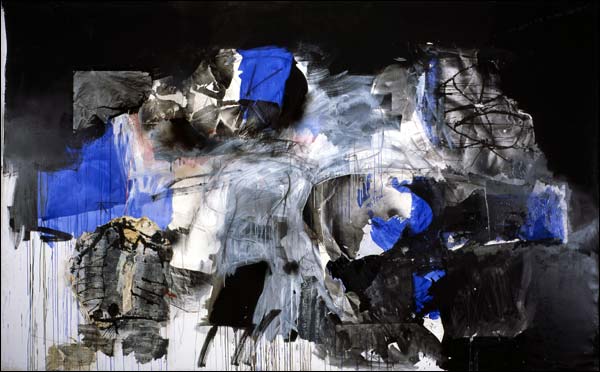 ANTONI CLAVÉ Untitled, 1999 Oil and collage on canvas 250 x 400 cm

This is the first time since 1978, when the last Clavé retrospective was held in the Paris Modern Art Gallery, that such a large selection of his monumental works has been presented in France. With 67 large canvases, produced between 1959 and 2005, some of which were included in the works shown in the Spanish hall during the 1984 Venice Bienniale, this exhibition provides a wide view of the painter's artistic development...


Internationally recognized

Antoni Clavé, born in 1913 in Barcelona, was attracted to painting very young, but had to work, at the age of thirteen, while attending evening classes at Art College. In 1939, he crossed the Pyrenees, seeking refuge in France after the Republicans' defeat. He arrived in Paris penniless and without papers. After a difficult period, he travelled through Europe, produced sets and costumes for ballets, provided illustrations for numerous books and lithographs. Exhibitions of his works started throughout the world: Paris, London, New York, Barcelona, Geneva, Tokyo. He then devoted himself to painting. In 1963, he moved to Cap St Pierre in St Tropez where he had a house built with an extensive workshop, and later on another one devoted to engraving - for him, the workshop the rectangle where I work … played a crucial part in his art. The 1980s saw Clavé gaining recognition in his native country where more and more exhibitions of his work were being held. The Spanish hall in the 1984 Venice Bienniale was devoted to him. The Chozo Yoshii Gallery presented in 2005 in Tokyo, then in Paris, Clavé's last great paintings, just before he.died at the age of 92, on 31 August 2005 in St Tropez.


I do not choose materials

Clavé started his career as a skilled draftsman. When he was eighteen years old, he designed cartoons, advertisements and film posters, but he soon broke away from classicism and his painting became "fantastical", sometimes even comical. His meeting with Picasso on 26 August 1944 was decisive. Picasso reworked Las Meninas and the Déjeuner sur l'herbe, but Clavé reworked El Greco's silhouette. He was producing collages, incrustations on paintings, such as sideburns stuck onto a face, a curtain ring attached to a whisk, cardboard, hardboard or linoleum used as medium for applying paint, with incrusted sand, plaster, assorted materials, fabrics, crumpled paper, drawing pins or fish bones and, often, old rugs, gloves or his own lithographs used as a background on which to paint. He incorporated everyday objects in metal. In The King opening the door, he used bits of string, nails and a latch. I do not choose materials. I just come across them...




Dumbfounding compositions

Pierre Seghers wrote:Of course a Clavé canvas is surprising. If the word 'dumbstruck' literally means "made speechless, there are Clavé compositions that make you dumbfounded.  Visitors going from room to room follow a chronological sequence. The first canvases are great warriors, still lives, and tributes to El Greco, reflecting classic Spanish painting. Then, from 1976 on, with the first tributes to St John Perse, Antoni Clavé reintroduced collages to his canvases and created the "papiers froissés", a new vocabulary for a technique that he would use and adapt over the next thirty years. New technical and visual solutions would give birth to unique monumental compositions of striking modernity, that found a perfect setting in the Fernet Brancat after the Republicans' defeat, an industrial location that has been magnificently refurbished. With Antoni Clavé, it was Catalonia that came and enriched the Paris school, just as Picasso, Dali, Gonzales and Miró had done before. After over fifty years working in France, the moment had come for this well-deserved tribute.

Ilustration ANTONI CLAVÉ St John Perse, 1977 Oil on canvas, 162 x 250 cm


To see more illustrations, click on VERSION FRANCAISE at the top of this page


PUBLICATION

Exhiibition catalogue French, English, German. Texts by Gérard Cahn Alain Mousseigne On the Fringe of Painting Catalogue of the works Biography Bibliography Exhibitions 106 col. ill., 38 B W ill. Price : 30€

ESPACE D'ART CONTEMPORAIN FERNET-BRANCA
2, rue du ballon 68300-Saint-Louis-Alsace

INFORMATION:
Tel : 03 89 69 10 77 Fax : 03 89 67 33 77 Email: musee-fernet-branca@wanadoo.fr Site: www.museefernetbranca.org

OPENING HOURS:
Everyday from 2pm to 6pm, except on Tuesday.

PRICES OF ADMISSION:
Full price: 6€ Concessions: 5€

CURATORSHIP:
Gérard Cahn

PRESS CONTACT:
Auguste Vonville Tel: 06 08 58 74 43 Email: musee-fernet-branca@wanadoo.fr