THE MOSCOW WORLD FINE ART FAIR
FROM MAY 22 TO MAY 29 2006
The third annual Moscow World Fine Art Fair opens its doors in the Manege to over eighty international dealers and jewellers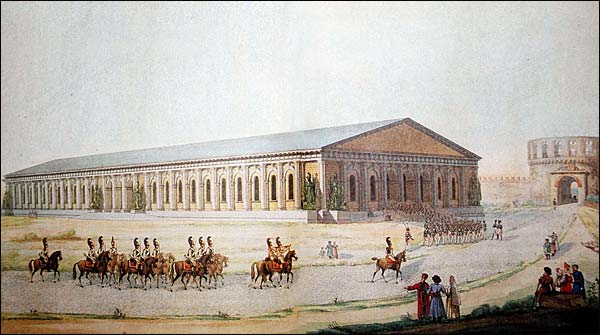 THE MANÉGE on the place Manezhnaya in Moscow

The third annual Moscow World Fine Art Fair opens its doors in the Manege for its seven-day run on Monday, May 22. Over eighty international dealers from the United States, Switzerland, France, England, Israel and Russia offer a wide range of specialties including furniture and works of art spanning the 16th through 21st centuries, sculpture, Old Master paintings, Impressionist and modern masters, drawings, tapestries and carpets, Asian art,ceramics, silver, porcelain, and jewelry.


The Manege

The Manege was built in 1817 to commemorate the 5th anniversary of Russia's victory over Napoleon. Engineer Augustin Betancourt used ground breaking construction techniques for the time; not a single supporting column was used to uphold the structure and all the wooden beams remained exposed. Both the façade and the interior decoration were designed by the renowned French architect Joseph Beauvais - Ossip Ivanovitch Bovet - who also designed the Bolshoi and Maly Theaters in Moscow.. Large enough to hold an entire infantry regiment of more than two thousand men, it was originally built for military parades. After the 1917 revolution, the building was used as a government garage, In 1957, it was transformed into a Exhibition Hall. In the early 90s, it underwent further reconstruction, but in 2004, a fire broke out in the wooden rafters and beams, and though the walls withstood the flames, the roof caved in. Extensive restoration during the past year has brought the building back to its original splendor,.a perfect setting for this fair.




From antiquities to the avant-garde.

The new Russian collectors already have a defined taste They appreciate more form than period and are very open in their interests. Amongst the French dealers, Ratton Ladrière presents an array of XVIIIth Century marble sculptures. Steinitz and Galerie Gismondi will feature XVIIIth Century French furniture and objects. Manuel Schmit has doubled his exhibition space to show a new collection of XIXth Century French oil paintings never seen before in Russia. Cazeau Béraudière brings French XXth Century art works. Galerie du XXe Siècle is also returning with a strong collection of modern classics. There is a great resurgence in design furniture from the 50 and 60's. Le Minotaure and Vallois Gallery present Russian XXth Century art with the crème de la crème in Art Deco furniture. Impulsion B will again display refined examples of the Art Deco period. Also returning to the fair are Chowaiki & Mosionshcnik and Ariadne Galleries from New York, Anthony Marks and Bernard Shapero, from London. Newcomer Jungi from Zurich presents a major collection of Art Deco objects and furniture, and Downtown Gallery contemporary furniture.
Ilustration: Marc Chagall (1887-1985) La prairie heureuse or Le rêve des amoureux Gouache, pastel and Indian ink, 51 x 64.5 cm Signed lower right, circa 1949-1950 Gallery Schmitt




Contemporary art

Contemporary art is no longer contained in the specialised fairs, and Moscow is no exception with a dozen contemporary art galleries from France, the US and Russia. Haute Rive Fine Arts will present an intricate video installation as well as ten or more street banners by Patrick Mimran throughout the busy streets of the Golden Triangle, replicating those in Venice during the Biennale. The Moscow-based Maricevic Gallery will present the first Soviet exhibition of artists from the 1960s. Contemporary art will also be offered by four Moscow galleries: XL, Aidan, Gelman, and Stella. Amongst the newcomers, La Bouquinere de l'Institut will present a one man show by Xylos "Ball Story", Jerome de Noirmont with Bettina Rheims is prolonging the exhibit from the Photography Biennale taking place throughout the month of April, and an important collection of southeast asian art will be offered by Danelia Gallery from New York and Moscow.

Illustration: Bettina Rheims Hannelore Knuts, Ètude, Mars 2005, Paris Original photograph, 157 x 125 cm, 2005 Edition of 3 and 1 artistís proof Signed, dated, titled, located and numbered on the reverse
Galerie Jérome de Noirmont




The jewellery wing

The jewellery wing which was inaugurated in 2005 in a rather timid way has now exploded with almost twice the exhibitors, adding such strong names as Chanel, Sabbadini, Chatila, Boghossian and House of Eight, to name a few. Jewelmer will exhibit in Moscow for the first time with its South Sea pearls collection from the Philippinnes. Among the other glittering names are Buccellati, Bulgari, Van Cleef & Arpels, David Morris, Moussaieff, Golay Fils & Stahl, Avakian. The finest Russian jewelry creators will also be represented, and upcoming artist Suzanne Syz,will be a guest of Gilbert Albert the extravagant Geneva jewelry designer.The Fair organisers have again turned to Patrick Hourcade to develop a concept of luxurious and intimate comfort to present this heavy palette of jewellers. The tone will be gold and chocolate. On the other hand, the art and antiques exhibition continues to offer a city like surrounding with arched boutiques suggesting a de Chirico surreal cityscape harbouring its many treasures.


Illustration: The cap of Monomah Silver, diamonds, topazes, mink, guilloche enamel Callery Guriaty


PUBLICATION

THE MOSCOW WORLD FINE ART FAIR
Manezh -1, place Manezhnaya – Moscow – Russia.

INFORMATION:
ArtCultureStudio Tel 41 22 906 1520 Fax 41 22 906 1588 Site www.Moscow-faf.com

DAYS AND HOURS:
Open May 23rd to May 29th 2006 Public hours: Daily 2 pm – 6 pm Wednesday 7 pm - 12 pm Sat - Sun 11 am - 2 pm VIP hours: Mon - Fri 7 pm - 9:30 pm By invitation only 10 pm - 12 pm

VERNISSAGE:
By invitation only Monday 22, from 6pm to midnight

ENTRANCE FEES:
Full price: rbl 300 Students rbl 150. Free under 12

PRESS CONTACTS:
Marilyn White 253 North Mountain Avenue Upper Montclair, NJ 07043 Tel + 1 973 783 3649 Fax + 1 973 746 2273 Email mwhitepr@aol.com Russia Anna Svergun Email svergun@inbox.ru
Deutschland, Schweiz, Oesterreich Matthias Rüthmüller Tel +4161263 14 88 Fax +4161263 14 89 Email office@communicationarchitects.ch