MASTERWORKS FROM SIENA
from Gothic to Renaissance
FROM JULY 7 TO OCTOBER 15 2006

The fascinating history of Siena and its region throught the masterworks of its artists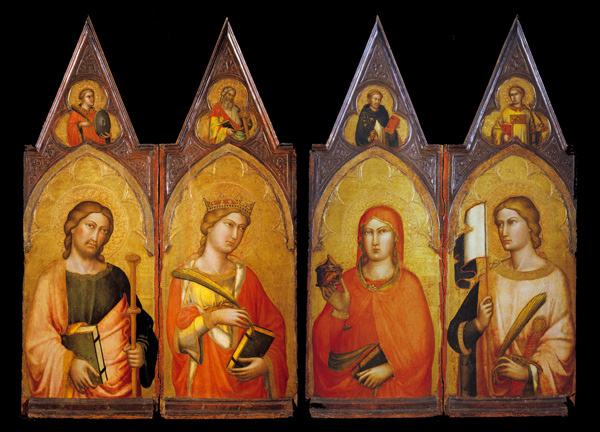 Martino di Bartolommeo (doc. 1389-1434) St. James and St. Catherine of Aleksandria, in the cuspid St. Stephen and St. Andrew; Mary Magdalene and St. Ansano, in the cuspid Sv. Dominic in sv. Lawrence Siena, Pinacoteca Nazionale, Inv. No. 120
© Photo: Soprintendenza per i Beni Architettonici e per il Paesaggio per le Provicie di Siena e Grosetto
Pinacoteca Nazionale di Siena



The exhibition, conceived within the framework of cultural exchanges between Italy and Slovenia attempts to introduce the fascinating history of the region of Siena through works of art – painting, sculpture, biccherne and illuminated codices. A vision of the past which still offers today's "citizens" and travellers crucial elements to ponder the chaos and disorder of the contemporary world.


A significant overview of the history of Sienese art

The period from Gothic to Renaissance is mapped out by twenty-nine works of art lent by institutions in Siena: Pinacoteca Nazionale di Siena, Museo Civico di Siena, Archivio di Stato di Siena, Museo dell'Opera della Metropolitana di Siena, Collezioni della Banca Monte dei Paschi di Siena and Collezione Salini. This significant overview of the history of Sienese art is expanded and complemented by reproductions – photo enlargements, slide presentations and multimedia – which illustrate the relationship between the city and the landscape and thus introduce the subject of a symposium on the Cultural Landscape, which will take place in the City Museum of Ljubljana (Mestni muzej Ljubljana) on 14 September 2006.


Paintings and sculptures

The selection of works of art includes Pietro Lorenzetti, Nado Ceccarelli, Lucca di Tommè, Taddeo di Bartolo, Andrea di Bartolo, Bartolo di Fredi, Martino di Bartolommeo, Sano di Pietro, Sassetta, Giovanni di Paolo, Matteo di Givanni and Francesco di Giorgio Martini; a sculpture by Jacopo della Quercia; two biccherne from the Archivio di Stato di Siena representing The Victory at the Gate of Camollia of 1527 by Giovanni di Lorenzo Cini and The Siege of Montalchino, 1553, painted by Giorgio di Giovanni; the large City Plan of Siena, painted in 1609 by Rutilio Manetti; paintings by Cristofano Rustici dedicated to the seasons from the collection of the Museo Civico di Siena; and lastly two Views of Piazza dell Campo by Giuseppe Zocchi of 1739 from the collection of the Banca del Monte dei Paschi di Siena.




Illuminated codices

An interesting part of the exhibition consists in two special objects from the holdings of the Museo dell'Opera della Metropolitana di Siena: an illuminated codex from the 15th century and a monstrance with the coat of arms of Pope Pius II, the founder of the diocese of Ljubljana. They are accompanied by a selection of illuminated codices from the Libreria Piccolomini of Siena Cathedral in digitilized form that allows easy exploration of the manuscripts and offers enjoyment of details of the miniatures.


PUBLICATION

Exhibition catalogue: Mojstrovine iz Siene od Gotike do renesanse / Capolavori da Siena dal Gotico al Rinascimento, edited by Anna Maria Guiducci, Felicia Rotundo, Andrej Smrekar, bilingual Slovene, Italian,108 pages, paper cover, published by Narodna galerija 7200 SIT / 30€€



Illustration :Jacopo della Quercia, Siena, 1371/74 -1428 Virgin and Child Enthroned Siena, Collezione Salini © Photo: Soprintendenza per i Beni Architettonici e per il Paesaggio per le Provicie di Siena e Grosetto Pinacoteca Nazionale di Siena


To see more illustrations, click on VERSION FRANCAISE at the top of this page

NARODNA GALERIJA
Puharjeva 9 1000 Ljubljana, SLOVENIJA

INFORMATION:
Tel: 00386 1 24 15 434 , 00386 1 24 15 400 , Fax: 00386 1 24 15 403
Site : www.ng-slo.si E-Mail : info@ng-slo.si

OPENING HOURS:
Open from 10am to 6pm, except on Monday.

ADMISSION FEES:
Full price: 1.000,00 SIT / 4,17 € , Concessions: 700,00 SIT / 2,92 € , School groups: 500,00 SIT / 2,09 €
Reservations for guided tours Tel: 00386 1 24 15 435 E-Mail : kristina_preininger@ng-slo.si

CURATORSHIP:
Giovanni Bulian, Head of the Office for Protection of Architectural Heritage and Landscape for the Provinces of Siena and Grosetto Barbara Jaki, Director, Narodna Galerija

PRESS CONTACTS:
Director's office, Barbara Jaki, Tel: 00386 1 2415 400