OUR SUMMER EXHIBITIONS
IN PARIS...
DO NOT MISS...
Paris in August is deserted like a novel by René Fallet. Is it? Look again! Things have changed quite a bit and the summer's cultural agenda is as full as that of the chilier months. From the Louvre to the Grand Palais, Orsay to the Jeu de Paume, here is a long enough choice to keep busy after 14 July.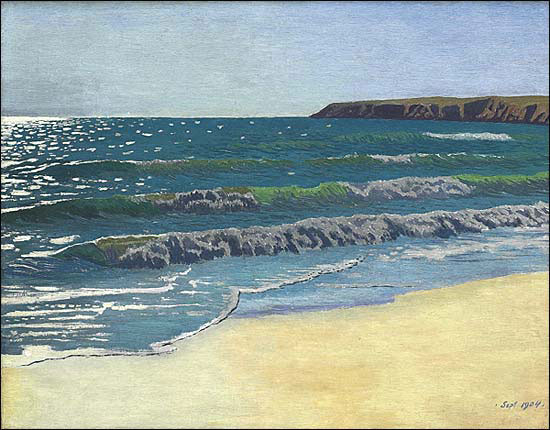 J.F WILLUMSEN Brisants par temps calme sur la côte de Bretagne, 1904 Huile sur toile, 47,5x61cm Randers Kunstmuseum, Danemark © ADAGP, Paris 2006
MUSÉE D'ORSAY

THE MACHINE AGE
GRAND PALAIS – Between the strenght of Art and the Antiques Biennial soon to come, the totally renovated Grand Palais treats itself to a pleasant amusement by hosting the incredible machines designed by François Delarozière and his team for the Royal de Luxe theater troop. Following in the tradition of the serious and zany such as Leonardo da Vinci, Vaucanson, Marcel Duchamp and Tinguely, they really racked their brains for mechanisms that are highly improbable. Here for example is a machine to spread a nut based butter (nutella), a machine to strip-tease a chicken, a machine that lifts skirts, a bicycle to stamp cows (practical for the Cow Parade). Some of these pieces would not have been out of place in a medieval siege such as this piano catapult. Machines have become such a part of our daily lives that we have lost the innocence of our look in face of their magic performances. Here is an opportunity to gain it back.