OUR SUMMER EXHIBITIONS
EUROPE OUTSIDE FRANCE
DO NOT MISS...
The Great Tour is still in fashion! An itinerary through Europe should not be limited to touching the beaches, lakes and other natural beauties. Raphaël, Picasso, Friedrich or Kandinsky all await you in the cultural capitals of the Old World. Another advantage not to be underestimated lies under the regular contact with these stars of art: there is no risk of catchng a sunburn!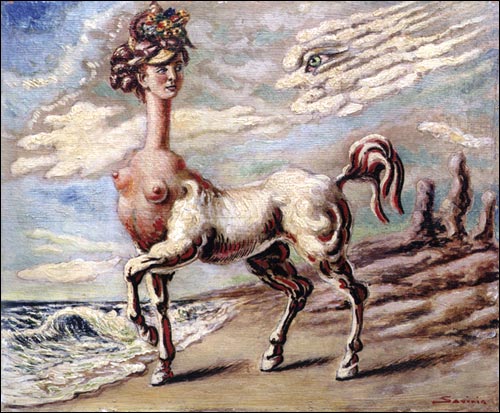 ALBERTO SAVINIO Savinio, Miss Centaur ,1946, Galleria d'Arte Moderna, Udine.
PALAIS DES BEAUX-ARTS, BRUXELLES
JAPAN AND VAN GOGH
AMSTERDAM – The opening of Japan as of 1868 - the Meiji period - was a new source of inspiration that manifested itself to Western artists, made popular in particular through the prints. Vincent Van Gogh was also conquered, as he wrote to this brother Theo that Japanese art «makes one happier». The collection presented at the Van Gogh Museum, one of the most complete in the world, was brought together by businessman Nasser Khalili, born in Iran in 1945. It includes lacquered pannels, cloisonné enamels, porcelain, objects in metal and a spectacular incense burner four metres tall. Paintings of Van Gogh's are placed along the itinerary and show how the Japanese themes – the iris and other flowers, the birds, the country bridges – all penetrated his work.