THE MOROCCO OF OASIS An encounter of cultures
FROM OCTOBER 13 2006 TO MARCH 4 2007

All the cultural and artistic wealth of a region still badly known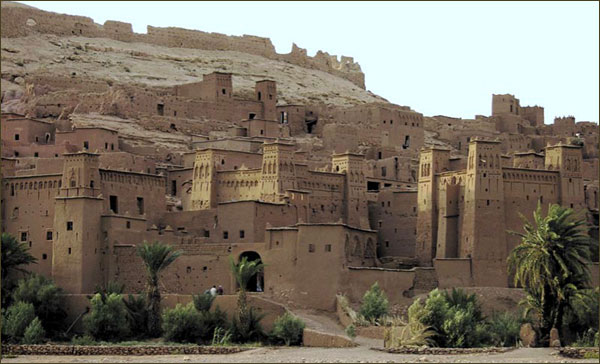 Kasbah Aït Benhadou, Morocco © Photo Kristien Hansebout

To the south of the Atlas mountains in Morocco lies the pre-Sahara. The larger part of this hostile region is made of baren and arid plateaus, and vaste rocky plains strewn with a series of fertiles oasis. It rains there less than four days out of the year and temperatures in the Summer can go up to 45°C. The dryness is extreme. Life takes place mainly in and around the oasis.


A remarkable cultural and artistic wealth

This exhibition leads the visitor to discover the oasis in the South of Morocco.For centuries the sedentary populations have lived here permanently, meeting the groups of nomads who regularly stop here to get supplies. This tradition of encounters and exchanges has given birth to a flourishing and colorful culture. The nearly 200 pieces gathered here –accompanied by videos- unveil to us the life that has developed and reflect the cultural and artistic wealth of a remarkable –and badly known – region.


Sharing water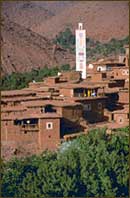 On the first floor of the exhibition the visitor plunges into the daily life of the inhabitants of the pre-Sahara, where water plays a crucial role. The sedentary population as well as the nomads, have always been dependent on the supply of water, and its use has always been very regulated. This exhibition brings together some very beautiful objects directly related to irrigation, to the transport and sharing of this precious water. A real nomad tent is set up and allows us to better understand the way of life of the sedentary people of the oasis.


Every day objects, clothes and jewels

On the second floor of the exhibition all the beauty of the Southern moroccon culture bursts open. The objects of daily life are remarkable due to their exceptional aesthetic qualities: doors and chests embossed with wooden sculptures, sumptuous rugs, colorful ceramics, objects used for cultural means. All of this is proof of the extraordinary know-how of their craftsmen.
The third floor is dedicated to traditional clothing, the ones for children, scarves and veils for women, the knit coats worn by men. Last but not least, the jewels and accessories illustrate the ethnic identity of the population of the pre Sahara region


Illustration : Village in South Morocco © Asbl Symbiose


PUBLICATION

Visitors Guide , 42 pages with colour photos 5€


This exhibition is presented under the High Patronage of His Majesty Mohammed VI, King of Morocco.


To see more illustrations, click on VERSION FRANCAISE at the top of this page

PORTE DE HAL - Royal Museums of Art and History
Boulevard du Midi – 1000 Bruxelles

INFORMATION:
Information and guided tours: 02 533 34 50 Email : linda.wullus@skynet.be
Website : www.mrah.be

OPENING HOURS:
From Tuesday to Friday: 9.30am-5pm; Saturday and Sunday: 10am-5pm
Closed on Mondays, November 1st and 11th, December 25th and January 1st

ADMISSION FEES:
Full rate: € 5 Concessions: Seniors, students, under 18 years old, teachers, groups € 4, School complex 2€
Free under 13 years old accompanied

CURATOR:
Ivo Grammet

PRESS CONTACT:
Min Dewachter Tel/fax : 016 23 49 14 Mobile : 0479/39 80 82 Email : min.dewachter@skynet.be