25 SCULPTURES FOR ONE COLLECTION
FROM NOVEMBER 2 TO DECEMBER 2 2006


Arp, Lipchitz, Miller, Lambert-Rucki and many others, 25 sculptures coups-de-cœur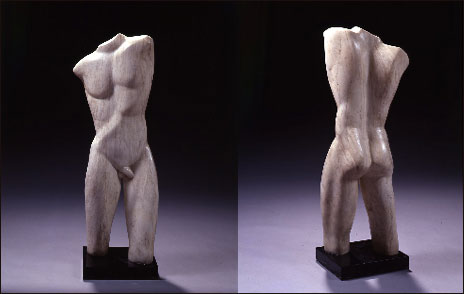 Luiza Miller Corps d'homme acéphale, (c.1950).Sculpture in white marble with grey veins on a black marble base from Belgium

For more than 30 years, Jacques De Vos has been collecting sculptures he liked most. This exhibition reveals the fruit of these scattered and successive « coups de coeur preserved for thirty years. It is a love story, with its break-ups, its crazes and its demands.


Paris from the 20s to 50s

In spite of the diversity of their origins, ranging from Europe to South America, the common point of all these artists is Paris, Paris from the 20's to 60's. A magnet-like city, light-like city for many of them, where trends mixed. The most famous ones are Arp, Lipchitz,, Miller, Lambert-Rucki , Peyrissac, Gilioli, Csaky, Rucki and Miklos, who had monographies, numerous exhibitions, which appear in public and private collections. Others remained out of the limelight, such as Chauvin, Desbois, Indenbaum, Manes, Vitullo, Borgey, Colucci, Miller or Jespers, This profusion of artists, the diversity of their expressions and their inspirations, give full strength to such a reunion. If you like tridimensional art, if you like touching – because a sculpture has to be stroked -the works you will discover will make you feel, De Vos hopes, the same emotion as the one that prompted him to acquire them




Luiza Miller and Léon Borgey

We picked the works of two lesser known artists to illustrate this page. Luiza Miller(1917- 2003) was born in Rio de Janeiro. She belongs to the Ecole de Paris. Her work as a sculptor can be divided into three episodes. The Zadkine period, during which she sculpted bodies in movement. as the one in the exhibition. A classical abstract period, with pieces like Flamme sculpted for Stanford University. During the last period, she completely renewed her manner, using prefabricated objects. Her idea then was that an object must not be sculpted, but that scuplture must be an object.
Léon Borgey (1888-1959) is French. His favourite materials are wood, plaster and stone. In 1918, he began his first research on cubism, confronting colored sides in contrast with the softness of his wood: Le grand Athlète, l'Homme debout exhibited here. He met the sculptor Pompon, and from 1932, his sculpture found a joyful expressionist spirit. In 1936 the State bought his sculpture L'Athlète and in 1945, the Contrebassiste. As early as 1940, Léon Borgey found in the sunny town of Menton, the desire to « sketch » its inhabitants with watercolor as the main technique.


Illustration: Léon Borgey, Homme debout, (1919). Wood sculpture. Monogrammed L.B.. Unique piece.


PUBLICATION

On the occasion of this exhibition, Galerie De Vos publishes a 128 pages catalogue on the sculptors and their exhibited works. This is the 9th of a series of books entitled Aux sources du XXe siècle ( The origins of the 20th century), dedicated to the great decorators of the 30s, Jean-Michel Frank, Pierre Chareau, Pierre Legrain, Jean Dunand, to the Union des Artistes Modernes group, and sculptors like Léon Borgey, Jean Lambert-Rucki, without forgetting ceramist Robert Lallemant, glass artist Charles Schneider, the painter Epellé and the sculptor Gisiger. The most recents are Hélène Henry et ses amis,( Hélène Henry and her friends) Jean Lurçat, les années lumière (Jean Lurçat, the light years) et André Sornay, selected works 1915-1950. All are available at the gallery and in art bookshops.


THE EXHIBITED ARTISTS AND THEIR WORKS:
Joseph Andrau: Eve / Hans Arp: Torse / André Bloc: Le trophée / Léon Borgey: Homme debout et Bain de soleil / Gio Colucci : Siège de méditation / Paul Cornet: Soldat assis / Joseph Csaky: Femme agenouillée / Joseph Csaky: Lionne / Jules Desbois: Torse / Léon Indenbaum: Profil de jeune homme Léon Indenbaum: Musiciens et antilopes / Oscar Jespers: Le lièvre / Jean Lambert-Rucki: Masque et sphères ou Grand Rosaire / Gaston Le Bourgeois: Chrysalide / Jacques Lipchitz: Femme à la guitare / Pablo Curatelle Manes: Femme assise / Gustave Miklos: Divinité Solaire / Luiza Miller: Corps d'homme acéphale / Jean Peyrissac: La Horde / Sesostris Vitullo: Cheval cabré.


To see more illustrations, click on VERSION FRANCAISE at the top of this page