FRANÇOIS BOCION
On the threshold of Impressionism
FROM OCTOBER 6 2006 TO FEBRUARY 11 2007


Through a major 160 works retrospective, the rediscovery of a great Swiss master of open-air painting, contemporary of Boudin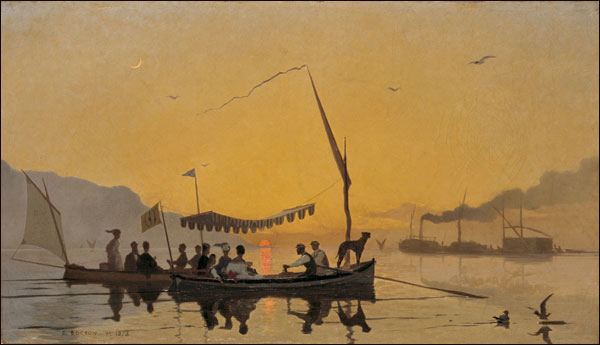 François Bocion La promenade au coucher du soleil, 1873 Private collection

Inconditional adept of open-air painting in Switzerland, François Bocion (1828-1890) is in many respects the Swiss equivalent of his contemporary, Eugène Boudin, the master of the Normandy coast. Like him, he was a painter of water and sky. Bocion wanted to translate on the spot fleeting light and atmospheric changes. His landscape are seldom void of characters. Like Boudin in Normandy, the vaudois Bocion was interested in a wide range of activities, in all the trades related to the Lake. Like him he developped a personal approach, between genre and landscape painting, portraying in his seascapes the leisure activities of the middle class. This retrospective, conceived by the Musée Jenisch and presented exclusively in Vevey, sheds a new light on Bocion and brings together some 160 works (90 paintings, 70 drawings) from major public and private collections.


The painter of Lake Geneva

Bocion grew up in the Lausanne-Montreux-Vevey area and went on to study at Charles Gleyre's Academy in Paris. Back in Lausanne in 1848, he was appointed professor of drawing at the École industrielle cantonale where he taught until he died. One of the rare 19th-century Vaudois painters to have pursued his career in Lausanne, Bocion explored the charms and everyday life of the shores of the Lake, observing its changing moods and the vast range of atmospheric and chromatic metamorphoses which he captured in his sometimes very innovative works, until he became known for posterity as 'the painter of Lake Geneva'. The Lake was his world, the ideal subject whose portraits he multiplied, only leaving it for his holidays when he periodically escaped to the lagoon of Venice or the Ligurian riviera.




From Monet to Courbet

Although he stayed on the threshold of Impressionism, several elements clearly link him with Claude Monet, twelve years younger, who had also followed Gleyre's classes and could bring out the magic of shimmering water and the play of light at different times of day. Alongside an anthology of masterpieces taking the viewer through Bocion's pictorial and graphic development, the exhibition also establishes parallels with the great artists who inspired his work (Camille Corot, Barthélemy Menn, Charles Gleyre), clarified his approach (Eugène Boudin, Claude Monet) or in whose work his example has lived on (Eugène Grasset, Félix Vallotton). Not forgetting Gustave Courbet (in exile in La Tour-de-Peilz from 1873 till his death in 1877) with whom he struck up a close friendship – the two are said to have set up their easels side by side – and whose workshop Bocion was appointed to assess at his death in 1877.


Illustration: Gustave Courbet Les Dents du Midi (depuis Le Bosset), 1874 Private Collection


PUBLICATION

Catalogue: François Bocion : Au seuil de l'impressionnisme, 224 p, 215 ill. coul. 24 x 28 cm Copublication Musée Jenisch, Vevey and 5 Continents Editions, Milan Price: CHF 56. / 35 €


To see more illustrations, click on VERSION FRANCAISE at the top of this page

MUSÉE JENISCH
Avenue de la Gare 2, CH - 1800 Vevey (Suisse)

INFORMATION:
Tél: 41 (0)21 921 34 01, Fax: 41 (0)21 921 62 92 Site: www.museejenisch.ch

OPENING HOURS:
From 11am to 5.30pm, except on Monday.
Closed on December 25th and January 1st. Free on November 4th and 5th.

ADMISSION FEES:
Full price: Fr.15.-(€10); Concessions: seniors Fr.12-(€8); students, unemployed Fr.7-(€4,7). Free:under 18

CURATORSHIP:
Dominique Radrizzani, Director of the Musée Jenisch; Laurence Rippstein, Curator

PRESS CONTACT:
Illustrations and images available on www.museejenisch.ch/presse/bocion