CULTURES OF THE WORLD
FROM DECEMBER 2 2006 TO JULY 9 2007

Some one hundred exceptional works of art from the collections of the future Confluences Museum illustrate the relations between man and the beyond, man and creation, nature and death.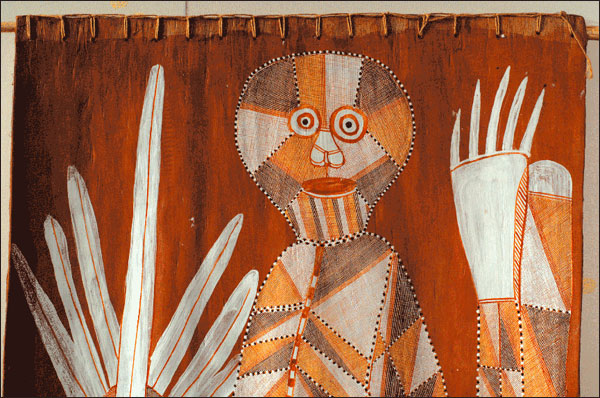 Esprit wayarra Samuel Namunjdja Aborigeneal work on bark Photo Museum Lyon

Spanning from far back in our history to our day, some one hundred works, the jewels of the collections of the future Confluences Museum in Lyon, have been chosen by Monique Rey-Delqué –the curator and director of the Conventual Jacobin Ensemble - and Michel Côté - director of the Museum and the future Confluences Museum in Lyon –to help us follow the traces of other civilizations in their concept of man in the universe, and to question us on our own apprehension of the world. They illustrate the relations between man and the beyond, with creation and death, with nature as well as the economic and social relations.


Where do we come from? Where are we going?

Where do we come from and where are we going? Who are we? What do we do? The Confluences museum has chosen to delve into these fundamental themes by asking obsessive questions on the origins and the destiny of our existence and our relationship with the environment, our action and desire to communicate. The objects presented are old and contemporary, from multiple territories and various materials. They have been chosen due to the strength of their testimony, their beauty, their difference, their uniqueness and their universality. Some rare pieces from ancient Egypt, from Australia, Africa, Oceania or Asia are seen for the first time. They are witnesses of the different visions of the beyond, of "other worlds", of Nature, of society and of our relations with others.


The answers from each culture

The themed itinerary guides the visitor towards the discovery of the unique and specific answers given by each one of these cultures. Amazing mummies of cats are presented for example from the ptolemic period, Inuit sculptures in spiritual osmosis with the world around them, Tsogho masks from Gabon, a Dan funerary mask, a Senufo statuette, a Dream Walk –an aboriginal painting 5 meters long, sculptures of Buddha from Cambodia, Thailand and Burma that give body to serenity, an Imperial Japanese armour and fascinating Nô masks from the Edo period…Articles to exchange values from Oceania and headdresses from the Amazon sit side to side with Greek-Buddhist heads from Afghanistan, as well as Khmer sculptures.




Crossing glances

The exhibition focuses above all on giving a new sense and role to all of these artistic expressions. The accent is put on the interpenetration of cultures, on the movement of crossing glances, and refers us to our own history and our perception of these extra-European civilizations. It makes us reflect on man, he who plays the major part, on his creations and the relations he keeps with the world, with other worlds, differently apprehended according to the culture he was born in. Apparently eclectic at first glance, this true "confluence" of cultures only confirms the strength of its purpose. These objects, true works of art, through this authentic journey into the artistic production of various societies, offer us a brilliant demonstration of the talent and inventive research of the artists they reveal. Through their plastic and technical strength, their great formal quality and their power of expression these works of art arouse deep emotions.


Illustration : Creation of the World Manasie Akpaliapik Nunavut, Canada Photo Museum, Lyon


To see more illustrations, click on VERSION FRANCAISE at the top of this page

ENSEMBLE CONVENTUEL DES JACOBINS
69, rue Pargaminières- 31000 Toulouse

INFORMATION:
Tél: 05 61 22 21 92 Site: www.jacobins.mairie-toulouse.fr

OPENING HOURS:
Open everyday (also on bank holidays) from 10am to 7pm.

ADMISSION FEES:
Full price: 5 €, (concessions and groups 2,5€ ). Guided tours everyday at 3pm, on Sundays and Bank holidays at 3pm and 4.30pm. Reservation needed for groups.

CURATORSHIP:
Monique Rey-Delqué, Director of l'Ensemble Conventuel des Jacobins and Responsible for the Heritage.

CONTACT PRESS:
Relations-Presse : Agence KOM – Suzanne Manheimer –
29, rue Valade 31000 Toulouse Tél. : 05 34 416 412
E-mail : agencekom@agencekom.com