Home
>
Current events
>
Correspondences Edouard Manet, Le Balcon, 1868-1869/ Anne Sauser-hall, Le Balcon (d'après Manet), 2007 Vincent Feugère Des Forts, La Mort D'abel, 1865/ Pierre Et Gilles, Abel, 2006
CORRESPONDENCES
Edouard Manet, Le balcon, 1868-1869/ Anne Sauser-Hall, Le Balcon (d'après Manet), 2007
Vincent Feugère des Forts, La Mort d'Abel, 1865/ Pierre et Gilles, Abel, 2006
FROM FEBRUARY 20 TO MAY 20 2007

New confrontations between masters of the past and contemporary creators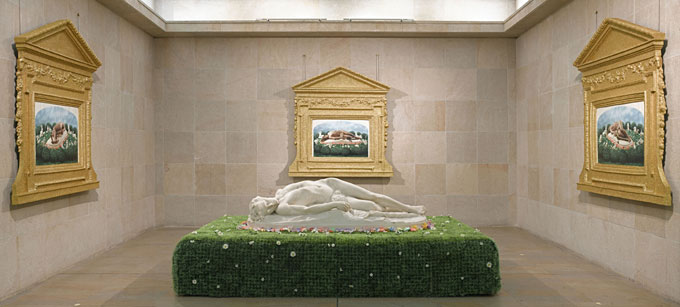 A view of the musée d'Orsay installation: a triptyich by Pierre et Gilles, Abel, 2007, and Vincent Feugères des Forts sculpture, La Mort d'Abel, 1865.
© Paris, musée d'Orsay / Patrice Schmidt

Art of the XIXth and beginning of the XXth centuries is a source of inspiration for the artists living in the XXIst century. The Musée d'Orsay pursues its cycle of « Correspondances » and this time has asked Anne Sauser-Hall and Pierre et Gilles to present one of their creations in relation to a work they have chosen in the museum's collections.


Edouard Manet, Le Balcon, 1868-1869 /Anne Sauser-Hall (inspired by Manet), 2007

Anne Sauser-Hall is a Swiss artist who lives and works in Geneva, and is particularly interested in the challenges that representation encompass. She develops an aesthetic idea on the question of distancing oneself. Since the beginning of the 1990s Anne Sauser-Hall has explored this path by using the notion of theatricality. She then reconstructs objects and installations in which she stages familiar, daily elements, linked to the domestic and social spaces. But hers are simplified or redimensioned, thus losing their usual references. As of 2001 the artist naturally turned towards video, shifting from the formal creation of an object in space to physically occupying the latter. In this perspective Cézanne and above all Manet's work strongly influenced the Swiss artist. Manet's theatricality, his taste for transvesting therefore creating a distance, are practically abiding sources of renewal and inspiration. Anne Sauser-Hall does not reproduce the reality of the paintings, but rather( with rare subtlety and unique poetry) borrows from them a gesture, a movement, a moment. She had already created various videos around works of Manet, among them the Dead Man inspired by The dead torero (1862-1864) and Peony stems and clippers , a moving hommage to the painter's still lives. In response to the invitation made by the Musée d'Orsay, Anne Sauser-Hall chose The Balcony as the point of departure of a unique work. I do not paint Manet again with video, video allows me to develop through time the gestures that are suspended or absent in the painting. I try nevertheless to treat space as surface, to reconstruct this reduced, introspected space that is so impressive in his paintings.


Vincent Feugère des Forts, Abel's Death, 1865 / Pierre et Gilles, Abel, 2006

Ever since 1976 Pierre et Gilles have worked in a perfectly complementary fashion, creating their own style and world. They combine their techniques, Pierre a photographer while Gilles a painter, and they merge them to such a point that their works have acquired a hybrid statute, such as their photographs painted over in acrylic. But those works remain coherent and harmonious, defying all artistic labels. In resisting the dogma of the hierarchy of genres, the artists first worked for magazines such as Façade, made record covers for Amanda Lear, Etienne Daho or Lio, collaborated with le Palace, the temple of Parisian night life in the 70s and 80s. Little by little their work gained autonomy through a nearly relentless quest for a certain identity of the beings the artists met and had pose, some of them seductive models and others personnalities of the star-system. While making fun of the aesthetic styles, Pierre et Gilles divert the genres of the official or religious portrait, those of the advertising poster and of great painting, of Sulpician iconography, in the same way they blurr, in a fresh but falsely naïve manner, the borders between daily and extraordinary, between common and sacred. A sort of magic incantation was born from this abundance of artistic references. It is this dreamlike, sensual and poetic universe that characterizes their photographs. Behind the apparent ease, hide the complexity of the processes implemented, the choice of a subject, the staging, the care given to the technical procedure. When the Musée d'Orsay invited them, the artists chose a sculpture that is relatively unknown today but was once famous, by Vincent Feugère des Forts (1825-1889), Abel's death (1865), shown at the Salon in 1886. The obvious sensuality of the pose and the tragic scope of the character inspired them to do an unusual triptyc.




PUBLICATIONS

Edouard Manet/ Anne Sauser-Hall, 160x240, 64 p., bilingual ed. English, French, coedition Musée d'Orsay/Argol, paper cover, 13 €.
Vincent Feugère des Forts/ Pierre et Gilles, 160x240, 64 p., bilingual ed. English, French, coedition Musée d'Orsay/Argol, paper cover,13 €


Illustration: Vincent Feugères des Forts La Mort d'Abel, 1865. Marble Sculpture, 380 x 164 x 76,5 Paris, musée d'Orsay


To see the works of Edouard Manet and Anne Sauser-Hall, click on VERSION FRANCAISE at the top of this page

MUSEE D'ORSAY
Entrance through the square, 1 rue de la Légion d'Honneur

INFORMATION:
Tel. +33 01 40 49 48 00 Site : www.musee-orsay.fr

OPENING HOURS:
Every day, from 9:30 AM to 6:00 PM, Thursday until 9:45 PM Closed on Monday.

PRICES OF ADMISSION:
Museum: Full rate: 7,50€ Concessions and sunday: 5,50€ Free admissions: under 18, and holders Carte blanche du musée d'Orsay, MuséO, La Carte jeune du musée d'Orsay

CURATORS :
Serge Lemoine, Orsay museum President, with Olivier Gabet, curator at the museum.

PRESS CONTACT:
Fleur Braghetto 01 40 49 49 65 Yoann Gouin 01 40 49 48 56 Email: presse@musee-orsay.fr