Home
>
Current events
>
The Situationist International (1957-1972) in Girum Imus Nocte Et Consumimur Igni
THE SITUATIONIST INTERNATIONAL (1957-1972)
In girum imus nocte et consumimur igni
FROM APRIL 4 TO AUGUST 5 2007

Close-up on one of the least known yet most influential movements of the post war era.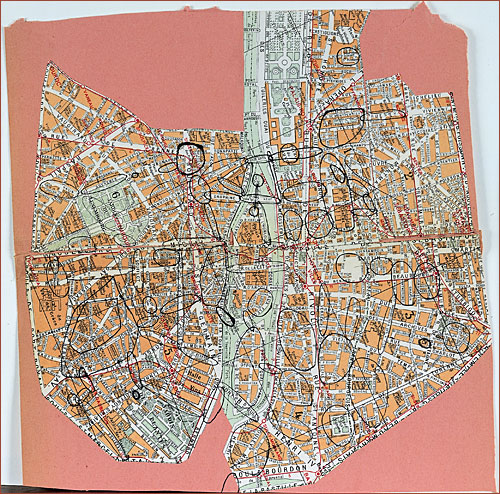 Guy Debord, Carte de Paris avant 1957, 1957 Collage / paper : 26.4 x 27 cm Alice Debord © 2007 Alice Debord
Photo: Serge Veignant

The Situationist International can be considered as the last avant-garde movement of the XXth century. Its revolutionary programme aimed at undermining the symbols of power and at fighting the expropriation of everyday life by the consumer society. Operating at the frontier of art and politics, situationism had a strong impact on the student uprisings of the 60s but its influence goes far beyond. It can be found in the punk culture or, today, in those who oppose globalism. The exhibition covers the 15 years of the movement, from its founding in 1957 to its dissolution in 1972, around the biography of its leading figure, Guy Debord, whose mythical and later film « In girum imus nocte et consumimur igni » (1978), works as a guideline.


Lettrism and CoBrA

The exhibition is divided in eight sections. First are presented the direct forerunners of the Situationist International like Lettrism and the Lettrist International which intended, by provocative happenings, to dissolve the past and rebuild it. Their preferred means were through the media of language and film. CoBrA, founded in 1948 par Christian Dotremont of Belgium, Constant Nieuwenhuys of the Netherlands and Asger Jorn of Denmark and so named after the initials of their respective cities (Copenhagen, Brussels, Amsterdam), wanted to free art from academism, which had even fossilized movements like surrealism or abstraction, and give it back to the people.




Against work and morality

For the Situationist International as for CoBrA, it was necessary to give back a meaning to daily life by attacking some basics of capitalism : morality, work, fun. For Debord, the society of the spectacle turns man into a passive consumer and deletes any potential for happiness in everyday life. The Situationists aimed at recreating reality while refusing any classical representation. In the films of Debord, monotony is used as a subversive force, compelling viewers to become active themselves and provide with their outraged reactions the soundtrack of the motion picture. « Détournement », i.e. sabotage, and « dérive » - i.e. drifting or operating without any goal or plan – were two of the most common practices used by the movement to dynamite academic aesthetics.


At the heart of the 1968 uprisings

Modern urbanism and the alienating organization of the city in functional subdivisions (sleeping silos, shopping centers), were the main targets of the Situationist International, which became, as time passed by and leading members (Jorn, Constant) were expelled, an increasingly radical critique of society. During the 1966-68 student uprisings, its slogans were disseminated on a national scale (and translated into foreign languages) through posters, manifestos, comic strips. May 1968 was to be the heyday of Situationism as its concept of revolution seen as a feast of the imagination and of excess was turned into practice. It was also to be its demise as Situationism subsequently limited itself to a flood of nostalgic texts. On the verge of becoming itself a parody of subversion, and an easy prey for the culture industry, the Situationist International was eventually dissolved in 1972.


Illustration: Internationale lettriste Si vous vous croyez du génie…, / If you believe you have genius…, Paris [1955]
Pamphlets : each 8,5 x 13,5 cm Ceuleers & Van de Velde, Antwerp Photo: Centraal Museum Utrecht


PUBLICATION

Exhibition catalogue, bilingual,German-English. Texts by Axel Heil, Thomas Hirschhorn, Jacqueline de Jong, Michael Lentz, François Letaillieur, Annja Müller, Selima Niggl, Peter Sloterdijk, Juri Steiner, Mark Wigley, Nina Zimmer, Stefan Zweifel etc.Ill. Éditions JRP Ringier CHF 44


To see more illustrations, click on VERSION FRANCAISE at the top of this page

MUSEUM TINGUELY
Paul-Sacher-Anlage 1 CH-4058 BASEL

INFORMATION:
Tel. +41 61 681 93 20 Site: www.tinguely.ch

OPENING HOURS:
Tuesday to Sunday: 11am - 7pm. Closed Monday

ADMISSION FEES:
Adults: CHF 10 Students, trainees, seniors: CHF 7 Free under 16.

CURATOR:
Heinz Stahlhut

PRESS CONTACT:
Laurentia Leon Tel. + 41 (0) 61 687 46 08 Fax + 41 (0) 61 681 93 21 Email: laurentia.leon@roche.com
Press photos may be downloaded on the website www.tinguely.ch