Home
>
Current events
>
Correspondences Vincent Van Gogh, Dans Le Jardin Du Docteur Paul Gachet, 1890 / John Chamberlain, Lipstick Canteen, 2000 Georges Seurat, Hommage À Puvis De Chavannes, 1881 / Claude Rutault, Hommage À Georges Seurat, 2007
CORRESPONDENCES
Vincent Van Gogh, Dans le jardin du docteur Paul Gachet, 1890 / John Chamberlain, Lipstick Canteen, 2000
Georges Seurat, Hommage à Puvis de Chavannes, 1881 / Claude Rutault, Hommage à Georges Seurat, 2007
FROM JUNE 19 TO SEPTEMBER 9 2007

A new confrontation between the masters of the past and the creators of the present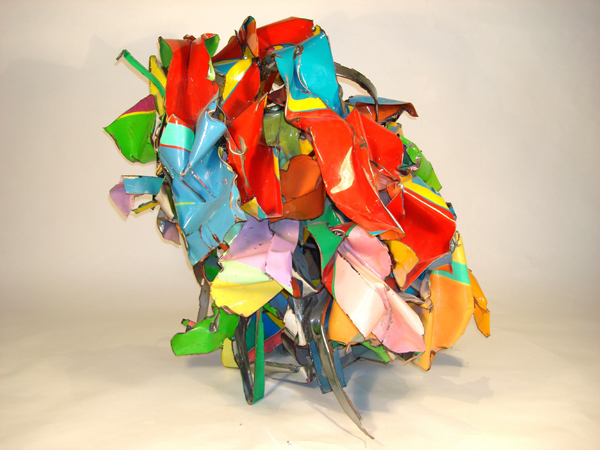 John Chamberlain Lipstick Canteen,2000 painted steel, 97.1 x 104.7 x 96.5 © John Chamberlain studio


In "Correspondences" contemporary artists put their own creation in resonance with a work chosen in the collection of the Musée d'Orsay. John Chamberlain and the French artist Claude Rutault have been invited in this new series.


Vincent Van Gogh, Doctor Gachet's Garden, 1890 / John Chamberlain, Lipstick Canteen, 2000.

Born in 1929, the American artist John Chamberlain studied at the school of the Chicago Institute of Art, where an exhibition of the Chester Dale collection showing some of Van Gogh's most beautiful paintings made a deep impression on him. In 1955, he left Chicago to go to the Black Mountain College, an important incubator for post-war American art. During these formative years, Chamberlain was greatly influenced by Abstract Expressionism which had won recognition for American painting at that time, with figures like Jackson Pollock, Willem de Kooning and Franz Kline, as well as the work of sculptor David Smith, who used everyday materials for his sculptures. Since then, directing his artistic aims towards an intimate and powerful relationship between movement and artwork, John Chamberlain has been creating abstract sculptures using salvaged materials, mainly car body parts and scrap metal which he assembles, compresses, welds, paints… This creative principle leaves beauty to chance and improvisation, the artist judging the effect and composition as the piece is assembled, resulting in an unusual and expressive work. Following the invitation from the Musée d'Orsay and renewing his early interest in Van Gogh, Chamberlain chose Doctor Gachet's Garden, with its exuberant vegetation, and confronts it with Lipstick Canteen, with its coloured metal leaves extending into space.
"So, when I think of the Musée d'Orsay… you could say that I've gone full circle, and come back to where I began. It was Van Gogh who got me started in a way, and here I am, fifty years later, coming back to visit him with my sculpture Lipstick Canteen" (conversation with Ann Hindry, April 2007).


Georges Seurat A Tribute to Puvis de Chavannes, 1881 / Claude Rutault, A Tribute to Georges Seurat, 2007

Born in 1941, French artist Claude Rutault, since first developing his definition/method in 1973, has continued to "seek to make painting visible". In a constant effort to push the boundaries in these pictorial experiments and refusing to resort to the spectacular, he has since developed his definitions/methods whose invariable principle is as follows: "a stretched canvas painted the same colour as the wall on which it is hung. all standard sizes which are available commercially, whether rectangular, square, round or oval, can be used. the presentation is traditional".
The principle can be considered as instructions for use, a sort of user's guide to the work – and its display – for the collector, the exhibition curator, the gallery curator or the gallery owner. Thus, the definitions/methods present the conditions for the creation of the work, and above all the procedure for its evolution. The artist readily includes an intrinsic change in the works which he conceives from the unpredictable and random perspective of appropriation/modification at the actual starting point of the creative process. Echoing Seurat's reference to Puvis de Chavannes, Rutault, here, aims to update this principle of definition/method, by again putting forward the issue of tribute to the old masters. "My admiration for Seurat's chosen path quickly became a priority […], and even more necessary as it brings into play two very different works from the museum. In this presentation it is purely a question of a painter's work, not a historian's work. Today I merely present the two paintings and their structures through my painting itself, in my main concern for moving beyond the limits of the painting, and for the finished object." (Conversation with Françoise Ducros, April 2007).


PUBLICATIONS:

Claude Rutault / Georges Seurat, 160x240 format, paperback, 64 pages, bilingual publication in English and French, joint publication Musée d'Orsay/Argol, € 15.

John Chamberlain / Vincent Van Gogh, 60x240 format, paperback, 64 pages, bilingual publication in English and French, joint publication Musée d'Orsay/Argol, € 15.

MUSÉE D'ORSAY
Entrance through the square, 1 rue de la Légion d'Honneur

INFORMATION:
Tel. +33 01 40 49 48 00 Site : www.musee-orsay.fr

OPENING HOURS:
Every day, from 9:30 AM to 6:00 PM, Thursday until 9:45 PM Closed on Monday

PRICES OF ADMISSION:
Museum: Full rate: 7,50€ Concessions and sunday: 5,50€ Free admissions: under 18, and holders Carte blanche du musée d'Orsay, MuséO, La Carte jeune du musée d'Orsay

CURATORSHIP:
Serge Lemoine, Orsay museum President, with Olivier Gabet, curator at the museum.

PRESS CONTACT:
Fleur Braghetto 01 40 49 49 65 Yoann Gouin 01 40 49 48 56 Email: presse@musee-orsay.fr